I don't have to remind anyone that Black Friday is approaching faster than ever. Stores like Wal-Mart (NYSE:WMT), Target (NYSE:TGT), J.C. Penney (NYSE:JCP) and Macy's (NYSE:M) are in a headlong rush to open earlier and earlier on Thanksgiving in hopes of capturing the first wave of the Christmas shopping frenzy.
They need it. Put aside J.C. Penney, which stands in its own class as a retail disaster and would-be recovery story. Many other big box and department stores like Sears (NASDAQ:SHLD), Kohl's (KSS) and Nordstrom (NYSE:JWN) have been flat performers for the past six months.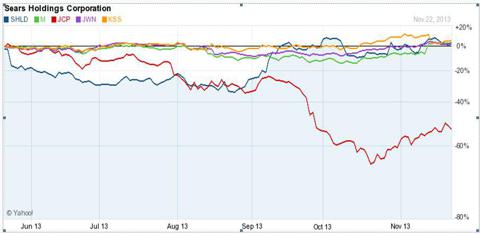 Cyber Monday is also arriving sooner than ever online as the giant Internet retailer, Amazon (NASDAQ:AMZN), rolls out its newest deals more than a week in advance of the big day. Compare Amazon's performance versus giant discount retailers like Wal-Mart and Target, and it's easy to see the brick and mortar operations are currently getting crushed as investments.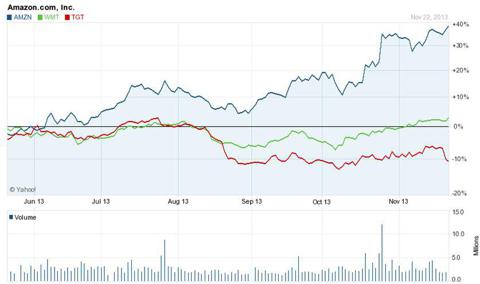 In terms of Internet presence, Amazon is the number six web portal in the US, while Wal-Mart stands at number 25.
But there is one company that stands out from the rest.
Its approach is totally different from the rest, even though it is America's number two Internet retailer trailing only Amazon.
Combating The Amazon Effect
As much as I admire Jeff Bezos and his incredible Internet retailing invention, there's one thing that makes me nervous. Amazon doesn't earn a profit. It doesn't have a leg to stand on if something goes wrong, even temporarily.
Like an unprofitable biotech startup, Amazon's financial metrics and valuation measures are frighteningly high. Not so with LINTA, Liberty Interactive Corporation, the number two Internet retailer.
Readers probably know LINTA best by its star holding, the QVC shopping channel. Although QVC has been on the air since 1986, only loyal shoppers and investors know that the company has been moving aggressively into Internet and mobile platform sales.
In fact, fully 41% of QVC sales are "consummated" online. QVC's CEO Mike George says he has seen "strong growth in our digital platforms with global e-commerce growing 12% in constant currency to 36% of revenue, a 3 point increase, and mobile orders growing 55% to $286 million."
Although the third quarter is traditionally slow in retail, QVC has performed very well in terms of sales and as a stock.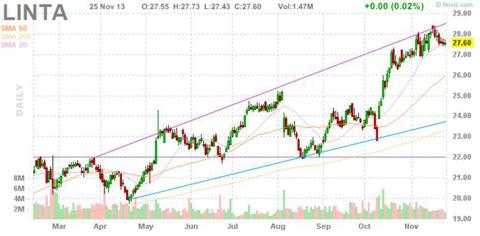 In its third quarter earnings report on November 5th, LINTA executives said that sales from existing customers grew 6% and sales from reactivated customers grew 13%. Customer loyalty remains high with existing customer retention at 89%, unchanged from last year.
In their conference call, executives added, "The U.S. had a terrific quarter with revenue up 5% and adjusted OIBDA (Operating Income Before Depreciation and Amortization) up 9%. Accessories, cooking and dining, home décor, home improvement, health and fitness and beauty, all showed strong growth; and our e-commerce mix was up 2 points to 41% of total revenue ... In addition our China joint venture which is not consolidated grew revenue over 50%."
The Social Frontier
As its name suggests, Liberty Interactive Corporation is diverse. QVC may be the star, but as you will see, the company is focused on interactivity.
In a recent interview with Forbes, QVC's Alex Miller, Senior Vice President of Digital Commerce, said Amazon is really good at one thing, easy and efficient one-click shopping. But when it comes to creating a sense of community, Miller thinks Amazon has missed the boat.
QVC has been a quirky kind of community since its earliest days, when excited shoppers phoned TV hosts to chat on-air about their purchases. Now QVC is focused on building a digital social community, going into Christmas with its so-called "toGather" community of shoppers.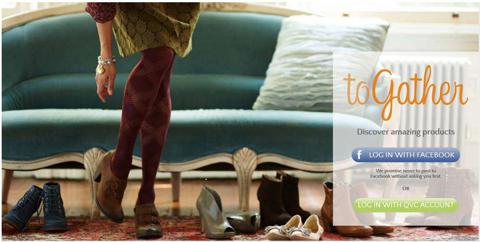 With a combination of tools including Facebook (NASDAQ:FB), Pinterest-like sharing tools and product discussion forums, QVC is going social in a very determined way.
The company says most of its new customers now come from digital media. It is kicking off the holidays as a "Season of Social,…where shoppers can discover and share items they love. Customers, hosts and the whole QVC community are already curating toGather holiday collections and sharing their favorite ideas for everything from gifting to entertaining ... enhanced with social experiences that make QVC customers a part of the live show."
You have to admit that the idea beats the heck out of camping outside of a K-Mart, and according to the numbers, LINTA's digital platform is bearing fruit.
The Big Picture
The man at the top of both the Liberty Media (NASDAQ:LMCA) and Liberty Interactive (LINTA) empires is the billionaire John C. Malone.
Liberty Media Corporation owns interests in a broad range of media, communications and entertainment businesses. Those interests include subsidiaries SiriusXM, Atlanta National League Baseball Club, Inc. and TruePosition, Inc., interests in Charter Communications, Live Nation and Barnes & Noble, and minority equity investments in Time Warner, Inc. and Viacom.
The Liberty Interactive Group consists of Liberty Interactive Corporation's subsidiaries Backcountry.com, Bodybuilding.com, Celebrate Interactive (including Evite, gifts.com and Liberty Advertising), CommerceHub, MotoSport, Provide Commerce, QVC, Right Start, and Liberty Interactive Corporation's interests in HSN and Lockerz.
That is an abbreviated list.
Now keep in mind that Malone has an admirable history of building wealth and of unlocking hidden wealth for shareholders.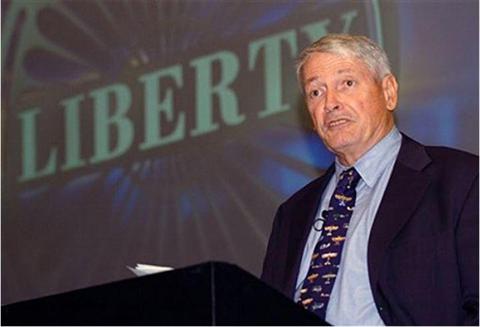 Over the past year Liberty Media spun off the Starz Network (NASDAQ:STRZA) and unleashed a surge of approximately 70% in its stock price.
Recently Liberty Interactive management announced similar plans, calling for the company two be split into two groups. One would be a QVC tracking stock to be renamed the QVC Group common stock. The other stock would include its e-commerce holdings including digital invitation site Evite and will be known as Liberty Digital Commerce.
The company also said it would spin off its stake in travel website TripAdvisor and online retailer BuySeasons into a new company known as Liberty Trip Advisor Holdings.
The market reacted with a surge as Malone once again appeared to be unlocking shareholder wealth.
Analysts agreed. Wells Fargo upgraded Liberty Interactive, citing value being unlocked from the company's new tracking stock structure. Wells raised its price target range for shares to $31-$33 from $23-$24 and upgraded the stock to Outperform.
Analysts at Wunderlich reiterated a "Buy" rating on shares of Liberty Interactive Corp. Interactive Series A in a research note to investors on Friday, October 18th. They now have a $34.00 price target on the stock.
All in all, it makes a good case for me to do my Black Friday and Cyber Monday shopping at the stock market as an excited buyer of LINTA.
Action to take: Buy LINTA at $28.20 or less. Target: $34.00. Sell-stop: $26.00
Disclosure: I have no positions in any stocks mentioned, and no plans to initiate any positions within the next 72 hours. I wrote this article myself, and it expresses my own opinions. I am not receiving compensation for it (other than from Seeking Alpha). I have no business relationship with any company whose stock is mentioned in this article.