The dollar figures that got tossed around last week in Dubai felt like watching an episode of Storage Wars -- but on an entirely different scale.
Instead of bidding a few hundred dollars on smelly furniture and rusty tools, they were dealing in hundreds of billions of dollars on brand new state-of-the-art airplanes.
Such is the norm for the bi-annual Dubai Airshow, an epic aerospace industry event that brings big suppliers and even bigger buyers together for a weeks' worth of deal making and product unveiling.
This year's show was definitely one for the ages -- and one in which the Middle East flexed its aviation might to the rest of the world.
The biggest order came from Emirates Airline, the Middle East's largest airline company, which plunked down a whopping $75.6 billion for 150 of Chicago-based Boeing Company's (NYSE:BA) new 777X aircraft, and 50 of France's Airbus SAS (a division of European Aeronautic Defence & Space Company NV (FP:EAD) - flagship A380 passenger planes.
Not far behind was Abu Dhabi's Etihad Airways' $45 billion order, where they booked 25 777X planes, 30 Boeing 787-10 Dreamliners, 50 Airbus A350s, and 36 smaller A320s.
Etihad's 30 Dreamliners by the way, helped Boeing reach 1,000 orders for the massive aircraft in nine years - a record achievement that beat out the famed Boeing 777's 1,000 order milestone by eight years.
Qatar Airways also purchased 50 777X twinjets and 13 Airbus A330-200 freighters for $21.7 billion.
The only significant buyer at the Dubai Airshow not from the Middle East was a German airline.
Deutsche Lufthansa AG (EPA:LHA) rang up an impressive 259 orders at the event, including 34 Boeing 777Xs -- reinforcing Germany's position as the euro zone's healthiest economy.
Germany anticipates the growing number of passengers traveling out of Dubai and the United Arab Emirates (NASDAQ:UAE) to exceed 1 million in 2013.
In turn, over 300,000 tourists from Germany are expected to fly to Dubai this year.
The number of flights will also increase between Saudi Arabia and Germany, with more planes flying out of Dammam, Riyadh and Jeddah.
All told, airlines and other procurement groups sealed over $200 billion worth of aircraft purchases, an all-time record for orders placed at any airshow.
That amount blew past the previous record of $155 billion set in 2007, also held by the Dubai Airshow.
With these deals, Middle Eastern carriers now account for 86% of Boeing's order backlog, while Emirates Airline alone makes up more than half of all orders for the A380.
If there is any indication that the world is still in a recession, it appears that the Persian Gulf is still waiting for the memo.
"We're in a global recession and we're still growing at 20 percent," Emirates President Tim Clark said. "As we can see the market responding to what we do on a global basis, there is no cap yet that we can see."
Though Boeing's big win in Dubai gave it a commanding lead over rival Airbus in terms of sales made, one company is reaping the rewards from both companies securing record orders.
Top Aviation Stocks To Buy
With such large orders coming in for Boeing, it's hard to not be bullish on the stock (I've mentioned in a previous article that because it's international footprint was growing significantly, it could be a reason to buy).
But there's a lesser known company that I'm even more bullish on -- and it's going to benefit greatly from Boeing's influx of cash.
The company is Spirit AeroSystems Holdings Inc. (NYSE:SPR). Spirit is a non-original equipment manufacturer and designer of aircraft parts. They build fuselage, propulsion, and wing systems and components for the aviation industry.
The success for Boeing and Airbus at the Dubai Airshow was critical for Spirit because the firm has valuable long-term contracts with both industry giants.
So valuable in fact, that business generated from the two companies make up over 93% of Spirit's revenue. Of that, Boeing accounts for slightly more than half the share.
Seeing as more 777Xs and 787s just got ordered in Dubai, the backlog of contracts for Spirit continues to swell.
Oddly enough, the biggest profits for Spirit don't even come from these wide body planes. Rather, their bread and butter comes from servicing smaller, single-aisle, narrow body planes.
Despite Boeing's success in Dubai, the biggest growth over the next two decades will instead be coming from their narrow body segments, namely the 737s and 757s.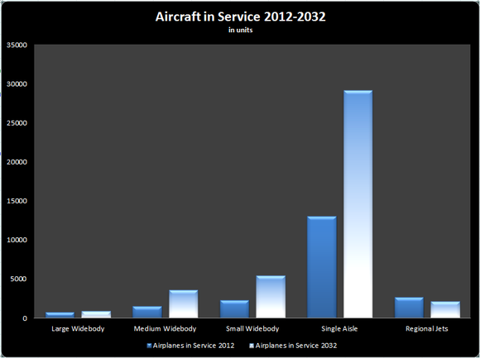 That's great news for Spirit because Boeing's 737 and Airbus' narrow body A320 comprises 72% of its working contracts.
With a short-medium flight range, they are the preferred aircraft for travel within North America as capacity is easier to fill and manage.
The popularity of these smaller planes was certainly capitalized on by Spirit over the past year.
In Q3 2013, Spirit reported 10% higher revenues than the previous year, while earnings per share of $0.65 beat analyst estimates and is a far cry from last year's net loss of $0.54. Cash flow for the quarter is also four times the amount of cash generated in Q3 2012.
All this points to a very healthy uptrend, not only for Spirit, but also for the aviation industry as a whole.
Though the Company's stock is fresh off a new 52-week high following the big transactions in Dubai, it looks more than capable of flying higher.
Disclosure: I have no positions in any stocks mentioned, and no plans to initiate any positions within the next 72 hours. I wrote this article myself, and it expresses my own opinions. I am not receiving compensation for it (other than from Seeking Alpha). I have no business relationship with any company whose stock is mentioned in this article.