Thanks to robust motor vehicle shipments and significantly larger shale oil shipments, it's been a solid year for railroad operators CSX Corp (NYSE:CSX), Norfolk Southern (NYSE:NSC) and Union Pacific (NYSE:UNP).
Industry carload volume is 1.6% higher year-to-date through mid November, despite an overhang tied to anemic coal and grain shipments. But with coal and grain facing easier comparisons, natural gas prices climbing and a record harvest prompting exports, is one of these railroad operators a better buy than the other?
Recovering rail volumes
All three companies have struggled to offset lower coal volume as natural gas prices have dropped and utilities have shifted electricity generation away from thermal coal. Offsetting those weaker carload categories, which are historically two of the largest, has been a 33% year-over-year increase in oil products, a 7% increase in non-metallic minerals like sand, stone, and gravel, and a 5% lift in motor vehicles and parts volume.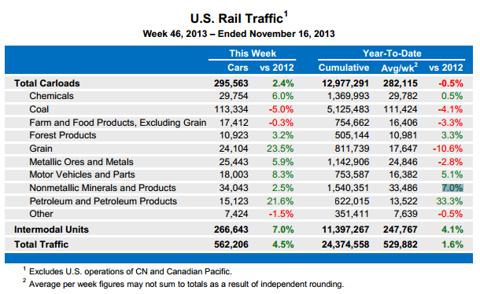 Debating earnings
A tight noose around expenses has helped CSX, Norfolk Southern, and Union Pacific maintain operating margin even with coal and grain headwind. But Union Pacific, which boasts the highest margin of the three, has clearly done the best job of growing its profitability given margin has been climbing steadily since 2009.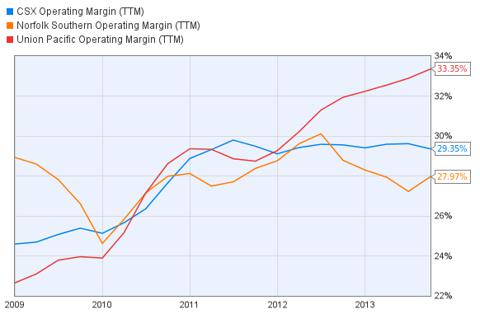 Union Pacific's operating margin improvement is clearly reflected in rising net income over the period, while net income at CSX and Norfolk Southern has flattened.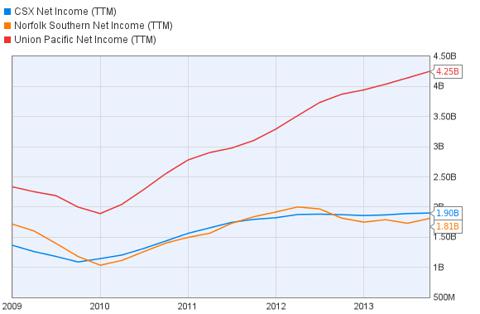 Union Pacific has beaten forecasts in each of the past four quarters. But it's not alone in posting better-than-hoped results. CSX has over delivered in all four, too. And Norfolk Southern has certainly been solid, outperforming in 3 of the past 4 quarters. The overall industry trend toward beating the Street suggests analysts over-modeled the negative impact of lower coal and grain volumes this year, or perhaps under-modeled operator's ability to adjust pricing and cut costs.
Quarterly EPS Versus Analysts Estimates

 

Surprise %

12-Dec

13-Mar

13-Jun

13-Sep

CSX

2.60%

12.50%

10.60%

7.00%

NSC

9.20%

4.30%

-2.00%

10.10%

UNP

1.40%

4.10%

0.90%

0.40%
Source: Yahoo! Finance
Either way, the improved bottom line performance for Union Pacific isn't translating into analyst euphoria. Over the past 90 days, analysts have taken their current and forward year earnings expectations lower for the company, not higher.
At CSX, they've increased estimates for this year, but slightly cut them for next year. And at Norfolk Southern, analysts have bumped up predictions for both this year and next year.
 

CSX

 

NSC

 

UNP

 

EPS Trends

Current Year

Next Year

Current Year

Next Year

Current Year

Next Year

13-Dec

14-Dec

13-Dec

14-Dec

13-Dec

14-Dec

Current Estimate

$1.83

$1.96

$5.67

$6.37

$9.37

$10.71

90 Days Ago

$1.80

$1.99

$5.51

$6.24

$9.53

$10.95
Source: Yahoo! Finance
Debating Valuation
Investors appear to be pricing in the benefit of recovering coal and grain shipments. They're paying more for every dollar of Union Pacific's sales than they've paid in five years and the price to sales ratio is similarly high for both CSX and Norfolk Southern, too.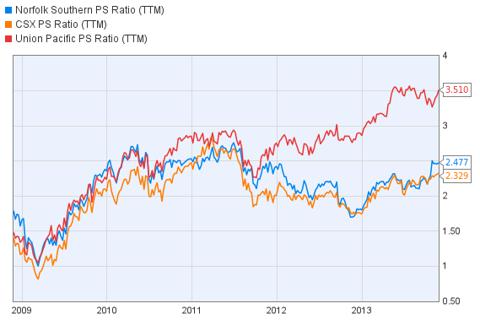 The situation at Union Pacific is similar for earnings. Investors are paying more for Union Pacific's earnings than for Norfolk Southern's and CSX's. And Union Pacific's P/E ratio is far closer to five year highs than it is five year lows. Meanwhile, Norfolk Southern and CSX could have more running room given their five year trailing twelve month peak P/E ratio is north of 18 times earnings.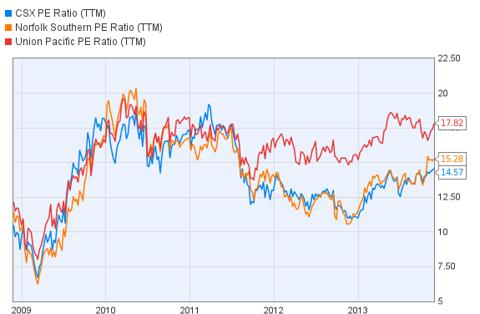 The preceding two charts suggest all three appear to be fairly valued when you consider P/E ratios in relation to forward earnings estimates. If you assume the three will trade at the midpoint of their trailing twelve month P/E and forward P/E ratio, then Union Pacific may offer the best potential return at 9%. Norfolk and CSX price targets come in 2.7% and 5.9% higher, respectively.
However, if we assume it's more likely we'll see P/E ratios for the three trickle down to their five year average, then only Norfolk's target price has any room to head higher and at 2.53%, the target return is fairly unremarkable.
| | | | |
| --- | --- | --- | --- |
|   | CSX | NSC | UNP |
| Trailing P/E (ttm, intraday): | 14.59 | 15.27 | 17.82 |
| Forward P/E (fye Dec 31, 2014) | 13.83 | 13.65 | 15.09 |
| Current Share Price | $27.11 | $86.98 | $161.63 |
| Forward EPS Estimate | $1.96 | $6.37 | $10.71 |
| Target P/E (midpoint trailing/fwd) | 14.21 | 14.46 | 16.455 |
| Target Price (Fwd EPS*Tgt P/E) | $27.85 | $92.11 | $176.23 |
| Potential Return | 2.74% | 5.90% | 9.03% |
| 5 Year Average P/E | 13.2 | 14 | 15.1 |
| Target Price (Fwd EPS*5 Yr Avg P/E) | 25.87 | 89.18 | 161.72 |
| Potential Return | -4.57% | 2.53% | 0.06% |
| Source: Yahoo! Finance |   |   |   |
Finally, if we look at price to forward earnings growth, or the PEG ratio, CSX's is 1.31, Norfolk Southern's is 1.22, and Union Pacific's is 1.26. Since ratios near or south of 1 typically represent the best value, it appears none of the three are overly compelling -- at least not relative to each other.
Some Final Thoughts
Over the past 15 years on the sell side I've found using a system to rank companies is helpful at narrowing a big list of ideas into a small list of actionable buys.
As a result, my team at E.B. Capital Markets, LLC has been screening the most widely traded equities every week for the past ten years, giving each a score based on the company's earnings beats, earnings growth, insider buying, money flow, short interest, valuation and seasonality. This approach is designed to find the best ideas to own for the coming year. Currently, the model ranks CSX highest with a score of 105 and Union Pacific lowest at 70.

Source: E.B. Capital Markets, LLC
As for timing, it appears CSX offers investors the best seasonality from November through January. Over the past 10 years, shares in CSX have traded higher 8 times, producing an average and median 3.02% and 5.91%, respectively.

Source: Seasonal Investor Database
Across these three rails it appears all are near fairly valued, with CSX potentially offering the best balance between growth and value. Norfolk Southern trails the other two in operating margin, has the edge in expected earnings and is mid pack in valuation categories. And Union Pacific's strong profit showing may be fully priced in based on these valuation measures.
That suggests you'll need to keep a close eye on weekly rail volume and results over the next quarter to see if coal and grain carloads do indeed recover and support earnings upside next year.
Disclosure: I have no positions in any stocks mentioned, and no plans to initiate any positions within the next 72 hours. I wrote this article myself, and it expresses my own opinions. I am not receiving compensation for it (other than from Seeking Alpha). I have no business relationship with any company whose stock is mentioned in this article.