Regular readers of my columns know that when it comes to investing in the biotech sector I take numerous small positions with a lot of promising but speculative small-cap plays. This sector is inherently volatile so it pays to spread your bets around.
There are several things I look for in this space before I make any investment. Obviously insider buying is a nice positive to any investment case in this area as they are some most informed voices on their company's prospects.
In addition, interesting products in the pipeline and solid trial results are a couple of items I look for. I also look for increasingly positive analyst coverage in this space, especially if the escalating positive coverage does not come directly after a biotech company goes IPO (in those cases I take the analyst opinions with a huge grain of salt).
I recently came across a speculative small biotech that had a recent hiccup but where analysts believe there is substantial upside for patient and aggressive investors.
Repros Therapeutics (NASDAQ:RPRX) is a biotechnology company involved in the development of treatments for reproductive and hormonal system disorders. Its primary product candidate is Androxal which is a treatment for low testosterone caused by secondary hypogonadism. It is also developing Proellex for uterine fibroids and endometriosis and VASOMAX for ED (erectile dysfunction). The company has a market capitalization of less than $400mm.
The stock tumbled more than 30% late in October as the FDA requested a meeting to discuss findings around Androxal. This has moved out company guidance for NDA submission to the second half of 2014. Multiple analysts have rushed to defend the firm's prospects and believe the decline to $16 a share is a good entry point.
Piper Jaffray moved the stock to "Outperform" with a $26 price target today. Analyst Joshua Schimmer (a five star analyst according to TipRanks) at Piper puts the recent decision by the FDA in perspective "RPRX will consult with the FDA and run confirmatory studies comparing Androxal to topical testosterone, which should definitively illustrate the drug's lesser proclivity toward infertility. As Androxal moves back on the path toward approval in 2014, we expect the shares to reflect this forward progress".
Lazard Capital commented immediately after the FDA decision calling it a "Slight delay to tighten Androxal filing that is worthwhile". It reiterated its "Buy" rating and $31 a share price target.
Breen Capital also stated the reaction to the FDA decision was overdone. "We are encouraged that the FDA has now agreed to head-to-head trials against testosterone replacement products".
Overall, the six analysts that cover the stock have a $32 a share median price target on RPRX. This is roughly double the current stock price. In addition, the company has over $80mm of net cash on its balance sheet. This is more than four years funding at recent operating cash flow run rates. Three insiders have bought ~$100K in shares over the past six weeks. Finally, the stock seems to be building some technical support at these levels (See Chart).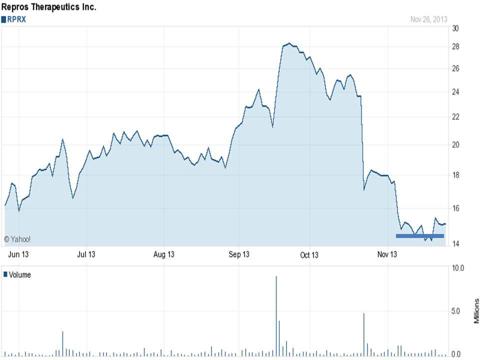 In summary, the decline of the stock from its recent highs of over $28 a share seem overdone judging from analyst comments & price targets. Repros has a potentially lucrative product, insider buying and a strong balance sheet. I bought some shares this morning as I think it is a good speculative buy.
Disclosure: I am long RPRX. I wrote this article myself, and it expresses my own opinions. I am not receiving compensation for it (other than from Seeking Alpha). I have no business relationship with any company whose stock is mentioned in this article.