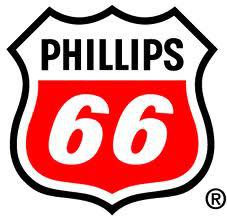 As Phillips 66 (NYSE:PSX) hits an all-time high today, one has to wonder if the company is the best way to profit from the domestic shale revolution. PSX has a number of strong catalysts going forward and is an insurance policy on the potential weakening of WTI prices.
Strong Catalysts
Phillips 66 has a number of powerful catalysts setting the company up for nice gains next year:
Advantaged crude slate (66% and growing) in refining.
Ability to grow refined product exports.
Advantaged feedstock for arguably the best chemical company in the world (CPChem).
Excellent and growing midstream business with DCP.
New fractionator and chemical expansion projects.
New LPG export terminal project.
Ability to drop-down midstream assets to Phillips 66 Partners (NYSE:PSXP).
A great dividend growth story.
Competent and shareholder friendly management.
Bottom line is PSX is excellently positioned and diversified to take advantage of low natural gas and mid-continent oil prices as a result of the domestic shale revolution. Most analysts agree low natural gas prices will be with us for quite some time. Many also see potential for lower WTI prices due to fast growth of US light-sweet crude production which may be close to outstripping domestic light refining capacity. At the same time, US law prohibits exports of unrefined crude. While lower WTI prices would crimp shale oil producers, it would be a strong tailwind for a company like PSX.
LPG Terminal
As I reported in my earlier article on the LPG terminal, what other company can spend a combined $2 billion of investment (the fractionator and LPG terminal) and get ~$450 million in EBITA for many years to come? PSX's ownership of the export terminal real estate and its close proximity to the huge Mont Belvieu/Sweeny, TX refining complex enabled this kind of project. The plant will have an export capacity of 4.4 million barrels per month and is scheduled to come online in mid-2016. This project is a long-term growth story to profit on the huge growth in domestic NGLs production associated with ongoing shale oil exploration.
Shareholder Friendly Management
PSX management has proved itself to be shareholder friendly. According to the company's dividend webpage, PSX began trading as an independent company in May of 2012, with a dividend of $0.20/share. Since that time shareholders have been rewarded with three dividend increases:
Oct 2012: $0.25
Feb 2013: $0.3125
Oct 2013: $0.39
The amounts given above are per share and per quarter.
In addition, the company announced a $1 billion share repurchase program in Q3 of 2012, which it then increased by another $1 billion in December of 2012. In July of this year, the company bumped up the share repurchase plan by yet another $1 billion when it released Q2 earnings. Obviously, Phillips 66 is a company dedicated to sharing success with shareholders.
Summary And Conclusion
While it is tough to declare Phillips 66 THE best play on the domestic shale revolution, the company should be considered as one of the best. There is probably no downstream company as nicely diversified across refining, chemicals and midstream as PSX. Dividend-growth investors should consider the long-term income prospects as the company drops-down assets to its PSXP MLP. With several midstream and chemicals expansion projects underway, the company is poised for impressive growth in the coming years. Normalized earnings should be around $6.50/share. With the current PE of 12, that's $78. Expect growth projects to lift both forward EPS and valuation in the coming years as the market comes to grips with PSX's earnings growth potential. Shareholders can expect dividend increases on a regular basis. Technically, the company may have formed a bullish cup-n-handle formation. But we need to see significantly higher volume to confirm a sustained breakout off the ~$65-66 handle.
PSX is a long-term BUY and HOLD.
Mkt Cap = $42 billion
P/E ("ttm") = 9.6
EPS ("ttm") = $7.37
Div (Yield) = $1.25 (2.10%)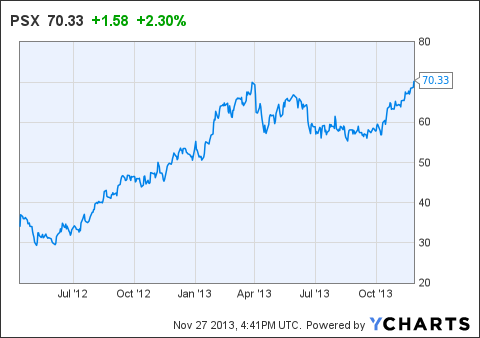 Disclosure: I am long PSX. I wrote this article myself, and it expresses my own opinions. I am not receiving compensation for it (other than from Seeking Alpha). I have no business relationship with any company whose stock is mentioned in this article.
Additional disclosure: I am an engineer, not a CFA. The information and data presented in this article was obtained from company documents and/or sources believed to be reliable, but has not been independently verified. Therefore, the author cannot guarantee its accuracy. Please do your own research and contact a qualified investment advisor. I am not responsible for investment decisions you make. Thanks for reading and good luck!