By Brandon Clay
Investors have plenty of ETF options to track major U.S. asset classes. The benchmarks sometimes have significant overlap, and in some cases more than one ETF follows the same index. How do you tell which one is better? One important factor is expenses.
Take two ETFs designed to track the S&P 500. SPDR S&P 500 Index ETF (NYSEARCA:SPY) has an expense ratio of 0.09% as does its lesser known rival, the iShares S&P 500 Index ETF (NYSEARCA:IVV). SPY, the original ETF, is more widely held than IVV. In fact, SPY is bigger than any other ETF in the world having at more than $70 billion. SPY is also very liquid, trading nearly 165 million shares on an average day.
IVV, on the other hand, has "only" $21.2 billion in assets and trades "only" 3.95 million shares per day. It's big and active, but SPY is even more so. So one might prefer to invest in SPY, right? Not so fast. In news that is likely to have long-term ramifications on the ETF industry, brokerage giant Fidelity announced commission-free trading for 25 iShares ETFs. IVV is one of those ETFs. SPY is not.
Commission-free ETF trading was pioneered by Schwab for its own proprietary ETFs. Fidelity's move is a response to competitive pressure – and a good one, since iShares is one of the largest ETF issuers in the world. Plus, the 25 iShares ETFs (including IVV) that Fidelity is offering commission-free gives investors many more choices than at Schwab.
Many of Fidelity's 12 million retail customers could see a big reduction in their trading expenses as a result of this change. The cost-savings could make the choice between IVV and SPY very easy for many investors. The impact of the Fidelity announcement was immediately visible during Tuesday's trading session. Shares of Fidelity rivals such as Schwab (NYSE:SCHW), TD Ameritrade (NASDAQ:AMTD) and E*Trade (NASDAQ:ETFC) all traded lower on the news.
While a brokerage price war doesn't testify to the future performance of any particular ETF, this move by Fidelity does make choosing between two S&P 500 ETFs that much easier. If you have an account at Fidelity and want to buy the S&P 500, use the commission-free choice: IVV.
click to enlarge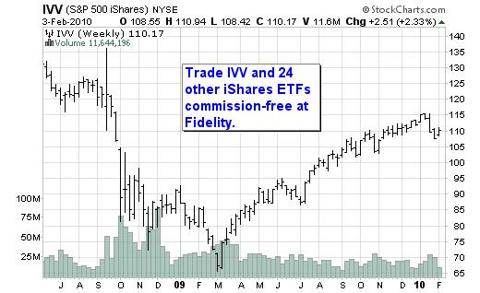 Disclosure covering writer, editor, publisher, and affiliates: No positions in any of the securities mentioned. No positions in any of the companies or ETF sponsors mentioned. No income, revenue, or other compensation (either directly or indirectly) received from, or on behalf of, any of the companies or ETF sponsors mentioned. Our affiliate, Capital Cities Asset Management, uses Fidelity Brokerage Services and Ameritrade Institutional as custodians and brokerage for client accounts.