On Tuesday, November 26, a number of homebuilders had their tails in the air following the latest housing starts report, which beat expectations by 71,000 and demonstrated an increase of 6.2% from September and 13.9% from a year ago. In the wake of Tuesday's housing-related news I wanted to highlight a number of reasons behind my decision to stay bullish on shares of PulteGroup, Inc. (NYSE:PHM).
Company Overview
According to the company's website, "PulteGroup has been providing the American Dream of homeownership to families for 60 years. What started as a single home built and sold by the entrepreneurial spirit of an 18-year-old Bill Pulte has grown into the industry's sole multi-brand homebuilding company with the ability to serve customers in all phases of life. Today, PulteGroup operates in approximately 50 markets throughout the country." By continuing to demonstrate steady growth on a year-over-year basis, I see no reason why the company can't continue to reach more and more customers both here in the US and throughout the world.
Recent Performance And Trend Behavior
On Tuesday, shares of PHM, which currently possess a market cap of $7.28 billion, a forward P/E ratio of 16.29, and a dividend yield of 1.06% ($0.20), settled at a price of $18.95/share. Based on their closing price of $18.95/share, shares of PHM are trading 6.84% above their 20-day simple moving average, 10.81% above their 50-day simple moving average, and 1.60% above their 200-day simple moving average. These numbers indicate a short-term, mid-term and long-term uptrend for the stock, which generally translates into a moderate buying mode for both short-term traders and long-term investors.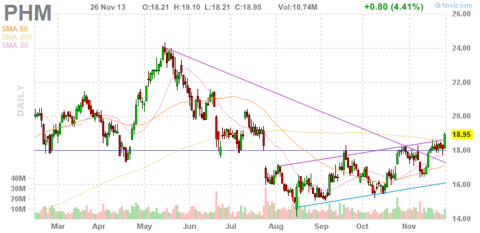 Click to enlarge
Recapping PulteGroup's Strong Q3 Earnings
On Thursday, October 24, PulteGroup reported EPS of $0.45/share and revenue of $1.58 billion for the third quarter. These results had surpassed both analysts' EPS estimates by a margin of $0.09/share and revenue estimates by a margin of $120 million. Some of the more positive notes to come out of the company's earnings announcement included but were not limited to a 21% increase in Home Sale revenues from the prior year (which came in at $1.5 billion) and a 390 basis point increase in adjusted gross margin (25.5% during Q3 2013 vs. 21.6% during Q3 2012).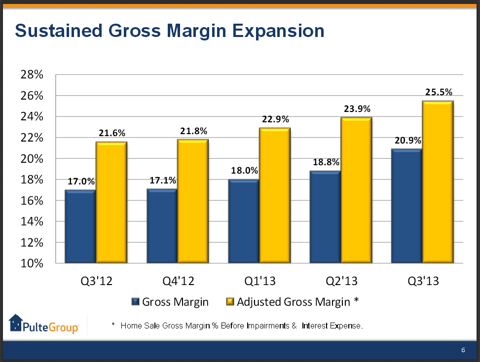 Click to enlarge
(Source: Q3 2013 Earnings Presentation)
It should also be noted that through the first nine months of 2013 the company invested $918 million in land and development, retired $461 million of debt, repurchased $83 million of our common stock, and declared $38 million in dividends. If PulteGroup can continue to engage in all four of the above mentioned activities, I see no reason why both Q4 ($0.44/share on revenue of $1.64 billion) and FY ($6.58/share on revenue of $5.66 billion) 2013 EPS and revenue estimates can't be met and/or exceeded.
Looking Ahead To Q4 2013
Analysts are expecting PulteGroup to earn $0.44/share on revenue of $1.64 billion during the fourth quarter and if housing starts as well as the company's gross margin continue to demonstrate impressive growth, I see no reason why those estimates can't be met or even exceeded by a margin of 4%-7%.
Risk Factors
Are there any risk factors investors should consider before establishing a position in PulteGroup? Yes there are, and according to the company's most recent 10-K, there are a number of risk factors all investors should consider. These factors include but are not limited to the fact that although industry conditions improved during 2012, the overall U.S. economy remains weak and the timing of a broad, sustainable recovery in the homebuilding industry remains uncertain and as a result deterioration in industry conditions could adversely affect the company's business and the results of operations on both a near-term and long-term basis.
Conclusion
For those of you who may be considering a position in PulteGroup, I'd keep a watchful eye on a number of things over the next 12-24 months as each could play a role in the company's long-term growth. For example, near-term investors should focus on the company's recent performance and trend behavior, while long-term investors should keep an eye on the company's ability to maintain and sustain the dividend it began paying earlier this year as well as its ability to continue to improve its gross margins on both a quarterly and annual basis.
Disclosure: I have no positions in any stocks mentioned, but may initiate a long position in PHM over the next 72 hours. I wrote this article myself, and it expresses my own opinions. I am not receiving compensation for it (other than from Seeking Alpha). I have no business relationship with any company whose stock is mentioned in this article.