AT&T (NYSE:T) is a telecommunication services company which provides its services to a broad range of customers ranging from mass-market consumers to enterprises. The company was founded in 1983 and is based in Dallas, Texas. The company provides wireless and wire line services. Its wireless services include voice and data services. The wireless segments also provide handsets and hardware required for wireless communication. Its wire line business includes home wire line telephone, internet and television services for consumers and enterprise customers. AT&T's network incorporates MPLS (Multi-Protocol Label Switching), internet data centers and 4G LTE network. For reporting purposes, the company operates in three segments; Wireless, Wire Line and Other. The Wireless segment accounted for approximately 52% of total operating revenues in 2012, as compared to 50% in 2011. The Wire Line segment accounted for approximately 47% of total operating revenues in both 2012 and 2011. Other revenues make up only around 1% of the total revenues of the company.
Market Performance
Shares of AT&T are listed on NYSE and are currently trading at around $35.42. Market performance has been mixed with shares trading between $30-39 during the whole year. This low fluctuation is the hallmark of a stable and long term dividend investment.

Despite the growing revenue and EPS expectations, the share price of the company is not rising accordingly. This behavior could be explained by the recent moves of competitors like TMUS. TMUS' un-carrier marketing strategy has been successful in the last two of quarters, placing investors in an uncertainty regarding the choice of a telecom company for investment. If we gauge the performance of AT&T, it has been up to the mark with a hint of slowing dividend yield growth, but that should not affect the price performance of the stock as long as dividend payments do not fall below expected dividends. The current competitive environment could be the reason of mixed stock performance.
Financial Performance
Revenue
Revenues of the company have grown over the last three years, recording a growth of around 4% since 2011. Net income has almost doubled since 2011. The increase in 2012 and 2011 is primarily due to the growth of wireless service and equipment revenues and higher wire line data revenues from U-verse and strategic business services. Growth in the wireless subscriber base and the increasing percentage of subscribers using smartphones has also contributed to the revenue increase since 2011.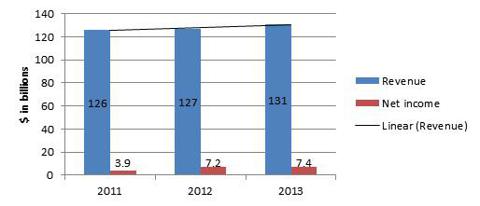 Click to enlarge
As the table indicates, net income was not in line with revenue in 2011, this was due to impairment of intangible assets. The impairment amounted to around $2.9 billion. The Growth in 2013 can also be attributed to a growth in data services and equipment provided by the company. Growth in voice, text and other services remained at par when compared to the previous year.
Liquidity and Cash Flow
The Cash balance of the company is around $1.37 billion as at September, 30 2013. The cash position has weakened since last year; the balance was around $4.8 billion at the start of 2013. Increased capital expenditures and payment obligations of financing activities have contributed to this decline. However, this is not an alarming development because low cash balances indicate an efficient deployment of the cash which could result in future gains.
Current Ratio: Current ratio of the company is 0.51x. Verizon (NYSE:VZ) and T-Mobile (TMUS), on the other hand, have current ratios of 2.43x and 1.44x respectively. The current ratio of AT&T is well below industry norms, this is indicative of a working capital problem in the future. If the company does not resolve this problem in a timely fashion, it could have serious liquidity implications. Liquidity problems may lead to dividend cuts which will affect its valuations.
Dividend Yield
AT&T is paying its shareholders a constantly growing dividend. The dividend yield for the current year is around 5% which translates to $1.8 per share. Verizon's dividend yield is around 4.20% and industry average is around 4.9%. So, AT&T is paying above average dividends to its shareholders. The graph below shows the dividend trends of the company in the past few years.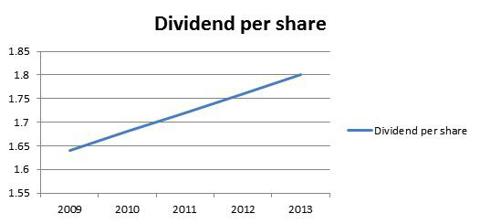 Click to enlarge
The graph is an evidence of the fact that company is maintaining a policy of constant dividend increments. AT&T is increasing dividends by $.01 per quarter. Dividend growth is welcomed by the investors but increased dividend obligations put pressure on the liquidity of a company and dividend cuts later on could affect the share price. AT&T's liquidity position is not healthy as far as figures of the balance sheet are concerned. Moreover, the company is paying above average dividends. This indicates that if the company does not improve its liquidity position, dividend cuts will be inevitable and the share price will be affected.
Drivers of Performance
Industry Prospects
According to a research by AT Kearney, the next few years will see a continued growth in the industry with a further 700 million subscribers expected to be added globally by 2017 and the 4 billion mark to be passed in 2018. Subscriber numbers are expected to grow at just 1% p.a. between now and 2017 in Europe and North America due to market maturity. Data volume growth in developed markets will be driven by greater smartphone adoption and increased download speeds made possible by new technology such as 4G. Mobile network operators' revenue is set to grow at 2.3% CAGR during 2012-2017. LTE/4G networks will account for 1 in 5 mobile broadband subscriptions by 2017 (versus 1 in 25 in 2012). Mobile data volumes will see a growth factor of 66% CAGR until 2017. So, telecom industry will grow at a relatively slower pace, with the growth mainly supported by an increase in data volume and 4G technology. Mature markets like North America will not see much growth, so the companies in these markets have to compete by improving new technologies like 4G in order to accelerate the growth factor.
LTE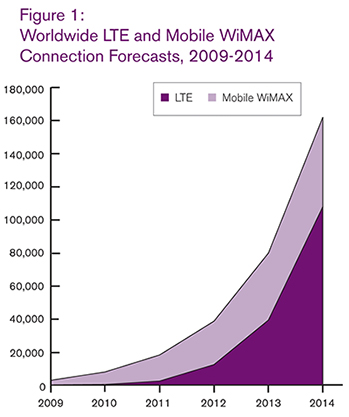 "Our research shows that the demand on mobile broadband networks is nearly doubling every year, so there is definitely no room to remain idle" said Dan Hays, U.S. advisory wireless leader for PricewaterhouseCoopers. LTE, also known as 4G, is expected to grow and the wireless services industry will generate substantial revenues from this technology in the near future. AT&T launched LTE after Verizon. Therefore, AT&T benefited from technology improvements which were not available when Verizon launched LTE. This translated to a better quality network for AT&T and it maintained its dominant position in LTE coverage. AT&T's LTE network is 4.3mbps faster than Verizon's. Tests conducted by RootMetrics recorded 18mbps downlink and 9mbps uplink speed for AT&T. AT&T was also referred to as a "speed king" by PCMAG. However, Verizon has LTE presence in around 500 markets as compared to AT&T's presence in 326 markets. Overall it is a head to head competition between Verizon and AT&T in the LTE arena, but it is too early to predict winners in this segment of the business. However, superior speed is a competitive advantage for AT&T.
Quality Focus
AT&T is more focused on the power and quality of their networks and is less concerned about coverage because existing HSPA+ networks can provide decent speeds, according to an official of AT&T. AT&T is aiming to increase cell density in a given area, which means more customer capacity. With LTE, AT&T is also focusing on the quality and speed. The company is making improvements in its radio architecture; it was able to mitigate power losses by bringing active electronics next to the antenna which were previously situated at the base of the radio tower. One thing is clear from these developments that AT&T's strategy is to compete on network quality basis rather than coverage. This could lead to increased customer retention in the future. Furthermore, enhanced quality of the network will bring more capacity to the system and better prospects for future growth.
Subscriber Growth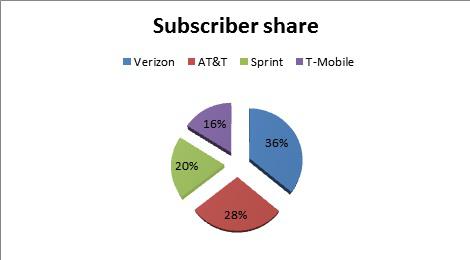 AT&T subscriber number is adjusted for comparison purposes.
AT&T is the second largest telecom service provider in terms of total subscribers. Verizon is the market leader with approximately 101.2 million retail connections. AT&T has around 79.5 million prepaid and postpaid subscribers. With such a large share of market, AT&T can grow in the near future by providing LTE services to its existing customers. AT&T added almost 1 million subscribers, up from 0.7 million y/y, in the third quarter of 2013. By comparison, Verizon added 1.1 million net retail connections. Verizon's growth was below analyst's expectations and this was because of T-Mobile's new low priced "Un-carrier" strategy. So, AT&T has to come up with a counter strategy which enables it to retain existing customers and add new ones.
TMUS Threat
T-Mobile recently acquired MetroPCS and emerged as a considerable competitor. It has seen a faster subscriber growth than any other carrier. Thanks to T-Mobile's un-carrier strategy, i.e. low pricing and large incentives for customers, AT&T and Verizon are expected to experience sluggish growth. Moreover, TMUS has no dividend obligations while AT&T has above average dividend yield making it difficult to indulge in a price war with TMUS. To counter TMUS' strategy, AT&T acquired Leap Wireless International that provides relatively low priced services to its customers. This acquisition added around 5million customers and improved AT&T's spectrum position. The move seems to be a wise one but only time will tell whether this proves successful against TMUS. We believe that AT&T will not indulge in price wars for now and will try to maintain its share price. TMUS will gain customers with their new strategy but the point to be noted here is that the quality and coverage of AT&T's network is superior to that of TMUS. So the question is whether TMUS will be able to retain its customers in the future? AT&T's network and coverage will hold TMUS to the shores but if TMUS enhances its coverage and quality, it will prove be a big problem for both AT&T and Verizon.
Valuation

The price target estimate shows that the shares are trading at around the correct valuation. Mean price target is $34.7 indicating that shares are mildly overvalued. The P/E for the company is 13x and growth rate is above the industry average. The P/E of the company is used to derive the price target because we believe that investors are placing the right price tag on the earnings of the company. Shares of the company are expected to perform at par with the current valuation in the near future.
Conclusion
The North American telecom market is expected to experience sluggish growth in the coming future and this growth will be mostly spurred by data services, including 4G technologies. Despite the slow growth, AT&T is expected to post above average revenue growth because of its strong market position, and the speed and quality of its LTE network in North America. The company will compete head to head with Verizon, but there are some alarming facts like the liquidity position that may lead towards dividend cuts and, therefore, depreciation of the share price. T-Mobile is likely to indulge in price wars with AT&T and will end up gaining more customers. This could affect the growth prospects of AT&T in the short term but the deciding factor of success will be the coverage and quality of service in the long term. It seems that AT&T is well informed and well prepared in this area as it is directing its efforts towards enhancing its network quality. The acquisition of Leap is also seen as a strategic move to counter TMUS' strategy, and to improve the company's spectrum position. AT&T is prepared to face the threat posed by TMUS and is better positioned than TMUS because of its network coverage and quality.
Risk Factors
Future strategic actions by TMUS like successfully increasing coverage and substantial improvements in network quality could have a material impact on the business performance of AT&T.
Rising interest rates could result in diversion of funds from telecom towards bonds, affecting the valuation of telecom companies.
Disclosure: I have no positions in any stocks mentioned, and no plans to initiate any positions within the next 72 hours. I wrote this article myself, and it expresses my own opinions. I am not receiving compensation for it (other than from Seeking Alpha). I have no business relationship with any company whose stock is mentioned in this article.