The Japan Trade
In the last few months, as the US equity markets have powered forward partly due to massive quantitative easing from the Federal Reserve, investors have seemingly taken their focus away from what was one of the largest stories of the first half of the year: the Japan Trade. The trade which involves investors buying Japanese stocks and subsequently shorting the Japanese yen had performed very well as Japanese Prime Minister Shinzō Abe had embarked on his immense economic reform plan dubbed Abenomics.
The WisdomTree Japan Hedged Equity Fund (NYSEARCA:DXJ), which is a popular vehicle for investors to gain exposure to the Japan Trade, is up by over 35% YTD.
Abenomics has sought to bring back inflation to the Japanese economy, which has suffered from the adverse effects of deflation for a number of years. While the Japanese Government has denied intentionally weakening the yen through monetary expansion, many see this as a large part of their plan to improve the economy and create inflation. This is especially evident in the energy markets as Japan is a large importer of oil and natural gas and since the yen has weakened rather substantially, energy price inflation is likely to be a driver of overall inflation for the country.
The yen's weakness has also driven competitive advantages for Japan's exporters, including the automobile industry as a weaker yen makes purchases by foreign buyers less expensive. On January 9th of this year, I published an article on Seeking Alpha titled, "2 Dividend-Paying Japanese Car Companies Set To Benefit From A Lower Yen" which discussed Toyota (NYSE:TM) and Nissan (OTCPK:NSANY) as key beneficiaries from Abenomics. Recently, Japanese equities and the yen have stabilized and some investors have lost confidence in the Japan Trade. However, I believe that the Fed's taper of its monetary easing program could catalyze further gains for the Japan Trade.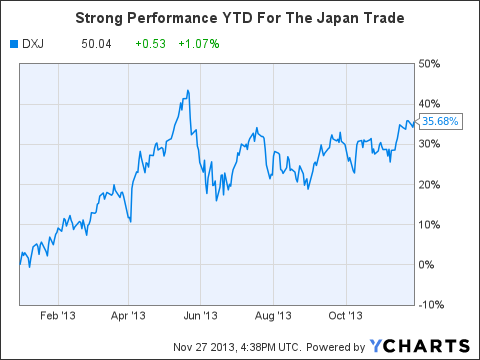 The Taper and Dollar Strength
One of the main effects of quantitative easing is the relative devaluation of currency. In recent months and years, the US has expanded the monetary base substantially without causing excessive value erosion to the dollar. While this is likely at least partly due to the dollar's status as a reserve currency, there is still downward pressure on the currency. Currency movements are relative and given the world's 'Race to Debase' as many central banks have looked to flood the markets with liquidity, currency pair fluctuations are likely less than they would be if a central bank were engaged in quantitative easing unilaterally. While Japan is slated to continue its monetary easing at a large pace through at least 2014, many believe that the Fed will taper its asset-purchasing program at some point in the near future. I believe that this will drive dollar strength and relative yen weakness as Japan powers forward with its easing. This should provide further gains for the Japan Trade and could rekindle investors' attention to the massive change that Abe is overseeing.
Abe's Structural Reforms Take Time
Many investors in the Japan Trade have looked for short-term profits as a result of a rapidly decreasing yen and rising equity market. Prime Minister Abe's structural reforms are aimed at improving Japan's competitiveness in the global economy. However, this takes time and investors in the trade for the short term will not get to reap the long-term benefits of these reforms. Japan is improving and it has tremendous long-term economic potential and I believe that Abenomics will be instrumental in helping Japan reaching that potential.
Conclusion
While the Fed's taper may prove a large catalyst for dollar strength and subsequently yen weakness in the near term, the long-term benefits from Abe's structural reforms in Japan could be immense and those with exposure to the country and the trade could profit substantially.
Disclosure: I am long DXJ. I wrote this article myself, and it expresses my own opinions. I am not receiving compensation for it (other than from Seeking Alpha). I have no business relationship with any company whose stock is mentioned in this article.