By David Urani
We've been noting the downtrend in oil prices over the past couple of months. That continued today, with oil down more than a dollar to just above $92.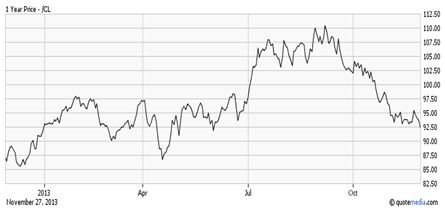 The driver today comes from weekly oil inventory from the DoE, which increased by 2.95 million barrels. That was a lot more than the 750k increase expected by the Street for the week. But even more impressively, it's the 10th week in a row stockpiles are up, and that's only happened three other times since 1984.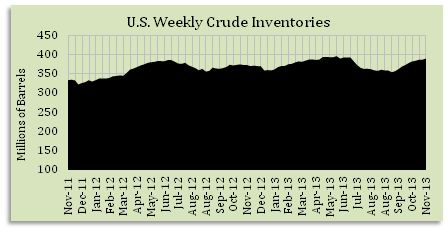 On one hand, it could be seen as a warning sign that usage is down, but reports have suggested that is not the case. Instead, the increasing inventories of oil appear to be driven by robust production here in the U.S., which is leading to gluts. That effect is backed up by the low price of American WTI oil (West Texas Intermediate) vs. international Brent. Brent oil, at $110.64, is now approximately $18.40 more expensive than WTI, well up from the $3.18 spread in mid-July.
The subsequent easing in fuel prices is also one of the factors that will have helped the University of Michigan's consumer sentiment index to increase from 72.0 for October to 75.1 currently. So if the holiday shopping season comes in strong this year, maybe a bit of credit is due to America's oilfield workers.