This article focuses on the American insurance sector, and my three top picks in the property and casualty (P&C) segment in particular. Five years after disaster struck the United States economy, a concentrated effort undertaken by the government, regulators, and businesses across the nation have led to the economy get back on its feet, showcasing signs of stability as key indicators ranging from declining unemployment rates to stable interest rates, a fall in equity risk premiums, and record levels of major stock market indices all point toward an upward momentum in the economy.
AIG: Then and Now
While there were many multinationals queued outside the White House to grab a share of the multibillion-dollar bailout program, none of them attracted negativity as much as American International Group (NYSE:AIG), which received a mammoth $180 billion bailout package to turn itself around. The company faced a lot of public ire as news broke of AIG using tax payer money to pay outstanding bonuses to its management -- the people allegedly responsible for the company's massive downfall owing to the credit default swap debacle. Five years later, the company is back on its feet as improved business sentiments and growth across the company's key segments resulted not only in AIG repaying the entire bailout sum back to the government, but also record a steady growth in the company's bottom line.
Performance
The third quarter of 2013 saw the company record $2.2 billion in operating income from insurance operations, growth of 38% from a year earlier. Property and casualty segment recorded a growth of 3% in net premium, and a 2.8-basis-point fall in accident year loss ratio from the Q3 2012 as a result of a shift toward high value businesses, enhanced risk selection, and loss mitigation initiatives.
Moving forward, AIG's life and retirement business segment saw the company record a 38% growth in pre-tax operating income on the back of strong growth in fee income. A strong and resurgent equity market combined with sustained execution of the company's long-term institutional growth strategy pushed the sales of AIG's retail products, as the company recorded a 10% growth in assets under management from a year ago.
Competitive Landscape
The American insurance industry is shrouded by multiple insurance players both big and small. I would like to draw your attention to two players specifically, which, in my opinion, are significant competition for AIG. A number of financial agencies led by Citibank lowered their outlook on Allianz SE (OTCQX:AZSEY) from a buy rating to neutral. With all due respect, I beg to differ.
The most recent quarter saw the German financial major record a 6.3% gain in net income attributable to shareholders from a year ago. The property and casualty segment saw the company come up with mixed results, as strong growth in premiums across Central and Eastern Europe was offset by reduction of crop business in the U.S. and unfavorable foreign exchange developments.
Moving ahead, the company recorded a 6.4% rise in operating profit in the third quarter from a year ago on the back of strong performance in Italy, the U.S. and at AGCS, and a slight improvement in the combined ratio by 1.4 percentage points for the quarter. The life and health insurance segment also recorded decent growth as statutory premiums rose to 12.7 euros, growth of 6.6% from the previous quarter driven by strong demand in health products from Germany and Italy. Despite the troubling times the European economy is going through, I believe, Allianz has done well to sustain its top and bottom line, and at the same time record decent growth across key business segments and geographies.
AXA Group (OTCQX:AXAHY) is another player in the American P&C segment that has delivered strong results in recent times. The first half of the year saw the French insurance major deliver strong growth in top- and bottom-line figures, combined with effective risk management at the macro level. The company recorded a strong 16% year-over-year growth in net income from the first half of previous year, while maintaining a strong 6% CAGR in underlying EPS for the last four years. With an ROE of 16.5% in the first half of 2013, the company has been successful in maintaining its ROE at levels much higher than its competitors, which gives it a strong competitive advantage. Going forward, the company is pulling all the right levers to successfully generate handsome returns and looks poised to deliver strong results in the coming times.
Valuation Metrics
Click to enlarge image.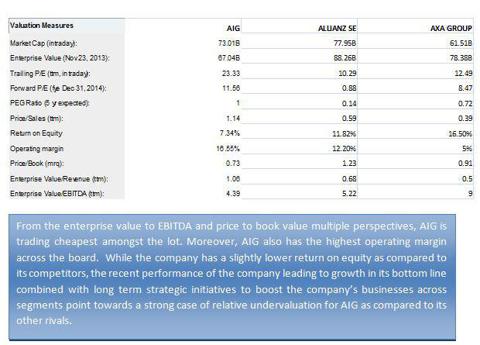 My Two Cents
AIG has suffered enough for its sins and it's now time investors take note of this solid performer in the global insurance market. From the above analysis, I am convinced of the firm's bright future going forward and rate this stock a strong buy and a worthy addition to an investor's portfolio. While AZSEY and AXAHY offer a compelling investment opportunity driven by strong fundamentals, both companies are operating in a highly tumultuous and sluggish European macroeconomic environment. While these stocks offer a compelling case of investment for the risk-taking investor, it would be advisable for the risk-averse investor to keep away from them until the clouds of macroeconomic uncertainty subsist and a clearer picture can emerge from beneath the dust.
Disclosure: I have no positions in any stocks mentioned, and no plans to initiate any positions within the next 72 hours. I wrote this article myself, and it expresses my own opinions. I am not receiving compensation for it (other than from Seeking Alpha). I have no business relationship with any company whose stock is mentioned in this article.