Micron Technology Inc. (NASDAQ:MU), based in Boise, ID, has rewarded investors with remarkable returns: 220% in 2013, and 256% over one year. The company's stock remains popular, as recent data shows hedge funds holding 21% of the corporation. Further, there are a number of notable persons who have gotten behind Micron recently.
Perhaps David Einhorn, who has recently spoken about the stock, and recently disclosed owning 2% of it, is the best known. Cody Acree of Williams Financial, takes the opportunity to elucidate in an interview, saying that the industry is consolidating and that capital expenditures have been lower. To use my own words, fundamentals are improving. A chart showing quarterly purchases of Property, Plant and Equipment offers illustration: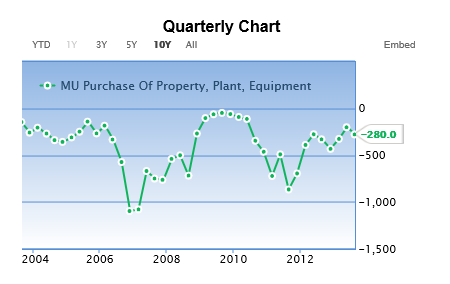 Lower capital expenditures may bode well for the company's future. However, there are other reasons that widely-followed money has flowed into the stock. The table below presents financial data that is supportive of continued appreciation:

Click to enlarge
Free Cash Flow ("FCF") is up 270%! Also, the price/FCF ratio is approximately 2x higher; and FCF Yield is lower than a year ago, indicating reduced likelihood of compressing valuation. Here is a graphic from YCharts (that uses TTM FCF Yield):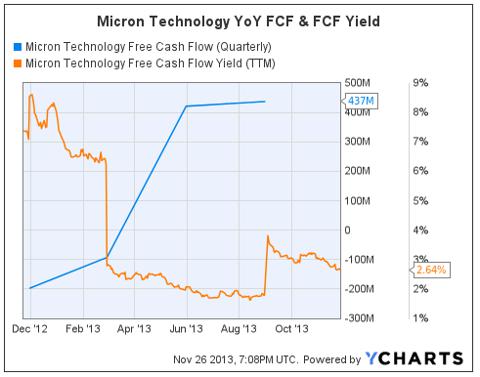 Click to enlarge
Einhorn has been underperforming recently (and seems to have gone cold since an appearance on a Herbalife (NYSE:HLF) Conference Call a year and a half ago sent shares down over 20%). However, since before his association with Herbalife, he has been outwardly identifying his fund Greenlight Capital as an Apple (NASDAQ:AAPL) investor. Anyone continuing to expect remarkable things out of Apple would probably look favorably upon Micron, whose memory is used in the new iPhones, due its acquisition of Japan's Elpida Memory. There is 1GB of LPDDR3 in the 5s; and 1 GB LPDDR2 in the 5c, which has found low demand, and also the discontinued 5 (that must have many, many models circulating around the world). The billionaire hedge fund manager is amongst those pursuing possibilities of something big out of Micron, while Apple has traded sideways.
While many might like the company and its equity because of its future prospects; and impressive financials that indicate the ability to sustainably pay dividends or buyback shares, it does not do so. Retail investors who choose to own the stock today may acquire shares because he or she likes the company or anticipates a return that is higher than would be found elsewhere. Chances are such stockholders are technophiles willing to look past the safety of dividend income, or those who like inexpensive shares. At a price of $20.25, shares trade at only 9.9x 2014E earnings, based on 27 opinions, as shown currently on Yahoo! Finance. The consensus growth rate for the next five years is much higher than 9.9, at 18.1%, indicating that the stock is a bargain.
In many instances it can make sense to look for a pullback from the 52-week high. Seeking Alpha records MU's at $20.50. If, after publicity subsides, there is no big news out of Apple, an entry point at a price near $18.95 would be inviting.
There are other considerations. Insider sales data over the past two months exhibits a who's who list amongst company executives. (The source of the graphic below and PP&E chart above is the web site Guru Focus), information is also available at OpenInsider.com. Prices shown range from $13.97 to $20, and with the stock now trading above, who is to say it is not going even higher? Perhaps the CEO, D. Mark Durcan, is the only party missing that would immediately come to mind upon review?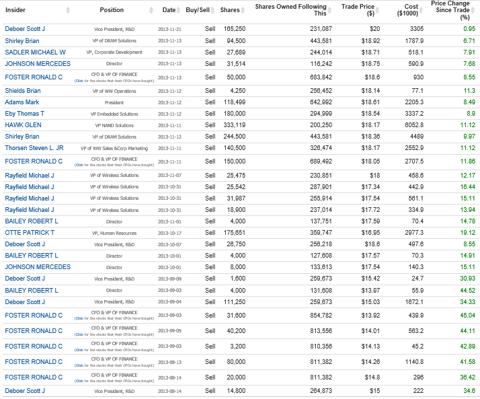 Click to enlarge
A case can be made for Micron for several reasons. An abundance of well-advised money is behind the company. Its fundamentals have impressive aspects. However there are other considerations, such as insider selling and the lack of any capital return to shareholders. Generally, when a stock is up over 200%, and is resetting its 52-week high, it is reasonable to look for a pullback. While not everyone is willing to explore it, there is a future chance of Micron being available for $18.95.
Disclosure: I have no positions in any stocks mentioned, but may initiate a long position in MU, AAPL over the next 72 hours. I wrote this article myself, and it expresses my own opinions. I am not receiving compensation for it (other than from Seeking Alpha). I have no business relationship with any company whose stock is mentioned in this article.