BreitBurn Energy Partners LP (BBEP) is an independent oil and gas limited partnership. It acquires, explores, and develops oil and gas properties for the purpose of generating cash flow to distribute to its unit holders. It is currently paying about a 10.3% annual distribution/dividend (K-1 form). It is a "safe" stock with 86% of its total production hedged for Q4 2013 and 83% hedged for FY2014. 88% of liquids production is hedged at $95.01/barrel for Q4 2013 and 83% is hedged at $94.78/barrel for FY2014. 83% of natural gas production is hedged at $5.73/mmbtu for Q4 2013 and 67% is hedged at $4.99/mmbtu for FY2014.
Nymex natural gas prices have been trending upward with the onset of colder weather recently. They closed November 26, 2013 at $3.864/mmbtu. With a slightly colder than normal winter expected, they may gain more ground in the near future. This bodes well for BBEP's future profits. In contrast, oil prices have been falling lately; and with the recent nuclear inspection agreement with Iran, many experts expect them to fall further. This sounds ominous for BBEP, but remember that BBEP has 88% of its liquids production hedged for Q4 2013 and 83% hedged for FY2014. It should do well even if oil prices fall more.
Some investors are negative about BBEP because of its net loss of 25.0 million (or -$0.25 per diluted common unit) for Q3 2013 compared to net income of $76.4 million (or $0.75 per diluted common unit) in Q2 2013. However, this is misleading. The loss was more than entirely attributable to losses on commodity derivative instruments of -$54.8 million in Q3 2013 compared to gains of +$67.0 million in Q2 2013. The Q3 2013 derivatives losses were almost completely due to the rise in the price of oil in Q3 2013. This made the value of derivatives that hedge against a fall in the price of oil go down. However, it did not really make BBEP lose money. BBEP got the higher price for the unhedged oil produced. It got the swap price for swap protected hedges; and it got the high collar price (or the real price of oil) for the collar protected oil production.
The losses rather reflect that GAAP accounting requires BBEP to take unrealized losses or gains on its derivatives each quarter. When these hedges go out several years, the movement in the value of the hedges can easily swamp out the real profits the company sees in any given quarter. However, this does not mean (as I have tried to explain above) that the company is actually losing money. If you take out the derivatives losses and gains for both Q2 and Q3, you get net incomes of +$9.4 million for Q2 2013 and +$29.8 million for Q3 2013, which is a great sequential gain.
For the above reason BBEP management likes to present its earnings in terms of adjusted EBITDA. This was $112.1 million for Q3 2013, which was up 46% year over year. Another measure is distributable cash flow. This was $64.6 million for Q3 2013 (or $0.64 per common unit) versus $48.2 million in Q2 2013. The distribution coverage ratio for Q3 increased to a very healthy 1.3x. Fundamentals back this up. BBEP increased total net production to 3.1 MMBoe, which was a 43% increase year over year. BBEP increased liquids production to 1.9 MMBoe, which was a 94% increase year over year. In sum results were great. Of course, a lot of this was due to the new Whiting acquisition, but the healthy distribution coverage ratio of 1.3x and the 14th straight increase in the cash distribution paint an overall very healthy picture.
The Whiting acquisition has improved the near term and the longer-term picture. The charts below demonstrate this improvement well.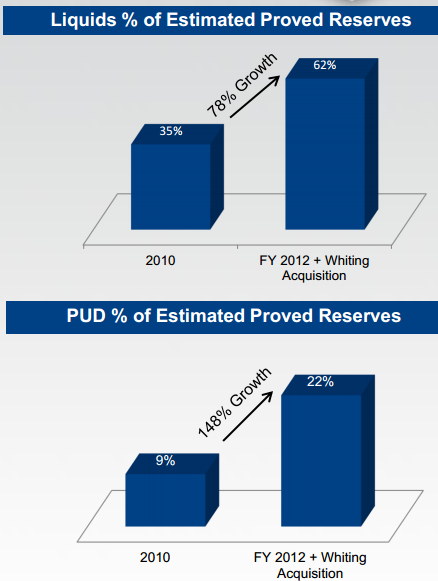 The increased liquids percentage of estimated proved reserves should stand BBEP in good stead going forward. Oil prices have been more stable in recent years. The growth in proved undeveloped reserves should allow for much better organic growth in the future. Both of these factors bode well for BBEP's future success.
Aside from the Whiting acquisition, BBEP has shown good management for many years. It has increased distributions by 30% since Q1 2010. The Q3 2013 increase to $0.4875 per unit ($1.95 per unit annualized) was the 14th consecutive increase in the distribution. The strong operating and financial performance charts since its IPO in 2006 confirm this.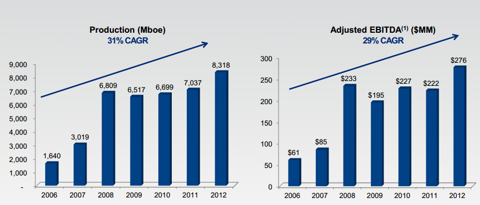 Click to enlarge
If you annualize the Q3 2013 production, you get 12.4 MMBoe, which is a significant improvement again on the 2012 result in the chart above. Annualizing the Q3 2013 adjusted EBITDA of $112.1 million also gives a substantially better result than the 2012 result at $448.4 million. The repeatability of the adjusted EBITDA is not as clear cut as that of the production data. Still the recent growth appears to be prolific; and BBEP continues to evaluate more acquisition targets. BBEP's management appears to be doing a fantastic job.
In sum BBEP looks like a great long-term buy. Its hedges make it relatively safe even in bad economic times. In good economic times, its energy assets make it a sure bet. Energy assets almost always rise in a quickly growing economy. Many experts believe energy assets are in a long-term secular growth market. The growth in the emerging markets virtually ensures this will be true over the long term. The coming export of LNG (liquefied natural gas) by the US should provide an extra push upward for US natural gas prices soon. This too should benefit BBEP with its many natural gas assets. BBEP is a great long-term buy.
The two-year chart of BBEP provides some technical direction for this trade.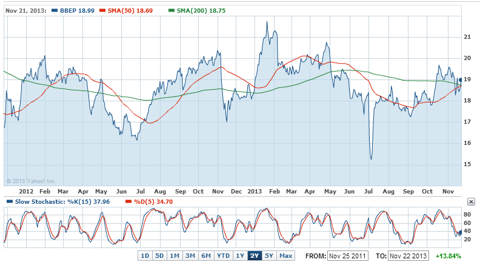 Click to enlarge
The slow stochastic sub chart shows that BBEP is near oversold levels. This is likely due to the recent fall in oil prices. The main chart shows that BBEP has been in a consolidation pattern for 2+ years. Recent earnings results and the fundamentals of the Whiting acquisition may provide an impetus for BBEP to move higher out of this consolidation pattern. At worst, BBEP should be able to maintain its consolidation pattern. This 10.3% distribution should be safe. Plus BBEP is going to a monthly distribution in 2014 for its Q4 2013 distribution and beyond. This is an indication that BBEP's management is listening to unitholders; and management is acting to make them happy. Investors have to be happy with a company like this.
BBEP is a buy. It has a mean analysts' recommendation of 1.7 (a strongish buy). It has a CAPS rating of five stars (a strong buy). It has a mean analysts' next 5 years EPS growth estimate per annum of 17.1%, which is great for an energy LP. Investors can feel good about buying this stock even in trying times. Over the long term it should provide good, steady income with little long-term risk of loss.
Disclosure: I have no positions in any stocks mentioned, but may initiate a long position in BBEP over the next 72 hours. I wrote this article myself, and it expresses my own opinions. I am not receiving compensation for it (other than from Seeking Alpha). I have no business relationship with any company whose stock is mentioned in this article.