Whole Foods Market (NASDAQ:WFM) has been riding high on the organic food wave that has been sweeping across the country. Increasing customer awareness with respect to food quality has led to a strong expansion of Whole Food's store network in North America and the UK. Whole Foods is now among the largest food retailers in the country and brands itself as a leader in the natural and organic food industry.
Share performance
Whole Foods focuses on unprocessed, organic food which is healthier than the usual ready-to-eat meals sold in traditional supermarkets. This differentiation allowed the company to grow into a $21.25 billion valuation.
Whole Foods Market's shares have gained 23% in the last year and have fallen back 13% from its October 25, 2013 high of $65.24.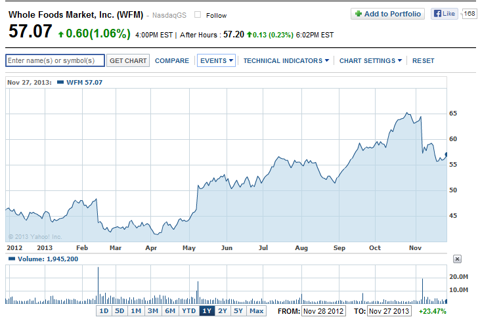 Click to enlarge
Whole Foods Market has performed in line with other grocery stores such as The Kroger Company (NYSE:KR) and Safeway (NYSE:SWY). Whole Foods gained 74% over the most recent two-year period; Kroger 85% and Safeway 81%. Sprouts Farmers Market (NASDAQ:SFM) has a shorter public quote history than the other companies; the company has lost 5% since August.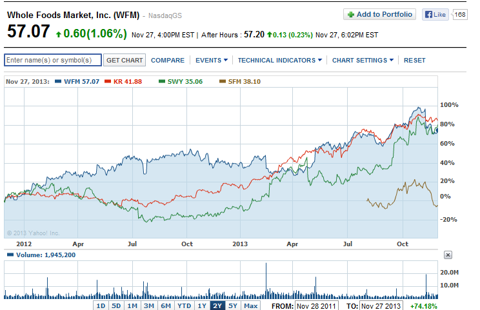 Click to enlarge
Decent financial results in 2013
Revenues increased 2% to $3 billion in Q4 2013 compared to last year's fourth quarter and store sales on a comparable basis grew 5.9%. Diluted EPS stood at $0.32 and is up 7% y-o-y. For the full-year 2013, revenues increased 10% to $12.9 billion. Comparable store sales increased 6.9% which is a strong performance in the retail industry. Diluted EPS for the full year came in at $1.47 and marked an increase of 17% compared to last year. Whole Foods' strong cash flow generation led the company to increase its quarterly dividend from $0.10 to $0.12 per share bringing the forward annualized dividend yield to 0.84%. The company further repurchased $37 million of common stock in the third quarter and $125 million for the full year. In addition, Whole Foods announced a new authorized share buyback program in the amount of $500 million.
Market valuation
Whole Foods is demanding a serious growth premium which I do not think is justified to this extent. Whole Foods quotes at nearly 29x forward earnings which is significantly above the peer group average of 20.82. The Kroger Company fetches a valuation of 13.41 forward earnings while Safeway hovers around the peer group average.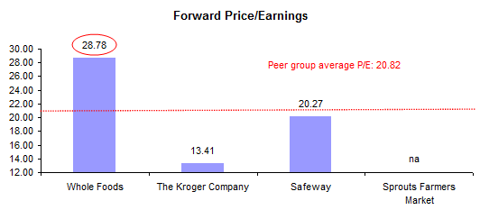 Click to enlarge
From a P/S perspective, Whole Foods and Sprouts Farmers Market are the most expensive stocks in the peer group with ratios of 1.64 and 2.20 respectively.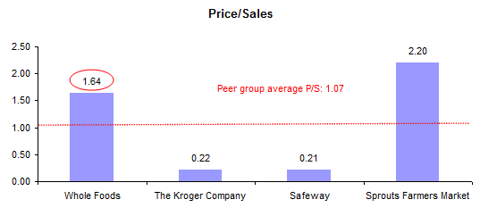 Click to enlarge
Just like any other sector that requires high upfront growth premiums, grocery stores do not appear to be suitable investments for portfolio income strategies and Whole Foods clearly isn't an exception. Yields are generally low for high-premium companies and in the case of Whole Foods should not be a criteria at all. The company currently has a dividend yield of 0.84% which is way too low to make a difference for income investors.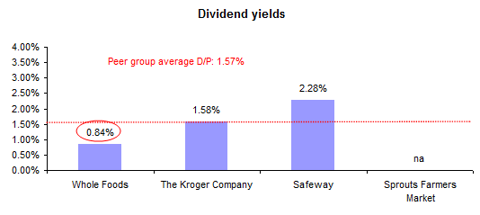 Click to enlarge
A summary table with P/E, P/S and D/P ratios as well as premiums/discounts to the peer group averages is provided below.

Click to enlarge
Conclusion
Despite strong underlying financial metrics and comparable same store sales data, investors pay a massive growth premium upfront and I doubt whether this premium is justified. Certainly, a 20% increase in the quarterly dividend and additional share repurchases could provide support for the share price. But the sector already is quite expensive and Whole Foods demands a multiple of nearly 29x forward earnings. Everything above 20x forward earnings indicates massive overvaluation to me and it seems that investors project lofty growth fantasies onto the stock.
Whole Foods' dividend increase and share buybacks represent a good deployment of capital. However, the yield on the stock currently stands at less than 1% and can barely be a reason to purchase this company for income. In addition, the premium required also seems to be more appropriate (if at all) for companies that have significantly larger revenue- and EPS growth rates. Given the very high valuation of the peer group and Whole Foods in particular, I think investors can find better investment opportunities in other pockets of the stock market. Whole Foods remains overvalued and should be avoided at this level.
Disclosure: I have no positions in any stocks mentioned, and no plans to initiate any positions within the next 72 hours. I wrote this article myself, and it expresses my own opinions. I am not receiving compensation for it (other than from Seeking Alpha). I have no business relationship with any company whose stock is mentioned in this article.