Third quarter GDP for the United Kingdom grew 1.5% year-over-year and 0.8% quarter-over-quarter. These numbers met economist "expectations," yet the British pound soared in response anyway. This rally is important as it has taken the British pound (NYSEARCA:FXB) into breakout territory. While I have remained bullish on the pound for many months, I did not expect this line to get breached for quite some time yet.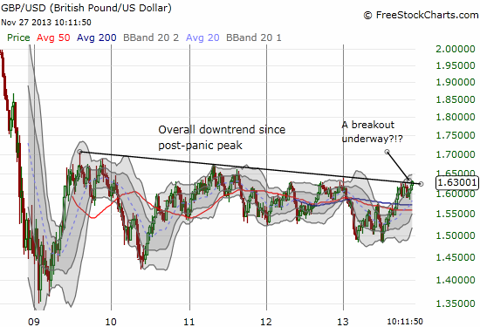 Click to enlarge
The British pound finally breaks out against the U.S. dollar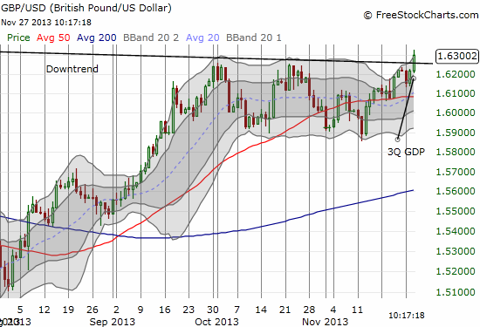 Click to enlarge
The pound breaks through after third quarter GDP
Source: FreeStockCharts.com
Assuming no major setbacks in economic performance, this breakout could very well develop into a further extension of the on-going rally. It could be a game-changer for the currency as it continues to rally strongly against most major currencies. Follow-through on this breakout will make me ever more aggressive in buying dips and using the pound to go long against other currencies. My main exception for now is against the Australian dollar where I see GBP/AUD hitting important resistance in a very overbought state.
As reported by the BBC and others, the growth in GDP was driven by consumer spending. The 0.8% quarterly growth in consumer spending was the strongest since 2010′s second quarter. With the pound's on-going strength, it is perhaps not surprising that exports fell 2.4% extending the UK's trade deficit by 62%. Exporters are not likely to get much relief as the Bank of England seems to have come to terms with a demand-driven recovery and a European trading partner whose demand remains too weak to boost UK export prospects in the near-term. For reference, here is what Governor Mark Carney said in response to a related question in the last Inflation Report on November 13, 2013 (emphasis mine):
"We do expect, however, that the removal - or the substantial reduction of the pall of uncertainty that hung over businesses around very bad outcomes in the eurozone - the removal of that uncertainty or reduction of that uncertainty, coupled with improvement in credit conditions here and with real consumer demand in the UK, is going to bring an increase in business investment, an improvement in productivity, further improvements in competitiveness which ultimately will bring greater balance to this recovery. But that is what we need to see and we're not relying on any sort of recovery in Europe, meaningful recovery in Europe, to drive this forward."
Carney is looking at improving prospects for investment and demand as drivers of the economy. Since he is not relying on Europe, and the eurozone in particular, to provide tailwinds, the level of the British pound should also not be a center of attention. The pound is free to rise with little resistance from the Bank of England for now. My assumption means we should not see jawboning, increases in asset purchases, or drops in interest rates with the expressed or indirect purpose of driving down the currency in the near-term. I will raise a bright red flag if I am proven wrong on this score.
Carney provided an interesting explanation for the increase in consumer spending. He attributed a decrease in "precautionary" savings as a main driver. The ability for consumers to make such drawdowns is important given continued moribund real wage growth.
"And we have a recovery, which is centred on household spending right now. You know more than three quarters of the growth in the next several quarters is either consumption growth or housing activity, housing investment. That's not that unusual in terms of the phases of recovery and in fact the levels of activity or the rate of growth in consumption is quite modest compared to previous recoveries. It is not debt-fuelled consumption; it is consumption out of income. In effect what's happened in the last several months has been that the degree of precautionary savings of households has dropped, from quite elevated levels to levels that are still quite high relative to where households were saving pre-crisis. But you have the drop and that has given a boost to consumption."
I did not get a sense for how far spending growth can go on further reductions in precautionary spending. Obviously, at some point, real wage growth will need to take the baton from savings reductions in order for consumer spending to keep driving the economy as it is. These data will be important to monitor in coming quarters.
Be careful out there!
Disclosure: I have no positions in any stocks mentioned, and no plans to initiate any positions within the next 72 hours. I wrote this article myself, and it expresses my own opinions. I am not receiving compensation for it (other than from Seeking Alpha). I have no business relationship with any company whose stock is mentioned in this article.
Additional disclosure: In forex, I am short GBP/AUD