Is Yahoo (NASDAQ:YHOO) riding a tech bubble? If you ask people at Yahoo, the answer is no. Other investors remain skeptical as certain tech stocks have been trading at incredibly high valuations in 2013. Yahoo stock has advanced from under $20 to above $35, which has been its highest level of this decade. It trades over 30 times earning, which is actually a low multiple compared with some of its peers, but Yahoo's financial picture does not really justify the gains.
Tech Bubble Concerns
Yahoo Senior Columnist Mike Santoli doesn't think tech is in a bubble, but says there's over-excitement among certain tech stocks such as social media securities. The Nasdaq 4000, he points out, is down over 20 percent in the past 13-and-a-half years. Much of the excitement surrounding Yahoo is its 24 percent stake in Alibaba, which is headed for an IPO.
The risk of Yahoo stock is that its earnings do not support the advances, as Wells Fargo (NYSE:WFC) has warned the company has suffered search and display advertising losses and faces hurdles in mobile asset revenue growth. Yahoo has also been on a huge spending spree buying unproven companies and doing huge buybacks that seem exciting on the surface, but are red flags when you consider the company's core business isn't improving much. Since 2012, it has repurchased $5 billion in shares, reducing diluted shares by 15 percent.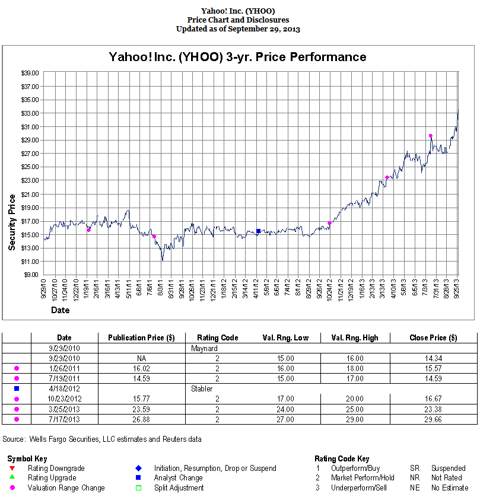 Another risk facing Yahoo that has been overshadowed by the buyback euphoria is the company faces a lawsuit involving privacy invasion involving its email service as the plaintiff seeks damages of $5000 for each invaded person. Yahoo mail serves 275 million customers.
Financial Picture
On November 26, Yahoo announced it had completed its $1.25 billion offering of convertible senior notes due in 2018. The company says it will use the funds for multiple corporate purposes including acquisitions. This news came a month after the 2013 Q3 earnings report in which year-over-year revenue was only up 1 percent to $1.08 billion, in line with analyst expectations.
GAAP display ad revenue fell 7 percent to $470 million while GAAP search ad revenue fell 8 percent to $435 million. Q4 guidance fell short of expectations with the company projecting $1.18 billion to $1.22 billion in revenue versus the Street's view of $1.25 billion. Another concern was a 36 percent dip in operating costs for the first nine months of the year. The stock slipped slightly after the report and has since moved up.
Spending Spree
CEO Marissa Mayer has been making the news a lot with hiring and acquisitions. On November 25, Yahoo said it hired ABC TV journalist Katie Couric as a "global anchor" and will become the "face of Yahoo News" and report on investing for the homepage.
Just a few months earlier, Yahoo hired New York Times Deputy News Editor Megan Liberman to become Editor-in-Chief of Yahoo News. In addition, Yahoo has also recently hired journalists David Pogue and Matt Bai. Mayer sees online journalism as a hot trend and has stated that video content will be crucial for the business in the future.
As of October, Yahoo had spent close to $1.2 billion on acquisitions in 2013, which is more than the revenue the company made in second or third quarter. Over the summer, the company spent $163 million on eight new properties. In the third quarter, the company also bought eight companies, none of which are household names such as RockMelt, Qwiki, Xobni and Ztelic. One of the most stunning purchases was a news gathering app called Summly from a 17-year-old-kid for $30 million.
Premium Content Critics
Pivotal Research Group analyst Brian Weisen thinks the company is headed for declining ad revenue due to the way ad spending is changing. The trend in online advertising has given marketers an edge at bidding for online ad placement at the best deals, which will drive down advertising revenue. Weisen does not believe celebrities are the answer to the new paradigm of a buyer's ad market.
Conclusion
Yahoo has defied conventional financial concerns by making several acquisitions of unproven startup companies to build its future. Yahoo, however, continues to hold its number one position in comScore (SCOR) rankings for Desktop Only internet traffic. According to the October 2013 results, Yahoo Sites have 195.7 million unique users, compared with second place Google (NASDAQ:GOOG) at 194.1 million. Google, however, still holds the top position in Alexa and Quantcast rankings while Yahoo ranks number 4 and 9 respectively.

The stock may still climb higher due to the euphoria surrounding the tech sector. Shares have moved in an upward pattern since Mayer's arrival in June 2012. Despite the optimism from a string of upbeat announcements, the inflated stock has risks until the company can justify its heavy spending.
Disclosure: I have no positions in any stocks mentioned, and no plans to initiate any positions within the next 72 hours. I wrote this article myself, and it expresses my own opinions. I am not receiving compensation for it (other than from Seeking Alpha). I have no business relationship with any company whose stock is mentioned in this article.