The worldwide market for vehicles is about 63 million units annually.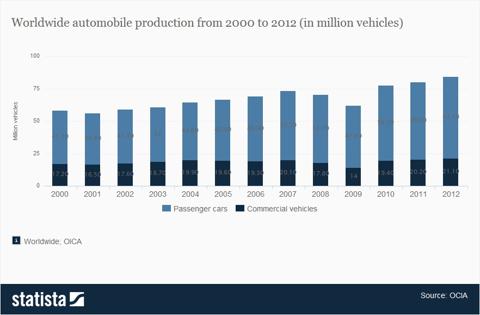 Production in China topped 15 million units in 2012, making it a market about as large as the United States.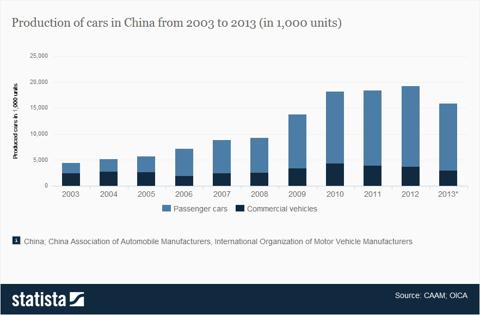 Note: 2013 data year to day September.
But unlike the United States, the Chinese market is experiencing rapid growth in demand for automobiles and will be the world's largest market by far in future years, forecast to reach 28 million units by 2025.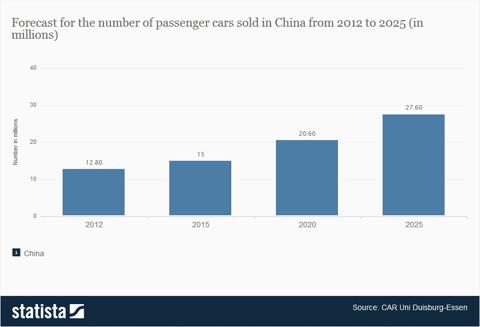 Toyota (NYSE:TM), General Motors (NYSE:GM) and Volkswagen (OTCPK:VLKAY) are the three largest automobile manufacturers in the world, each selling between 9 and 10 million vehicles a year.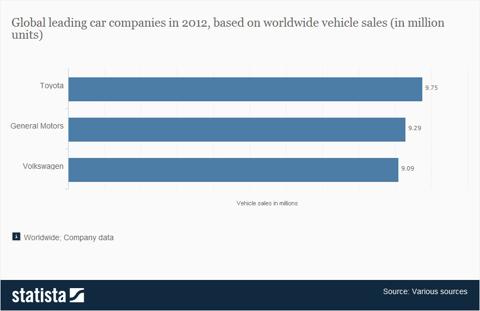 The rest of the industry is highly fragmented with manufacturers like Ford, Nissan, Hyundai and Honda all producing 4 to 5% of the world market, with a host of even smaller players making up the balance.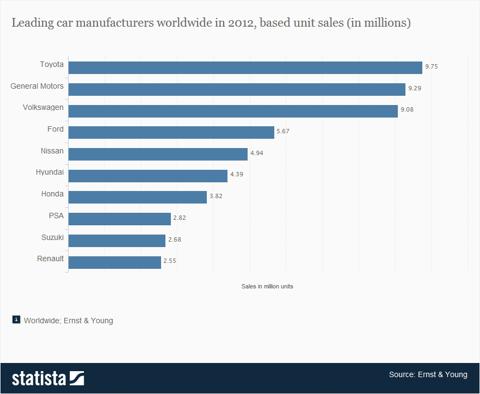 Iconic brands like Daimler (Mercedes-Benz) and BMW produce about 2 million vehicles each year, much less than one might expect with their strong brand identities.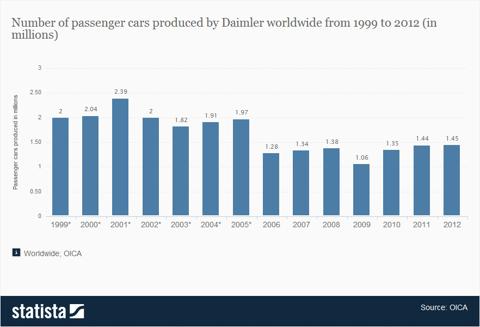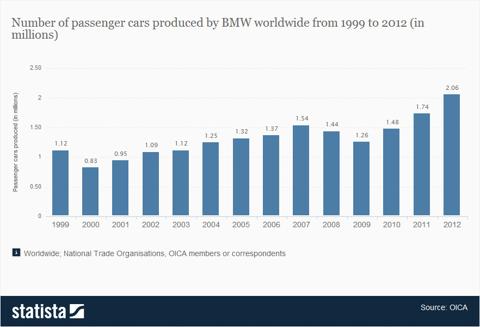 With its strong growth, China has become the battleground for worldwide car makers to stage the next decade of growth. Volkswagen has taken the early lead in China with 13% of the market followed by the Buick and Chevrolet brands of General Motors next with a combined 9%. Toyota has been less successful in China, where anti-Japanese sentiment runs high among consumers.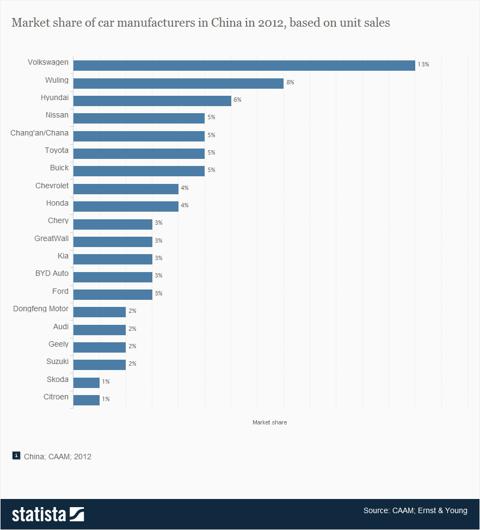 Volkswagen is by far and away the largest of the European car makers, with annual revenues of 193 billion Euros, almost as much as Daimler and BMW combined.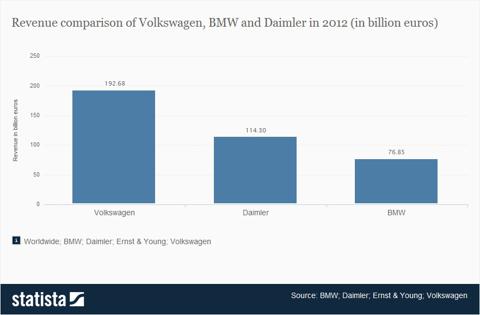 Volkswagen is unique in that it has exhibited sustained growth for several years, almost doubling its revenue since 2006.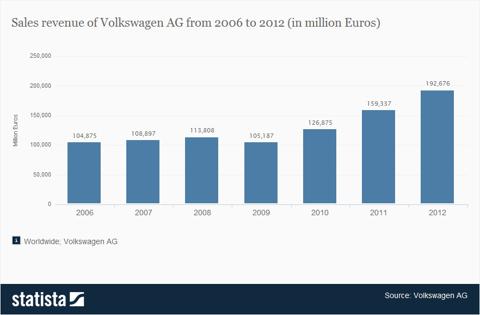 Unlike its North American competitors, Volkswagen remained profitable during the 2008-2009 downturn while General Motors and Chrysler turned to the U.S. and Canadian governments for financial support to stay in business, with GM having to go through bankruptcy proceedings to shed its legacy cost structure.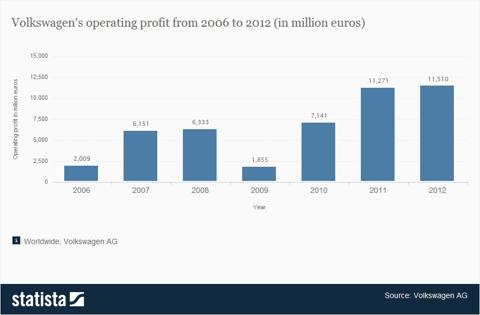 While it was third in vehicle sales, Volkswagen produced more cars than any other manufacturer in 2012.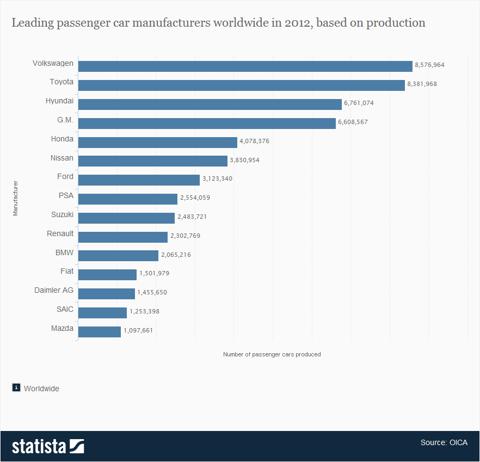 In my view, the opportunity in China sets the stage for substantial growth, particularly for Volkswagen and General Motors. Both moved early to establish themselves in China and both have a lot of momentum in the region. But General Motors has never impressed me with its management, continues to have legacy costs (although these are much less after the company emerged from bankruptcy), and has more exposure to the industry overcapacity and labour militancy that permeate North American automobile manufacturing.
In the end, the fundamentals favor an investment in Volkswagen. At about $52 a share, the company's stock trades at 12 times earnings with a market value of about $120 billion. With 13% of the rapidly growing China market, Volkswagen could quite readily add another 1 to 2 million vehicles annually within the next few years. If they do, those incremental vehicles will add nicely to profits and the stock should trade higher.
I have no positions in any car companies today. The car market is at the peak of a cycle in a highly cyclical business, so I will wait for the next downturn to be exposed. But if you believe you must be invested in vehicle assembly, you could not do much better than Volkswagen.
Disclosure: I have no positions in any stocks mentioned, and no plans to initiate any positions within the next 72 hours. I wrote this article myself, and it expresses my own opinions. I am not receiving compensation for it (other than from Seeking Alpha). I have no business relationship with any company whose stock is mentioned in this article.