Wal-Mart (NYSE:WMT) recently issued relatively lackluster third-quarter results. Consolidated net sales advanced 1.6% (2.7% on a constant-currency basis), but comparable store sales fell 0.3% in Walmart US and only nudged 1.1% higher at Sam's Club (both measures exclude the impact of fuel). Consolidated operating income increased 3.6% thanks to improved performance across the board. Reported third-quarter diluted earnings per share from continuing operations came in at $1.14 per share, a 6.5% jump compared to the measure in the year-ago period.
For the nine months ended in October, net cash from operating activities came in at $13.3 billion and capital expenditures were $9.5 billion, resulting in free cash flow of $3.8 billion, or about 1.1% of Wal-Mart's massive revenue base. Free cash flow was nearly $7 billion during the same time period a year ago, so we were quite disappointed with the cash-flow performance. Still, return on investment was 17.5% during the trailing twelve months ended October, well above our estimate of Wal-Mart's cost of capital (and revealing continued value creation).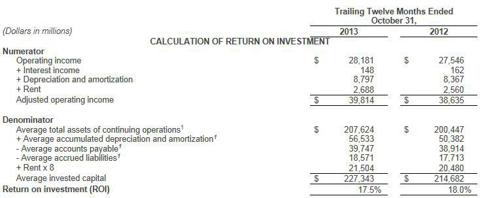 Click to enlarge
Image Source: Wal-Mart
Looking ahead, the firm updated its full-year earnings per share guidance to the range of $5.01-$5.11 per share. This range is below the $5.10-$5.30 range issued in its second-quarter release, which itself was reduced from $5.20-$5.40 per share. Expected earnings performance is certainly moving in the wrong direction at the company. Wal-Mart's highest priorities remain growing top-line sales and reducing operating expenses, but we think adding a focus on bolstering free-cash-flow generation would help, especially given performance thus far in 2013. The firm's 5-year goal is to reduce operating expenses as a percentage of sales by at least 100 basis points by 2017, but we'd grow more excited if the firm doubles that goal.
Valuentum's Take
Wal-Mart is facing an uphill battle as competition heats up in the retail environment, both in stores and online. At this juncture, it's very difficult to like Wal-Mart's earnings and cash-flow trends, but we think the firm can right the ship. Still, we're not rushing to add the company to our actively-managed portfolios at this time; shares trade within our fair value range.
Disclosure: I have no positions in any stocks mentioned, and no plans to initiate any positions within the next 72 hours. I wrote this article myself, and it expresses my own opinions. I am not receiving compensation for it (other than from Seeking Alpha). I have no business relationship with any company whose stock is mentioned in this article.