After the financial crisis of 2008, US consumer spending has seen mixed trends. These days economic growth can be observed in several sectors which shows increasing consumer confidence. So keeping in mind the recent rebound in consumer spending, we can conclude that although the economy is growing at a slow pace- it is growing!
With the improvement in overall economic activities demand for goods (commercial and industrial), utilities and other consumables is increasing and these positive improvements are aiding transportation industry in general and railroad transporters like CSX Corporation (NYSE:CSX) in particular.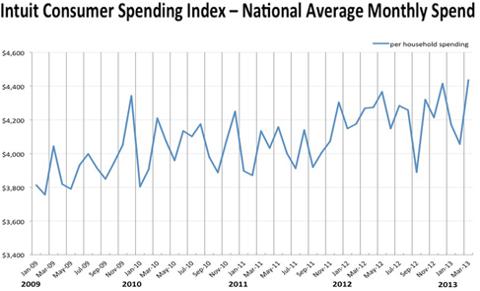 CSX is one of the leading rail-based transportation service providers of the US. Approximately 67% of the national population lives within CSX's service territory. During the past few years, the company has been facing several problems but managed to sustain its position and grow above inflation. In this article, I will analyze the future of the company to see whether or not this stock is worth investing in.
Overview of the recent Quarter
Before getting into the discussion of the unseen future, I will briefly highlight CSX's performance in the third quarter of fiscal year 2013.
Revenues were approximately $3 billion in the third quarter of fiscal year 2013 reflecting a 4% increase year over year. Growth in revenues was driven by a 1% increase in volume, bringing it to 1643 million and a 0.9% increase in revenue per unit, bringing it to $1.825.
Moreover, the company incurred expenses of $2.145 billion which were 5% higher than the expenses incurred in the same quarter of the previous year. These expenses were mainly affected by higher inflation and increased compensation incentive for labor. One-time gains were also absent this quarter which apparently increased the operating expenses. Despite a stagnant operating income of $854 million, lower interest expense and lower taxes improved the net income by 1.8% to $463 million.
The operating ratio, one of the key performance indicators of the transportation industry, increased by 1% to total 71.5%. Although this reflects an upsurge in expenses when we see this measure in comparison to the company's peers, it proves that the company is still better-off.
Growth in Coming Periods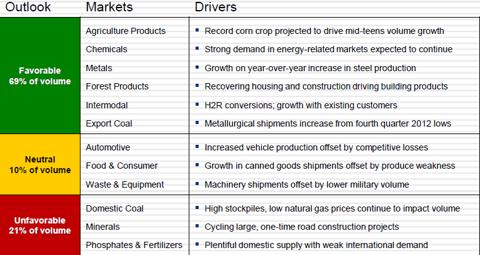 The company derives 69% of total volume from the transportation of chemicals, metals, forest, agriculture products and the delivery of coal at exporting terminals. Subsidies and favorable US government policies are encouraging producers and users of these industrial and commercial raw materials which means profits for transportation companies like CSX.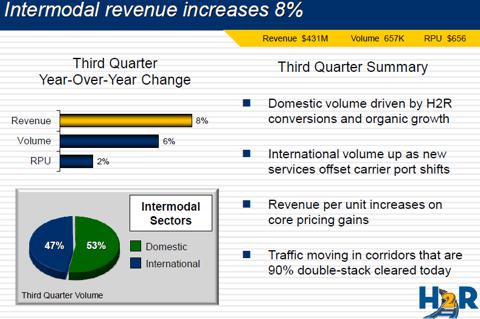 Moreover, investing in an intermodal strategy is a turnaround for the company. This move has helped increase CSX's transportation efficiency and has helped cut costs. I think the increased capital spending on an intermodal strategy will deliver positive results especially since the US government has recently passed a legislation limiting the driving time of truckers.
There is a demand supply mismatch which has limited the transportation of domestic coal, minerals, fertilizers and phosphates which collectively used to constitute 21% of total volume.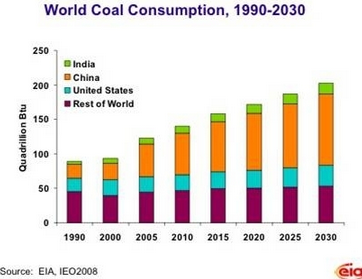 Demand for coal in the domestic market is expected to be effected by the increasing popularity of low cost LNG as well as a shift to alternate energy sources. However, research by EIA shows that the demand for coal in the Asian regions will increase. CSX notices these changing trends and has developed its loading terminals near the Pacific Ocean along with other key areas.
The Company's Competitive Position
The company has some competitive advantages over its competitors and alternates. The most noticeable of its advantages is its service territory. The CSX rail network is spread across densely populated areas with high barriers to entry. In addition to this, rail transportation is less expensive than flexible alternatives like highway and air transportation.
Cost Saving initiatives
CSX is pursuing various cost cutting initiatives to lower expenses and create value for shareholders. The company is reducing its overhead cost and labor-related compensation to increase its margins.
With the collaboration of General Electric (NYSE:GE) CSX will test LNG-enabled locomotives. If the results of that test are positive, then this collaboration will be a revolutionary advancement. These LNG-enabled locomotives will be more fuel efficient and less hazardous for the environment. This initiative is also being supported by government authorities.
According to the company, the LNG-enabled locomotives will be almost as efficient as diesel fuel locomotives at almost half the cost.
Projections
With an attractive dividend yield of 2.2%, CSX is surely a cash cow with reasonable prospects. I forecasted the revenues and net income of the company. I have made several adjustments in the growth rate to account for possible improvement in margins, as well as the effect of the declining demand for coal, minerals and canned food in the domestic market.

Valuation

The table above shows CSX's fair value based on the multiples based valuation method. The company's per share earnings, book value, sales and cash flows have been calculated using trailing twelve month figures. Moreover, the weights added to the P/E, P/B, P/S, and P/Cash Flow ratios have been assigned on the basis of survey estimates.
In this valuation, I have been extremely conservative and I have calculated the industry multiples by weighting the multiples of CSX's closest competitors.
On the basis of the given multiples of the industry, the fair value of the company's stock should be $36.88 reflecting an upside potential of 34.84%.
Conclusion
As discussed above, the company is heading in the right direction. The company's recent initiatives will significantly decrease its operating cost plus these steps will most likely boost revenues since the company will be able to offer lower freight rates to its clients.
In addition to a bright future, the current stock price is undervalued, so I think it is a great opportunity to add this undervalued stock to your portfolio. I recommend buying stocks in CSX.
Disclosure: I have no positions in any stocks mentioned, and no plans to initiate any positions within the next 72 hours.
Business relationship disclosure: The article has been written by a Blackstone Equity Research research analyst. Blackstone Equity Research is not receiving compensation for it (other than from Seeking Alpha). Blackstone Equity Research has no business relationship with any company whose stock is mentioned in this article.