Digital Realty Trust (NYSE:DLR) owns properties around the world that are appropriate for clients who need rapid exchanges of digital information. Pursuant to an earnings disappointment on October 29th, in which the firm disclosed increasing debt and lowered annual guidance, the market has punished the stock. Among the results is a dividend yield currently listed at 6.6%. While the share depreciation also has evoked and created irascible traits, some may consider it a buying opportunity. Current research from Deutsche Bank, pursuant to an appearance on Digital Realty's Third Quarter 2013 Conference Call, helps provide an assessment of the situation.
The German firm, which has a Hold rating on the stock as of November 4th, says
…Though we can see value in the shares at current levels, we continue to believe that the stock will not break substantially to the upside until the company can demonstrate more consistent execution...
Meanwhile, Digital Realty has authorized a $500 million buyback, worth over 8% of its market capitalization. In combination with the dividend, potential capital returns should serve to keep some stockholders who believe in the company and its future while there is doubt. Based on income alone, a survey of relevant ETFs is immediately compelling: Schwab US REIT (NYSEARCA:SCHH) yields 2%, iShares US Real Estate (NYSEARCA:IYR) yields 3.8%, and the SPDR Wilshire REIT (NYSEARCA:RWR) yields 3.4%. Despite diversification availed through the funds - which should not be overlooked - dividend payments nearly twice the IYR's lead to scrutiny.
The glaring concerns for Digital Realty involve what is to happen in 2014 and after. Deutsche Bank is lowering its core Funds From Operations ("FFO") projection for 2013 and 2014 to $4.66 and $4.89, from $4.80 and $5.32, respectively. A graphic showing total, as opposed to core, FFO data, estimates, and multiples follows: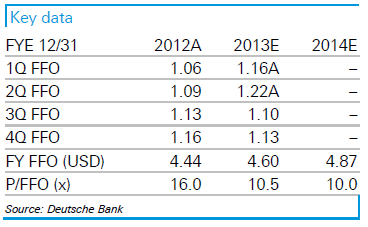 The German firm's new $52 target price, down from $66, reflects "Missteps of the past year or so" where there had been a premium, amongst other concerns. To arrive at the figure, an assumed capitalization rate (annual net operating income / cost) of 7% due to expected 2014 joint ventures, and a 10% discount to estimated Net Asset Values, is cited. The higher figures are also partially attributed to a lack of confidence in demand for relatively higher-priced Turn-Key Flex ("TKF") space, with average gap rates reported at $141 per square foot, down from $151 a year ago. Further, 549,000 ft2 of TKF space that is currently being developed is 14.3% pre-leased, compared to the entirety of 276,000 ft2 of Custom Solutions space. The latter property type, which has a multi-megawatt requirement and is constructed to suit the occupant, obtains lower rates of $108/ft2 and $137/kW per month.
There is dialogue about these matters recorded in the Q1 Conference Call Transcript. CEO Michael Foust's answer to the analyst's question offers detail; and judgment about its sufficiency is for the audience:
I think that the relative breakout this quarter between TKF and Custom Solution wasn't unusually large. I mean, we're dealing with a very small data set. So I think over the course of the year, it's going to even out more, where we'll be leasing more - relatively more TKF space as we get further into the year.
Existing customers had offered a possibility of respite for shareholders. TKF renewal rates are actually "Up." Clients have been re-signing for an average of term of nearly 107 months.
Another issue is commencement of leases in the company's backlog. In his prepared remarks, Foust stated that
…The total backlog [is] $84.2 million of annual gap rental revenue. Another record high, of which, $45.3 million is expected to commence in 2013; $21.5 million in 2014, 2015; and $17.4 million expected to commence thereafter.
Deutsche Bank is not alone in being concerned with delayed commencements. However, the firm also says that they are a "Key risk to the upside." According to the investment bank, another thing that could go right for the company and its investors is an "Improved external capital deployment outlook."
On a different, but perhaps inter-related matter, Digital Realty does not provide quarterly guidance. It is an attribute that can appeal to short sellers. Nasdaq.com shows the stock as heavily shorted prior to earnings. Whether those who borrow and sell shares have taken profits or are looking for further depreciation remains uncertain. Further, Yahoo! shows 114.2% of the float as held by institutions. While the stock's Beta is only listed at .56, it may be highly volatile in the future. However, the options market is not indicating it (as indicated by the orange line in the lower graphic, with the changing share price colored blue):

As such, it could make sense to buy rather than sell DLR options. One consideration is that they are not nearly as liquid as those for stocks such as Apple (NASDAQ:AAPL) or Netflix (NASDAQ:NFLX), and have wider spreads. Anyone inclined to gamble might purchase a January 2014 call(s) at a $40 or $45 strike price. The contract would expire a month before earnings are announced, and leave little margin for error time wise. My own opinion is that the dividend provides support against downside risk; however, there is no guarantee that it will be proven accurate.
Also, Digital Realty has anything but a decent track record of lowering its share count, so the buyback authorization might not result in anything significant for investors.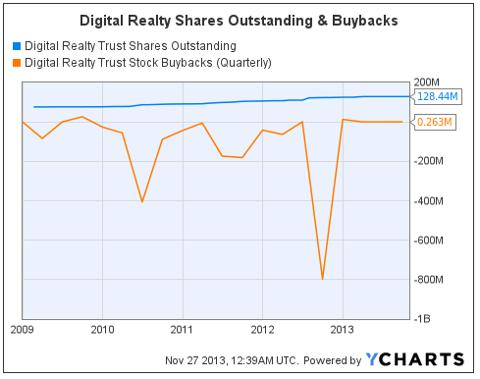 Those who believe the company has upside may like the stock. There has been recent and intensive insider buying. Again, the payout should be considerable if it merely trades sideways. However, debt is rising, no one is lauding management, and some are justifiably cautious.
Digital Realty has things to prove. It is paying those willing to stay with it. There may be volatility, and there is also a chance of a higher share price.
Disclosure: I am long DLR. I wrote this article myself, and it expresses my own opinions. I am not receiving compensation for it (other than from Seeking Alpha). I have no business relationship with any company whose stock is mentioned in this article.
Additional disclosure: I may sell some or all currently owned DLR shares over the next 72 hours.