Another sector worth a look for income investors is the Oil & Gas Refining and Marketing sector in the United States. Real Estate Investment Trusts and pipeline companies structured as Master Limited Partnerships usually get all the attention when it comes to high-yield income plays that also offer capital appreciation potential. I think this neglect is underserved since the sector offers quite a decent amount of attractive income plays and diversification potential.
Calumet Specialty Products Partners (NASDAQ:CLMT) is my favorite income play in the refinery sector for a variety of reasons:
The company pays regular cash distributions instead of non-recurring special dividends like HollyFrontier (NYSE:HFC).
Distributions have been steadily increasing since 2006 (the year CLMT had its IPO) when the company paid $0.30 per unit. Distributions have now been raised to $0.685 per unit (an increase of 128%).
Calumet Specialty Products Partners' units have corrected quite a bit after the company announced a public offering of common units on March 25, 2013. Units have traded at $39.10 that day and are now quoting at $28.85. Units also corrected after RBC Capital Markets downgraded CLMT on November 4, 2013 to Market Perform from Outperform. On the other hand, Standard & Poor's and Moody's raised CLMT's corporate credit ratings. S&P increased its rating on the L.P. from B to B+ and Moody's from B2 to B1.
The correction in unit price offers opportunistic investors the chance to snatch up a high-yield alternative in the energy sector. CLMT currently pays $2.74 in annualized distributions which equates to a distribution yield of 9.5%. CLMT is one of the highest yielding energy plays in the refinery sector.
A high-yield refinery investment can help diversify an existing dividend portfolio and is a valid alternative to Real Estate Investment Trusts or pipeline MLPs.
About 62% of Calumet's refining capacity is located at the Gulf Coast right where high-impact shale exploration takes place.
Calumet is committed to organic- as well as acquisitions-driven growth. The company has an extensive organic growth projects pipeline whose capacities are coming to market between 2014 and Q1 2016. This should provide CLMT with substantial EBITDA and cash flow growth to support further distributions.
The company focuses on niche specialty and high-performance fuels which have higher margins.
Peer group comparison
The peer group consists of HollyFrontier, Phillips 66 (NYSE:PSX), Valero Energy (NYSE:VLO) and Western Refining (NYSE:WNR). Calumet is the highest-yield alternative in the refinery group with a distribution yield substantially above the average yield of 4.49%.

Click to enlarge
Conclusion
I consider Calumet Specialty Products to be a valid alternative to other MLP units in the high-yield segment. The company has a great distribution record as well as an outstanding yield. Although past performance is no guarantee of future performance, and distributions could be adjusted according to underlying profitability, it surely is a strong indicator. Calumet's distributions have consistently be rising over multiple years and during different macroeconomic environments and phases of the business cycle. Moreover, the company does business since the 1990s and knows its business inside out. Opportunistic investors with a long time horizon who desire high-yield refinery exposure as well as diversification for their portfolio might want to consider Calumet. Long-term BUY.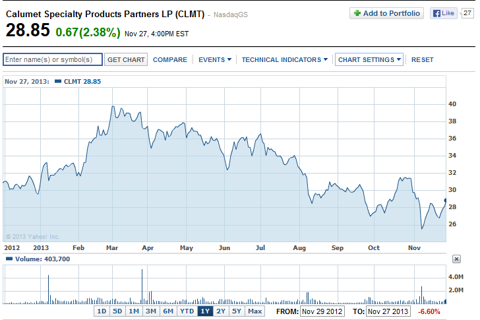 Click to enlarge
Disclosure: I have no positions in any stocks mentioned, and no plans to initiate any positions within the next 72 hours. I wrote this article myself, and it expresses my own opinions. I am not receiving compensation for it (other than from Seeking Alpha). I have no business relationship with any company whose stock is mentioned in this article.