Socially responsible investing (NYSE:SRI) has been an increasingly popular investment buzzword in the past decade, referring to an investment strategy that considers both financial returns and companies which contribute positively to society. While this style of investing has become more en vogue for pension funds and socially conscious investors, the evidence as to whether socially responsible investing leads to financial outperformance is mixed at best. A 2011 study by Robert G. Eccles, Ioannis Ioannou, and George Serafeim compared a matched sample of 180 companies, 90 classified as "High Sustainability" firms and 90 classified as "Low Sustainability" firms, and examined their returns over an eighteen year period. Investing $1 in assets in the beginning of 1993 in a value weighted portfolio of "High Sustainability" firms would have grown to $22.6 by the end of 2010 whereas $1 in an equal set of control firms would have grown to just $15.4 with the "High Sustainability" firms outperforming in 11 of 18 years and exhibiting lower volatility.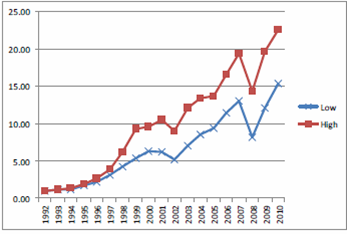 Source: Harvard Business School Working Paper "The Impact of Corporate Sustainability on Organizational Processes and Performance" (2013)
While this result seems promising, a previous study by Luk Renneboog, Jenke Ter Horst, and Chendi Zhang entitled "Is Ethical Money Financially Smart" paints a more negative light. This study demonstrates that ethical money chases past returns, but that the future excess returns of these SRI funds are negative.
While the evidence about whether socially responsible investing generates alpha or not is mixed, the trend in fund flows as depicted by The Forum for Sustainable and Responsible Investment paints a much clearer picture. Money is finding companies deemed to be sustainable and responsible.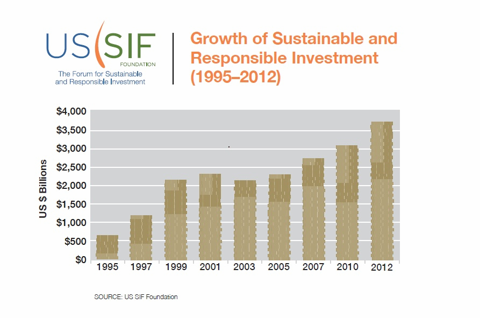 Click to enlarge
It is estimated that one out of every nine dollars in the United States is invested in what is deemed to be a socially responsible manner. As fund flows have been increasingly funneled into socially conscious vehicles, more unscrupulous industries are necessarily receiving less capital. This change in capital flows could provide opportunities to investors willing to invest in less savory industries. A 2009 paper entitled "The Price of Sin: The Effects of Social Norms on Markets" by Princeton University's Harrison Hong and NYU's Marcin Kacperczyk demonstrated that "sin stocks also have higher expected returns than otherwise comparable stocks, consistent with them being neglected by norm-constrained investors."
Frictions, like market fragmentation due to investor preferences, can lead to structural alpha. In a past article on junk bonds, I highlighted that the market fragmentation between investment grade corporate bonds (rated BBB- and higher) and speculative grade corporate bonds by institutional investors has provided alpha-generative opportunities in the highest rated speculative grade cohort (BB's) because many investors are restricted or limited in the number of below investment grade bonds that they own. A similar friction amongst what Hong and Kacperczyk called "norm-constrained investors" could similarly make sin stocks attractive. If an investor were agnostic about investing in a socially responsible manner, then I would suspect that higher returns could be generated by the neglected "socially irresponsible" firms. I will highlight two potential opportunities in this article in companies operating in the adult entertainment and firearms industries.
Rick's Cabaret (RICK)
The Business:
Founded thirty years ago, Rick's Cabaret operates gentleman's clubs and "breastaurants" in major metro markets in the United States. The company went public through an IPO in 1995.
Why It May Be Undervalued:
· With trailing twelve month EBITDA of $34mm and an enterprise value of $168mm, the company is trading at a EV/EBITDA multiple of just under 5x. The average company in the NASDAQ Composite Index, where RICK is currently listed, trades at 13.3x EV/EBITDA.
· For a company that has been profitable in twelve of the last thirteen years, the stock is trading at an anemic 7.5x trailing earnings.
· The company generates sustainable and repeatable operating and free cash flow. The company has generated $11.2mm of free cash flow over the trailing twelve months, producing a free cash flow yield of 11.4% on the company's $97mm market capitalization.
· The company is returning this cash to shareholders. The company completed an original $5 million stock buyback, purchasing 756,087 shares (9% of current float) at an average price of $6.51, and are now working on an add-on $3 million buyback authorization.
· The company's self-made CEO, Eric Langan, stated on the third quarter call that he owned "a very large portion of (the) company" accounting for "over 90% of my personal net worth." He also stated that he has "never been a net seller of Rick's stock" and "will continue to buy additional stock" because it is "the best investment I can make, especially at current price levels." The CEO's interests are very aligned with shareholders.
· As the only company in the industry with public equity, the company is uniquely positioned to consolidate a highly fragmented industry, offering the potential to purchase positive cash flow projects at high rates of return.
· The company has undervalued real estate assets. In this low interest rate environment, we have seen many non-traditional real estate assets form real estate investment trusts (REITs). Rick's has explored the formation of a REIT, and has been in discussions with other gentleman's club owners about banding together to form a vehicle. Even pooling the owned real estate and refinancing at a lower consolidated interest rate could generate meaningful interest expense savings that could be passed on to shareholders.
Why It May Be Fairly Valued:
· Some would argue that the discount at which "sin stocks" trade is partly a function of the likelihood of higher litigation expense. Regulating the behavior of employees, independently contracted performers, and patrons in an alcohol-fueled environment at geographically disperse locations is extremely challenging even with a well thought out compliance system and strong onsite management.
· The adult entertainment nightclub business is subject to regulatory uncertainties given zoning restrictions, liquor licensing, and the purview of the municipal governments regulating the local clubs. These regulatory uncertainties manifested themselves in Texas, the company's home state and largest market, which passed in 2008 a contentious law that each club collect and pay a $5 surcharge for every visitor. As of the most recent 10-K filing, the constitutionality of the tax remains in legal limbo, and the company could owe past taxes to the State, or be due a refund of past taxes paid. Municipal governments are keen to pass sin taxes to fill tax shortfalls in times of economic recession, and Rick's Cabaret may find itself subject to higher local taxes in its jurisdictions in the future.
· While the CEO's heavy stock ownership was highlighted as a positive, the company is also exposed to key man risk given Langan's unique knowledge of the industry. If Langan were to leave the firm, there could be selling pressure on the shares given the large percentage of the float he holds.
Smith & Wesson (SWHC)
The Business:
Smith & Wesson is a Springfield, Massachusetts-based leader in firearm design and manufacturing, delivering a broad portfolio of iconic firearm brands to individual consumers, law enforcement, and military markets.
Why It May Be Undervalued:
Strong balance sheet - The Company has negative net debt with $147mm of cash as of the most recent quarter end and only $101mm of debt.
The bulk of this debt was issued in the form of a private placement in mid-2013, which replaced 9.5% coupon senior notes maturing in 2016 with 5.875% notes maturing in 2017, materially lowering the firm's cost of capital. The company also recently completed a new $75mm unsecured revolving line of credit that is expandable via an accordion feature to $175mm.
Smith & Wesson generates meaningful free cash flow. The $61mm of free cash flow generated over the trailing twelve months produces a free cash flow yield of 9.2% on the company's $663mm market capitalization. The company has generated positive free cash flow in each year post-crisis.
With a high level of balance sheet cash and solid free cash flow generation, the company is returning cash to shareholders. In concert with the aforementioned debt exchange in June, the company announced a $100 million stock repurchase authorization, amounting to 15% of current market capitalization. This authorization was completed between June and September. An additional $15mm authorization was announced on October 1st.
At just 8.8x trailing earnings and with an enterprise multiple of just 3.7x, the company is attractively valued.
Very few companies achieved the 26% year-over-year growth that Smith & Wesson experienced in its most recent quarter while also expanding gross profit margins (to 43%).
Why It May Be Fairly Valued:
· Regulatory risk dictates a discount in the share price given that changing gun regulation could decrease the firm's ability to sell certain products domestically. However, debate over gun control laws has served as a catalyst for more gun sales in recent periods, providing at least a short-term offset.
· While sales growth has been robust, the company will soon enter into a period of much tougher comparables given the heavy gun buying in early 2013 amidst fears of changing gun laws.
· Since October 24, 2008, the stock is up roughly 650%. While the stock still appears modestly valued at today's multiples, some investors may prefer to avoid a stock that has had such a spectacular run.
· With a strong balance sheet, the company may be tempted to engage in M&A rather than its current path of returning cash to shareholders in the form of share buybacks which spread earnings over a smaller share base. Past acquisition of Thompson/Center Arms in January 2007 and SWSS in July 2009 resulted in substantial write-offs.
· The company's former Vice President-Sales, International & U.S. Law Enforcement was indicted by the U.S. Department of Justice for potential Foreign Corrupt Practices Act violations. While the company was not charged and the case against its former employee has been dismissed, the investigation is ongoing and the potential for sanctions and civil or criminal penalties remain unknowable.
Summary
Investors are like snowflakes. I have written elsewhere on this site that the most difficult part of being a contributor on Seeking Alpha is to communicate investment strategies to an audience with disparate risk tolerances, existing portfolio allocations, time horizons, experience levels, and portfolio goals. Differing personal preferences may dictate whether a reader decides to invest in these companies or not.
You will see from my disclosure that I own neither stock detailed in this article directly. When the shares of Smith & Wesson dropped thirty percent in the aftermath of the Sandy Hook shooting, I debated buying the shares. Many feared a moratorium on assault rifle sales, an outcome I strongly doubted. Our socially liberal President is a former Constitutional law professor, and while he led a national conversation on gun control, I doubted that legislation would make it through this Congress. I expected gun sales to rise given even the specter of a ban, and they surpassed my expectations, rising nearly forty percent year-over-year at Smith & Wesson in the next quarter. I also expected that some institutional investors would be forced to dump holdings of the gunmaker in the wake of the shooting by hypersensitive investment boards. While I have no evidence of this outcome, this type of investment behavior would be consistent with creating alpha-generative opportunities at these types of companies. Smith and Wesson has a very strong balance sheet, and responded to the dip in their share price by expanding a share repurchase program to the benefit of its existing shareholders. The stock has risen by more than fifty percent since the post-Sandy Hook selloff. I have never regretted not buying the stock. I also would never begrudge investors who profited on the stock's irrational mis-pricing.
I believe that both of these stocks are undervalued with potential rewards more than commensurate with their risk. I also think that investment frictions, like industry preferences, create headwinds to market efficiency that necessarily lead to market opportunities to generate excess returns. My experience with Smith & Wesson makes me certain I will not be the one to exploit these inefficiencies, preferring to make my money in different ways. As I said, investors are like snowflakes, and some readers may think strippers and guns are their avenue to market outperformance.
Disclosure: I have no positions in any stocks mentioned, and no plans to initiate any positions within the next 72 hours. I wrote this article myself, and it expresses my own opinions. I am not receiving compensation for it (other than from Seeking Alpha). I have no business relationship with any company whose stock is mentioned in this article.