By Todd Bunton
Alliant Techsystems Inc. (ATK) recently delivered its 11th straight positive earnings surprise on solid revenue growth and expanding profit margins. Management also raised its full year sales and earnings guidance after the latest beat, prompting analysts to revise their estimates significantly higher for both 2014 and 2015.
It is a Zacks Rank #1 (Strong Buy) stock.
While shares of ATK have been soaring this year, the valuation picture still looks very reasonable with shares trading in line with their historical median on a forward P/E basis.
ATK manufactures and sells a number of products to the aerospace and defense, and civilian markets including solid rocket propulsion, military and civilian ammunition, commercial firearms, composites, space structures, and precision weapons. In 2013, approximately 2/3rds of its sales came from the U.S. Government.
Second Quarter Results
ATK reported better-than-expected results for the second quarter of its fiscal year 2014 on November 7. Adjusted earnings per share came in at $2.82, well above the Zacks Consensus Estimate of $2.42. It was a stellar 50% increase over the same quarter last year.
Revenue rose 7% to $1.14 billion, ahead of the consensus of $1.12 billion. The increase was largely driven by acquisitions, but organic revenues were up 1%. The 'Sporting Group' segment saw top-line growth of 48%, including 28% organically, as the demand for ammunition remained strong. This was partially offset by a sales decline in the 'Defense Group', however.
Adjusted operating profit jumped 41% year-over-year as the operating margin improved from 10.3% of sales to 13.7%. This was driven in large part by a 161% increase in adjusted operating profit for the 'Sporting Group' as ATK experienced both higher sales prices and volumes.
Estimates Rising
Following solid Q2 results, management increased its full year sales, EPS and free cash flow guidance. This was due both to strong operating performance and the acquisition of Bushnell. This prompted analysts to revise their estimates significantly higher for both 2014 and 2015, sending the stock to a Zacks Rank #1 (Strong Buy).
You can see in the 'Price & Consensus' chart below that consensus estimates have been surging over the last several months: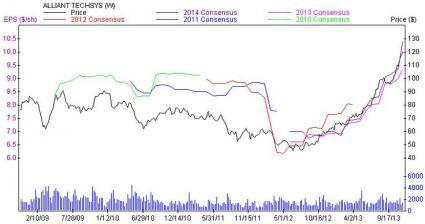 The 2014 Zacks Consensus Estimate is now $9.35, up from $9.00 thirty days ago. The 2015 consensus is currently $10.42, up from $9.37 over the same period.
Reasonable Valuation
Shares of ATK have been on tear this year, almost doubling year-to-date.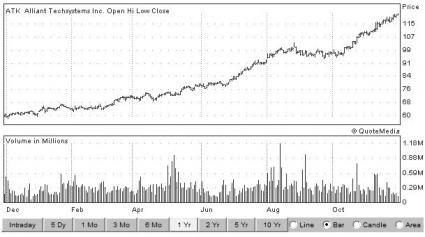 But the valuation picture still looks reasonable with shares trading at 12x 12-month forward earnings, which is in line with its 10-year median.
The Bottom Line
With solid sales and earnings growth, exceptional earnings momentum and reasonable valuation, shares of ATK have plenty of room to run higher.
ALLIANT TECHSYS (ATK): Free Stock Analysis Report (email registration required)