4-traders.com reports a landmark multi-billion dollar energy deal has been struck between Turkey and Iraqi Kurdistan. The state-backed Turkish Energy Company has signed a contract to operate 13 exploration blocks in northern Iraq and is teaming up with Exxon Mobil (NYSE:XOM) in about half of them. After years of being bogged down in low margin Iraqi projects, this is a coup for Exxon and a positive catalyst going forward. The deal will likely benefit Chevron (NYSE:CVX) as well.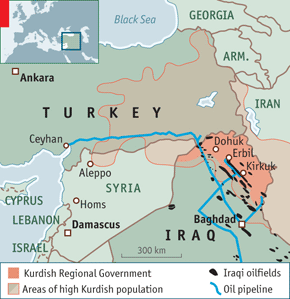 Back in January, I wrote Exxon And The KRG Need A Pipeline and explained why the only thing keeping the oil riches of Kurdistan from being exploited was a secure pipeline to world markets independent of the Baghdad government to the south. The existing pipeline (see map) used to carry 1.6 million bpd of Iraqi oil to the global market, earning nice transit fees for Turkey. At the time of the article, wars and saboteurs had left the Iraqi section of the pipeline in shambles. One of the two parallel pipelines was totally empty and the other was running at a small fraction of capacity.
So the KRG did build a new pipeline and it is scheduled to start-up soon. Crude will flow from the KRG's new pipeline, which will link-up with the existing 40-inch-wide Kirkuk-Ceyhan pipeline. From Ceyhan, the crude can easily be exported to world markets.
The contract reportedly also plans on building a new oil pipeline and a new gas pipeline too. The goal is to raise the region's oil exports to 1 million bpd by 2015. The gas flow is likely to start by early 2017. No doubt energy starved Turkey used its transit fees to negotiate advantaged long-term contracts. The deal reportedly will enable Turkey to purchase up to 20 billion cubic meters per year of Kurdish gas through the new pipeline.
However, I was wrong about the only thing stopping Kurdish oil was a new pipeline. The KRG also needed a payment solution to deal with the lack of an Iraqi revenue sharing oil policy out of Baghdad. This thorny issue was solved by creating an escrow account at a Turkish state bank. Payments for KRG's oil will be collected and once contractor fees are paid (I assume this includes companies like Exxon), the balance will remain in the account until Baghdad reaches a revenue sharing agreement with the KRG. The KRG has long proposed a 17% stake of Iraq's total oil revenues and leaving the rest to Baghdad. It justifies the distribution rate based on an article in the Iraqi constitution, which divides oil revenue according to population count.
KRG natural resources minister Ashti Hawrami said last week that the money belongs to the whole of Iraq and "could trigger a new era in Iraq and finally get the two sides to agree on a revenue-sharing plan in line with the constitution," sources said.
The agreement is bullish for Chevron too. Back in June Chevron said it would acquire an interest in and operationship of the Qara Dagh block production sharing contract from the Kurdistan Regional Government. Reuters reported the stake as 80% of two blocks. The participation with Chevron is key as the company shied away from participating in giant Iraqi fields in the south due to a lack of returns and security risks. That Chevron is plowing ahead in the Iraqi Kurdistan area gives me confidence these projects and contracts will be successful. While it is difficult to predict returns until terms of the contracts are made public, Chevron has a reputation for only proceeding with projects meeting its high standards for return-on-investment. Not only will returns be higher in Kurdistani Iraq, but KRG leaders enticed foreign oil companies by offering contracts allowing them to book a portion of the reserves they discover. For major oil companies like Exxon and Chevron, this is a welcome change as they seek to rebuild their reserves base. Yet the deal could benefit war-torn Iraq as much as it will Turkey, the Kurds, Exxon and Chevron. The question now is will Baghdad get a clue and move forward with a revenue sharing agreement with the Kurds or continue to stifle progress? Regardless, the mechanism for Kurdish oil to reach world markets is in place. So too is the mechanism to pay producers like Exxon and Chevron.
Exxon has been covered ad infinitum since disclosure of Warren Buffett's big stake. But this deal is welcome news for Chevron too. CVX, whose stock has been relatively range-bound as the Ecuadorian court case winds its way toward resolution, is cheap relative to the market and pays a generous dividend to boot:
P/E ("ttm") = 10
EPS ("ttm") = $12.23
Div (Yield) = $4.00 (3.3%)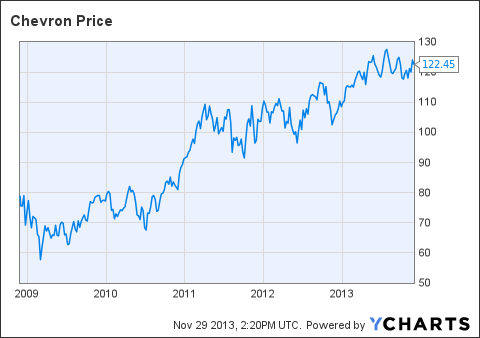 Disclosure: I am long CVX, XOM. I wrote this article myself, and it expresses my own opinions. I am not receiving compensation for it (other than from Seeking Alpha). I have no business relationship with any company whose stock is mentioned in this article.
Additional disclosure: I am an engineer, not a CFA. The information and data presented in this article was obtained from company documents and/or sources believed to be reliable, but has not been independently verified. Therefore, the author cannot guarantee its accuracy. Please do your own research and contact a qualified investment advisor. I am not responsible for investment decisions you make. Thanks for reading and good luck!