After writing about Kingold Jewelry (NASDAQ:KGJI) last month (see Kingold Jewelry: A Chinese Gem Hidden For The Last Two Years), the company has made progress on numerous fronts. In addition to reporting solid Q313 results, the management team visited with investors in the US last week.
A leading manufacturer and designer of high quality 24-karat gold jewelry, ornaments, and investment-oriented products continues to generate substantial growth and profits while trading at roughly half of book value. Kingold has several initiatives to propel the company even further forward, but the question remains where US investors will notice the progress.
The stock continues to be held back by the discovery of limited frauds in China that refrain people from investing in the whole sector. To counteract that situation, Kingold faces some tailwinds with China recently overtaking India as the largest gold market. The ability to increase the gold leasing program has given the company an advantage over other market participants that lack the leverage needed for the volatile gold markets.
Q313 Results
A good place to start a review of Kingold is a review of the recently released Q3 results that showed strong growth in sales and earnings. Even more importantly, the company guided to another increase in metric tons processed for Q4. The highlights were as follows:
Net sales increased 28.6% to $283.9 million compared to $220.8 million, largely as a result of increased production.
Processed 13 metric tons [one metric ton = 35,274 ounces] of 24-karat gold products compared to 9.5 metric tons.
Gross profit increased to $18.1 million from $12.7 million, and gross margin was 6.4% compared to 5.7%, due to increased production as a result of greater access to gold through the Company's gold leasing transactions.
Net income attributable to common shareholders increased 31.4% to $11.0 million, or $0.17 per diluted share, from $8.4 million, or $0.15 per diluted share.
Cash flow from operations of $6.3 million for the nine months ended September 30, 2013
Book value per diluted share of $3.18 at September 30, 2013 compared to $2.97 at December 31, 2012.
Kingold expects to process between 50-55 metric tons of 24-karat gold products in 2013. The Company processed 36.8 metric tons during the first nine months of 2013.
Outside the substantial sales growth the company continues to steadily grow book value. In the latest quarter it increased to $3.18 from $2.99 at the end of June. The stock only sits around $1.80 and provides upside of 77% to reach book value.
The guidance for processing between 50-55 metric tons of 24-karat gold products in 2013 is a decline from the top end forecast previously of processing 50-60 metric tons for the year. The below slide highlights the metric tons processed for the year so far indicating that processed gold in Q4 could be anywhere from 13.2-18.2 metric tons, a substantial increase over the 7.6 metric tons processed in Q412.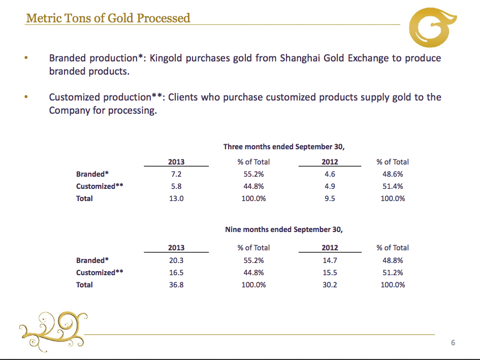 Initiatives
Since the last report, Kingold has embarked on several initiatives that should help foster long-term growth. From increasing gold lease agreements with branches of major banks to establishing online product sales to developing an industrial complex for jewelry and a future headquarters, the company is planning for long-term growth.
Gold Lease Agreement - at the end of Oct., Kingold announced an increase in a major credit line to facilitate gold leasing plans. The credit line from China Construction Bank (OTCPK:CICHY) was increased to $65.4 million. The drawdowns under the facility will be made in gold rather than currency bearing an interest rate of approximately 6% p.a. The increased credit line allows for an increase in production capacity over the next several months.
Online Product Sales - only a couple of days ago the company announced the selling of its 24-karat gold products through CICHY's internet shopping portal, mall.cccb.com. The site links to a number of China's major manufacturers, wholesalers and retailers targeting both the B2B and B2C end markets.
Industrial Park/Headquarters - at the end of Oct., Kingold agreed to acquire industrial land rights in Wuhan, China for development of Wuhan Kingold Jewelry Industrial Park. The agreement includes the operating rights of 717,817 square feet for the project expected to cost roughly $164 million. The company expects construction to be completed by mid 2015. Management anticipates the complex being a major hub for the jewelry industry in the central region of China. The plans for the park include the following:
Acquisition of project: the Company acquires the total project (including both land lease and floor space) at a cost of roughly RMB 5,204 per square meters ($483.5 per square foot).
The Company plans to construct seven buildings with total useable floor space of approximately 192,000 square meters (2.07 million square feet), 36,000 square meters (389,000 square feet) of which is anticipated to be used as the Company's product show center, product research and development center, and corporate headquarters.
Of the remaining area, 42,000 square meters (452,000 square feet) is expected to operate as retail shops, and 114,000 square meters (1.23 million square feet) is expected to be leased as office space to domestic and international jewelry companies and related industry organizations.
The development of this industrial park will be closely scrutinized by investors with Kingold only currently having an asset base of $218 million. Funding a $164 million project could require significant leverage.
China Gold Demand
According to the World Gold Council, China has surpassed India as the world's largest gold consumer. According to the study, China had already imported nearly 800 tons of gold through the first nine months of the year compared to only 716 tons by India. Due to the slide in the rupee's value and strict import curbs, India's gold demand dropped by nearly 24% during that period. The expectations are that Chinese gold imports will reach 1,000 tons for the year compared to around 900 tons for India.
China Fraud Fears Return
As the previous report on Kingold was being published discussing the recent change in the investing environment surrounding Chinese stocks, a couple of additional stocks were highlighted as potential frauds. This discovery certainly was a leading factor in the drop of the stock from a recent high of nearly $2.50 to $1.60.
Back at the end of Oct., Muddy Waters Research resurfaced with claims that NQ Mobile (NYSE:NQ) is a massive fraud. Based on past success of uncovering China frauds, the stock plunged from $26 to below $8 in days. The stock has rebounded some to $13 based on strong support from the company and insiders, but the market isn't overly convinced with the stock still down 50% since the Muddy Waters report.
China Rebound Sidelined
Of the stocks covered in the previous article, only SouFun Holdings (NYSE:SFUN) is higher a month later. Possibly the fact that one stock is actually higher following more scandals and fears of fraud are a positive sign. China Housing & Land Development (NASDAQ:CHLN) took a major hit and Xinyuan Real Estate (NYSE:XIN) traded lower following the reports on NQ Mobile.
In reality, China Housing & Land held strong through the fraud fears and didn't tumble until investors were disappointed with Q313 results. The company reported a substantial drop in revenue due to a challenging period of sellable inventory not fully matching consumer demand. The biggest problem was in the mid-tier category where government efforts discouraged consumers looking to upgrade.
Xinyuan Real Estate generated a 21% sequential increase in Q3 revenue aided by a couple of projects launched during the quarter helped by a robust housing market in their markets. The stock started showing weakness after the CFO resigned a few weeks ago. Though the CFO plans to stay on board through April 2014, it's typical of even strong US stocks to decline on the resignations of C suite executives.
SouFun overcame the fraud fears by reporting solid Q3 earnings. The company was able to generate earnings of $1.31 that exceeded analyst estimates by 31%. The stock recently reached multi-year highs above $70 and continues to generate strong earnings.
Stock Chart
Kingold continues to trade at higher levels than in the previous year, but the stock trades substantially below book value at the current levels. The below chart shows a stocks trying to break out to the upside, but so far investors aren't willing to push the stock higher: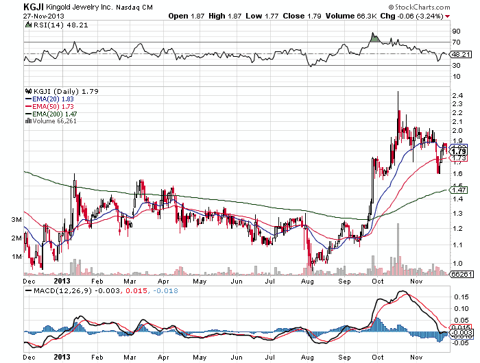 Conclusion
While the fraud fears might have initially hurt Kingold and all Chinese stocks, the majority of them have gone on to trade based on the individual stocks news. The stock remains an extreme bargain with strong revenue growth and solid earnings. The company has several catalysts that will push growth higher in the next couple of years, but the size of the industrial project could be concerning to investors. The key to investing in these stocks is including them in a diversified portfolio that reduces the risk from an outlier event. At this point, the Chinese fraud risk is overstated providing investors the opportunity to buy a stock such as Kingold below book value.
Disclosure: I have no positions in any stocks mentioned, and no plans to initiate any positions within the next 72 hours. I wrote this article myself, and it expresses my own opinions. I am not receiving compensation for it (other than from Seeking Alpha). I have no business relationship with any company whose stock is mentioned in this article.
Additional disclosure: The information contained herein is for informational purposes only. Nothing in this article should be taken as a solicitation to purchase or sell securities. Before buying or selling any stock you should do your own research and reach your own conclusion or consult a financial advisor. Investing includes risks, including loss of principal.