As I am building up my BIG Portfolio, I began by scouting for cash-rich companies (preferably companies that would generate sustainable cash flow from operations) and are trading at reasonable PE multiples.
29 companies matched the type of companies I would be interested in and they are listed below.
The problem with most of these stocks is that most are already trading near 52-week highs and we would expect that, given the PE is based on the trailing twelve months (TTM). It isn't full proof and in fact has lots of problems if you start diving into each company, for example Orthofix International N.V. (NASDAQ:OFIX).
OFIX is a global medical device company specializing in orthopedic solutions. Trading near 52-week low, OFIX is definitely one worth watching. I do caution that this company although featured in Seeking Alpha as an undervalued gem, it is currently under review by the SEC for late filing of its Quarterly Report. I would stay clear from this stock for its lack of compliance and declining quarterly earnings.

Source: Nasdaq earnings report OFIX
What caught my eye was overseas telecommunications companies, China Mobile Limited (NYSE:CHL), P. T. Telekomunikasi Indonesia (NYSE:TLK) and Telecom Argentina S.A. (NYSE:TEO). Trading at reasonable valuations and one of the leaders in their domestic market. Compared against companies in the USA like Verizon (NYSE:VZ) and AT&T (NYSE:T) trading at 17x and 24x PE respectively, these companies look cheap and worth a good hard look.
China Mobile Limited
Trading at 9.1x PE and has a PEG of only 0.35, CHL is a stock to own. Just by looking at the buzz surrounding the anticipation of Apple (NASDAQ:AAPL) striking a deal with the company shows just how influential the company is, in its domestic market. It has a subscriber base of 750 million and is the largest wireless carrier in China. No offense to AAPL investors, I would rather stay long in CHL.
P. T. Telekomunikasi Indonesia
Another dominant leader in its home turf. TLK is the owner of Telkomsel, Indonesia's largest telco. This is certainly one to look further into for growing emerging market exposure.
Telecom Argentina S.A.
Another gem and doing a $1.2b share buyback. Yahoo! Finance has a forward PE of 6.89x on this stock. It is amazingly cheap and the company reported very strong third-quarter earnings, with average revenue per user (ARPU) growing strongly.
These Telcos are definitely worth a look.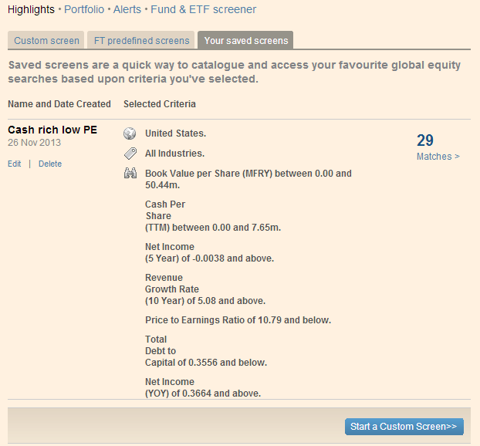 Here are the results:
Source for Equity Screener and Results.
Disclosure: I am long CHL. I wrote this article myself, and it expresses my own opinions. I am not receiving compensation for it (other than from Seeking Alpha). I have no business relationship with any company whose stock is mentioned in this article.
Additional disclosure: I may initiate positions in TEO and TLK in the next 72 hours.