It has been a great year for equity investors. The S&P is up more than 25% in 2013 with the Nasdaq being up by a third over 2012's ending levels. As we approach 2014, I think it is a good idea to review 2013's laggards to see if one can find possible winners in the New Year. Often this year's laggards can turn into next year's star performers.
Today we will look at some of the underperformers in technology that should have a better year in 2014. It is hard to think that at this time in 2012 tech giant Hewlett-Packard (NYSE:HPQ) was trading for under $14 a share. Some pundits were even questioning its ability to survive as a going concern after an absolutely abysmal 2012.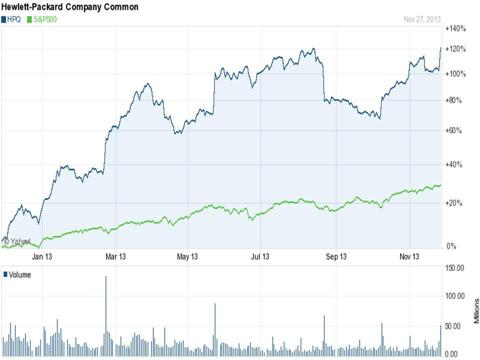 What a difference a new year makes. Not only has Hewlett-Packard doubled in 2013, it has vastly outperformed the overall market as well. The stock is still cheap at just over 7x forward earnings. It reported results this week that should keep its momentum going. Citigroup upped its price target on HPQ to $32 a share after quarterly results. Needham also raised EPS estimates for 2014 as well.
So what technology laggards could become stars in 2014? Here are two attractive possibilities.
Apple (NASDAQ:AAPL) - It is hard to talk about a stock as a "laggard" when it has gained over 150 points since its lows of late June, but Apple is basically flat from this time last year and has substantially underperformed the S&P over that time span as well (see chart).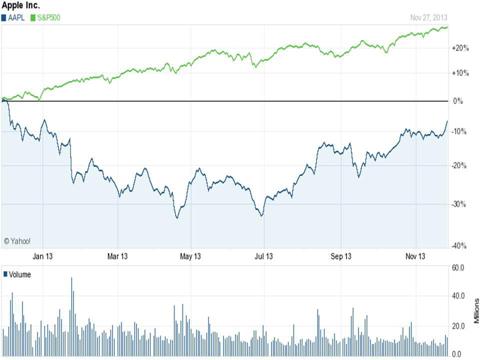 I think this tech giant will have brighter days still in 2014. Consensus EPS estimates for FY2014 have gone up ~10% over the past three months as new iPhones continue to sell at better than expected levels. In addition, the company just launched the new version of its market leading tablet, the iPad.
The company still has some ~$140B worth of cash and marketable securities on its balance sheet and continues to buy back impressive amounts of its shares through an authorized $60B stock repurchase program. The stock also provides a 2.3% dividend yield.
Even after its recent run, AAPL sells for ~8x forward earnings after taking out its huge cash hoard. This is ~half of the overall market's multiple even as both earnings and revenues are expected to increase in the high single digits during 2014. Expect Apple to have a rewarding year in 2014.
EMC Corporation (EMC) - The stock of this huge data storage solution provider has done absolutely nothing over the previous twelve months (see chart).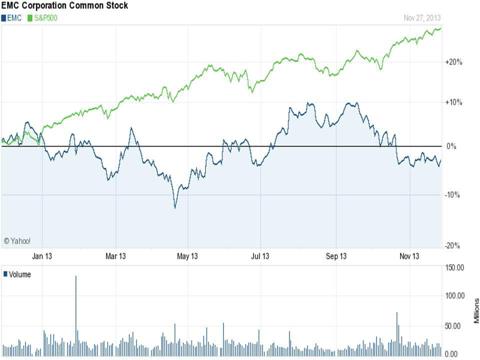 However, 2014 should be a better year for both the company and the stock. EMC owns 80% of VMware (NYSE:VMW), the leading software server virtualization maker in the world. VMware's revenues are growing in the low mid double digits and earnings should be up more than 15% Y/Y in FY2014.
In addition, the company has ~$3.5B in net cash on its balance sheet. The stake in VMW and net cash accounts for some 60% of the company's overall market capitalization. Data storage revenues at EMC are growing nicely in the 6% to 8% range. Earnings are projected to grow better than 10% in FY2014 as well.
EMC is cheap at just over 10x forward earnings and also pays a 1.7% dividend yield. The 39 analysts who cover the company have a $30 a share price target on EMC, 25% above the current price level.
Disclosure: I am long AAPL, EMC. I wrote this article myself and it expresses my own opinions. I am not receiving compensation for it (other than from Seeking Alpha). I have no business relationship with any company whose stock is mentioned in this article.