Sprint Corporation (NYSE:S) is the third largest telecommunication company in the U.S. With the massive cash infusion from SoftBank, the company is equipped with the largest spectrum in the industry, but it is unable to leverage its strong spectrum position to increase its revenues. Furthermore, the company has failed to build a strong competitive position in the industry, as it has been constantly losing customers to other networks. It also lags behind the two telecommunication giants, Verizon Communications (NYSE:VZ) and AT&T, Inc (NYSE:T), in laying out a 4G-LTE framework, which is now the key to wireless growth. I am changing my bullish stance to neutral given that management has not succeeded in turning around its fortunes.
Although the company did manage to beat analyst expectations in the recent third quarter, I believe the company failed to deliver any meaningful positives for investors. The Sprint platform lost 360,000 postpaid customers in 3Q'13 as compared to net additions of 410,000 in the same quarter of the previous year. This net loss in customers also diluted the impact of the best-ever postpaid ARPU of $64.28. Another discouraging sign for investors was the rising churn rate, which reached 1.96% in the last quarter. It has been the highest among its competitors, as shown in the figure below.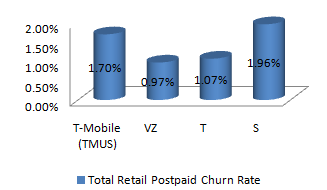 Source: Companies Data
Moreover, the company secured last place in the annual U.S. cellphone-service providers list, which means that customers are not satisfied with its services and are probably shifting to other networks. Dropping from second place to last is a worrying sign, as it means that subscribers have lost confidence in the company, which will hurt its revenues.
Discounted Cash Flows
I have used free cash flow estimates until 2018 and a 6.80% WACC (using cost of equity of 10% and after-tax cost of debt of 4.65%). Furthermore, I have used a terminal year growth rate of 2%.
$ Millions
| | | | | | | |
| --- | --- | --- | --- | --- | --- | --- |
| | 2014 | 2015 | 2016 | 2017 | 2018 | Terminal Value |
| Expected Free cash Flows | -945 | 645 | 1245 | 2,250 | 2,685 | 57,056 |
| Present Value | -885 | 565 | 1,022 | 1,729 | 1,932 | 41,062 |
Total Value to firm=$885+$565+$1,022+$1,729+$1,932+$41,062=$45,425million
Net Debt= $23,007 million
Total Value to firm - Total Debt = Total Equity value
$45,425 - $23,007= $22,418 million
Share Outstanding = 3,921 million
Target Price = Total Equity Value/Share Outstanding
$5.71 = $22,418/3,921
Currently, the company is trading at $8.36, which is right at the top end of its 52-week range of $5.13-$8.47. In the last month, the stock price has been up by 26.48%, which is not backed by any substantial positive performance. My price target is $5.71, which means that S is overvalued. Also, the company does not offer any dividends like its peer companies VZ and T.
Future Growth Prospects
However, I believe the company's management has taken several steps, which can unlock future growth opportunities. The company has recently launched "Spark," which is the deployment of its tri-band wireless network. It has been initially launched in five markets and it is expected to cover a 100 million U.S. pops by the end of next year. S is also working to deploy multiple new technologies to develop 100Mbps wireless speed, which will be available as early as 4Q'15. The company has launched several new plans with unlimited and early upgrade features to aggressively compete with other carriers. The company is also on its way to launching its 4G-LTE framework and is expected to complete 200 million POPs by the end of this year. S is also expecting to expand its margins through revenue synergies from the SoftBank/Clearwire deals, along with savings from the Network Vision plan.
Conclusion
I changed my stance to neutral due to the continuous loss of customers and rising churn rate. I also believe that the company is overvalued and the 26% rise in share price in the last month is not backed by the strong third quarter results. Furthermore, the company has also lost consumer confidence due to its poor services and the limited outreach of its 4G-LTE network. The company needs to improve its network services and develop competitive pricing and product lineup to compete with its peer companies and win back its customers.
Disclosure: I have no positions in any stocks mentioned, and no plans to initiate any positions within the next 72 hours. I wrote this article myself, and it expresses my own opinions. I am not receiving compensation for it (other than from Seeking Alpha). I have no business relationship with any company whose stock is mentioned in this article.