On November 6th, 2013, Whole Foods Market (NASDAQ:WFM) reported quarterly financial results and after this release shares were down by 10%. As I am writing the article Whole Foods Market's stock is trading at $56.47. Therefore, I thought I should analyze the company to see whether or not it presents itself as a good investment opportunity in the long run.
Before getting into the discussion of growth prospects, let's discuss the company's historical performance to see what worried investors and caused them to sell the stock in such a hurry.
Historical Performance
During fiscal year 2013 the company reported revenues of $12,917 million reflecting 10.4% growth year over year. This growth was driven by a 6.9% increase in comparable store sales and a 6.6% increase in identical store sales.
Moreover, the company reported net income of $551 million reflecting an 18.2% growth compared to results from last year. This improvement in net income was mainly because of topline growth followed by a slight improvement in gross and operating margins.
The reason for the drop in share price was guidance for fiscal year 2014 given by the company. When I spoke with a few informed investors they said, "The market has reacted because of comparable store sales growth guidance."
Previously the company's management announced that they will achieve a comparable store sales growth of around 6.5% -8% but then they downgraded their estimate by 1%.
I think investors should not be worried by this downbeat guidance. The company is rapidly adding new stores to its portfolio and two-thirds of these new stores are being opened in the same domestic market, which is causing some cannibalization. However, Whole Foods Market's history tells that after the few years of new openings, comparable sales do increase at both new and old stores.
Moreover, the company is trying to cut down its operating expenses further which will increase Whole Foods Market's profitability.

DuPont analysis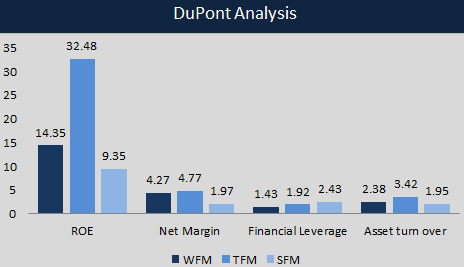 The above chart represents the DuPont Analysis of three companies. Whole Foods has been generating second highest return on equity after The Fresh Market (NASDAQ:TFM). The company has the lowest average financial ratio of 1.43, average asset turnover of 2.38 and net margin of 3.62.
As it is evident, Whole Foods' return on equity is derived from net margins and asset turnover rather than an unsustainable source like financial leverage.
The Future is Bright!
The grocery store industry is experiencing double-digit growth and has crossed $11.2 billion in dollar sales. On an aggregate basis, the organic products achieved 13% growth across retail channels in the last year. According to research conducted by SPINS, organic products continued to grab market share from the conventional, inorganic, processed products over the past few years.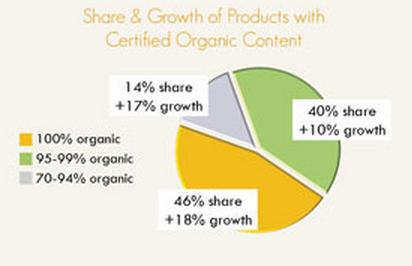 As the developed world is becoming more health conscious the demand for organic food is growing rapidly. As can be seen in the chart presented above, 46% of the total market share of organic food is the food labeled as 100% organic, while products with 95-99% organic content have a 14% share of the total organic food market. The remaining share is products carrying 70-94% organic content.
It is worth noting that products that are 100% organic experienced an 18% growth in their demand followed by products that are 95-99% with a 17% growth and 70-94% organic products growing at a 10% pace.
Whole Foods is the first nationwide "certified organic" grocery retailer in the US. The company was among the few beneficiaries of this rapidly changing trend but now competition is increasing as other players were attracted by the rapid growth of this industry causing a slow-down in company growth.
I think differentiation and a strong brand name will enable the company to attain meaningful growth over the long run.
Currently, Whole Foods Market is offering products that are relatively expensive compared to the prices offered by its peers. This pricing issue provided an opportunity for competitors such as Sprouts Farmers Market (NASDAQ:SFM) and The Fresh Market to attract price-sensitive consumers. Now the company has realized its mistake and announced it will set up a test store in Detroit, Michigan. The products in the test store are designed to attract low-income and price-sensitive customers.
Whole Foods Market currently operates in the US, the UK and Canada with 367 stores. Moreover, the company announced it will increase its grocery store count to 1,000. I think this target is quite achievable because Whole Foods Market has the ability to generate higher free cash flows that will enable it to grow its store count by approximately 8-10% per year.
Valuation
Whole Foods Market is a growing company so I have calculated the intrinsic value of the stock on the basis of the free cash flow valuation method.
For discounting purposes I have calculated WACC based on inputs presented in the table. Moreover, weightings were assigned based on the market value of debt and equity.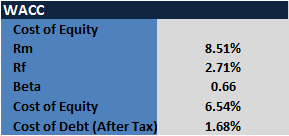 I have calculated the weighted average growth rate of free cash flow by assigning proper weights to historical growth rate, analyst consensus growth, industry at large as well as my own estimate of growth in which I tried to account for the effect of spending cuts and capital expenditure growth in line with management's plans.
Moreover, I have assumed a long-term growth rate of around 2%.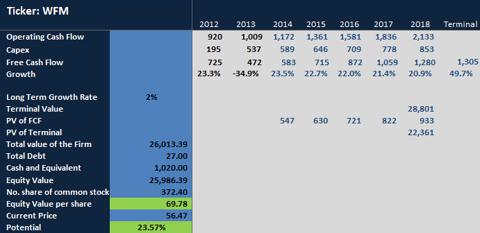 After the projections the model predicts the stock price of Whole Foods Market to be around $69.78 with an upside potential of 23.57%.
Conclusion
As I mentioned throughout the article, Whole Foods has great growth potential plus the company is well prepared to compete for a larger piece of the industry. I am quite optimistic about its future and I think the company is here to stay for a long time.
In addition to the bright future the current stock price of Whole Foods Market is undervalued so I will recommend that long-term investors take notice of this stock before it gets expensive.
I recommend buying Whole Foods' stock.
Disclosure: I have no positions in any stocks mentioned, and no plans to initiate any positions within the next 72 hours.
Business relationship disclosure: The article has been written by a Blackstone Equity Research research analyst. Blackstone Equity Research is not receiving compensation for it (other than from Seeking Alpha). Blackstone Equity Research has no business relationship with any company whose stock is mentioned in this article.