Best Buy (NYSE:BBY) reported decent third quarter results considering the intense competition from both brick-and-mortar locations and online powerhouses. Revenue was essentially flat from the same period a year ago, as comparable store sales of 0.3% improved substantially from the year-ago period's 5.1% decline (see image below). Leading the charge in the quarter was Best Buy's online presence, where same-store sales advanced 15.1% in the quarter, accelerating from the 10.3% pace set in the third quarter of last fiscal year. Increased traffic, a higher average order value, and a higher number of online orders being placed in retail stores benefited domestic online revenue. The rate of the company's international comparable same-store sales decline slowed to 6.4% from more than a 10% fall in the year-ago period. Lower industry demand for consumer electronics hurt performance in Canada, while the May 2013 expiration of government subsidies in China contributed to international weakness.
Best Buy's domestic gross margin fell to 23.6% versus 24.2% in the year-ago period, a 60 basis point decline, while its international gross margin fell by a similar magnitude. Selling, general and administrative (SG&A) expenses fell on an absolute basis and as a percentage of revenue, revealing improved expense management throughout the company. On a non-GAAP basis, diluted earnings per share from continuing operations came in at $0.18 per share thanks to a full percentage point improvement in the firm's operating margin (1.4% versus 0.4%). Though free cash flow has been negative through the first nine months of the year ($324 million in cash from operations less $422 million in capital expenditures), the firm ended the quarter with $2.17 billion in cash and equivalents versus a long-term debt load of $1.62 billion.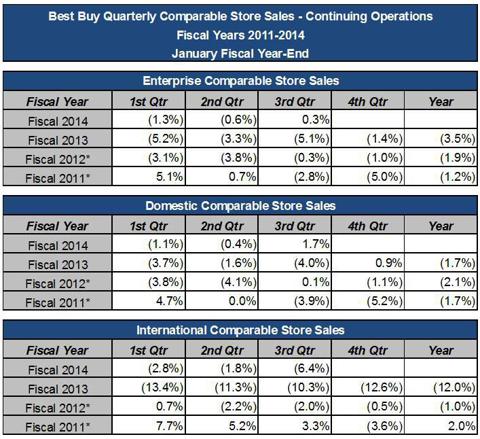 Image Source: here
Looking ahead to the holiday season, Best Buy is laser focused on performance, as if its survival depended on it. For the holiday season, the company listed seven initiatives. The firm is:
"(1) offering highly competitive prices, compelling promotions, and its Low Price Guarantee, as the firm believes that price competitiveness is table stakes, and its price competitiveness is boosted even further by the up to 6% in rewards value the company provides with the use of the My Best Buy credit card; (2) delivering a curated assortment of exciting new products, including a broad range of branded and private label products exclusive to Best Buy; (3) enhancing the multi-channel convenience of shopping at Best Buy by offering customers a significantly improved online experience, made better by improved site navigation and search, new buying guides, and an increased number of customer reviews; (4) providing a highly trained sales force complemented by Apple, Samsung and Windows experts; (5) giving far greater access to total company inventory through its newly launched ship-from-store capability, now active in more than 400 stores; (6) offering free shipping for online orders over $25; and (7) providing a unique services capability through the Geek Squad." Adapted from its press release.
Still, the competitive environment will be fierce, and price competition will be intense, especially this year (where there are six fewer days between Thanksgiving and Christmas). Best Buy is well-aware of this poisonous promotional environment and remains committed to being competitive on price at the expense of margins. We expect to see a heightened competitive environment across all of retail this holiday season, more so than in years past. Best Buy opened its stores at 6 pm on Thanksgiving Day and not closing them until late evening on Black Friday to help mitigate the impact of this intensifying competitive threat.
Our Take
We're mighty impressed with Best Buy's ability to hold the line with revenue and post a non-GAAP profit. Cost-containment will be critical in future periods, and we'll be looking for the firm to exceed its $725 million North American cost-reduction opportunity it outlined at its Investor Day in November 2012 in coming years. The firm has already eliminated $505 million in annualized costs toward this goal thus far, but more will be necessary given the pressures from online competition. Shares are trading in line with our fair value estimate at this time, so we don't expect to be active in the firm's shares in our Best Ideas Newsletter portfolio.
Disclosure: I have no positions in any stocks mentioned, and no plans to initiate any positions within the next 72 hours. I wrote this article myself, and it expresses my own opinions. I am not receiving compensation for it (other than from Seeking Alpha). I have no business relationship with any company whose stock is mentioned in this article.