The Applied Finance Group's (AFG's) Market Forecast Project (MFP) is a free monthly survey that polls professional money managers on their favorite long/short equity ideas, favorite sectors and countries to invest in, as well as their predictions on any events that may affect the economy or markets. This survey is a helpful way to gain overall knowledge about the economy/market, enhance client communication, and gain an understanding of how investors in the industry currently view events that could greatly affect their process of portfolio construction and stock selection.
In 5 out of the last 6 surveys AFG has conducted, MFP participants have consistently chosen the Technology sector as their favorite sector to invest in over the next year. Because of this, we thought it would be fitting to provide 6 companies from within the Tech sector that rank well relative to their sector peers in valuation, corporate performance, earnings quality, and management quality.
AFG's metrics for valuation, corporate performance (economic profitability), and management quality have proven successful at identifying companies that are most likely to outperform, when separating company lists by top/bottom half from each variable. View the spreads generated by each variable here.
Another reason to consider the Tech sector for potential investment opportunities is that the entire tech sector looks undervalued relative to the market. In addition, the sector is currently trading at a discount to its historical relative valuation, according to the chart below from AFG's last Monthly Market Review.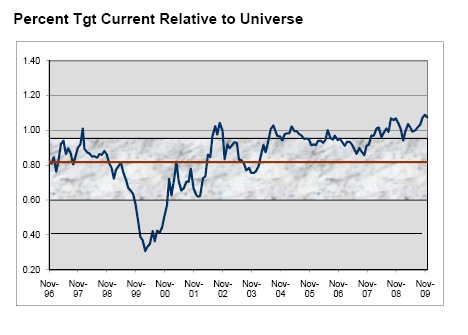 *This graph shows the Percent to Target Current for a universe relative to the overall market. Values greater than 1 indicate the universe is more undervalued than the market, while values less than 1 indicate the opposite. The red line identifies the historical median value to provide a basis to understand valuation levels relative to historic norms.
The 6 companies listed below are companies that look attractive and are more likely to outperform than their sector peers according to AFG's systematic approach for identifying winners and losers in the market.
click to enlarge

If you are a professional investor/money manager and would like to be a part of The Market Forecast Project, click here to join.
Click here to view the results from last month's survey and see the favorite long/short equity ideas of professional money managers.
Benefits of participation in the Market Forecast Project include:
• Understand Trends of Investor Sentiment and Incorporate MFP Forecasts to Better Position your Portfolio
• Enhance Client Communication
• Actionable Long/Short Investment Ideas to help you Outperform
• Use the "Wisdom of crowds" to Gain Insight into Popular Themes and Events in the Market
To stay updated on how other professional investor's currently view the market join our Market Forecast Project survey and be among the first to receive the results.
Disclosure: none