Home Depot (NYSE:HD) reported excellent third-quarter results. Total sales advanced 7.4% from the third quarter of last year as comparable store sales jumped by a similar amount - comparable sales for the US were 8.2%. Operating income jumped an impressive 32.3% from the same period a year ago, while net earnings for the period increased 28.4% on an adjusted basis, to $0.95 per share. The top-line strength and significant operating leverage was on display during the quarter, and Home Depot was quite positive for the remainder of fiscal 2013, too:
"Based on year-to-date performance and outlook for the remainder of the year, the company raised its fiscal 2013 sales guidance and now expects sales to be up approximately 5.6 percent. Comparable store sales, on a 52-week like for like basis, are expected to be up approximately 7.0 percent for the year. The company raised its fiscal 2013 diluted earnings-per-share guidance and now expects diluted earnings per share to be up approximately 24.0 percent to $3.72 for the year (roughly in-line with our annual estimate)."
Through the nine months ended November 3, net cash provided by operating activities totaled $5.98 billion and capital expenditures were $964 million, resulting in free cash flow of about $5 billion, or 8.2% of sales. The firm held cash of $4.85 billion and current and long-term debt stood at $16 billion at the end of the firm's fiscal third quarter. Despite the large debt load, however, adjusted debt to EBITDAR (earnings before interest, taxes, depreciation, amortization, and rent) is a very manageable 1.9 times.

Image Source: Home Depot
Lowe's Pace of Comparable Sales Growth Trails
Lowe's (NYSE:LOW) reported third-quarter results. Revenue for the quarter advanced 7.3%, while comparable sales during the period increased 6.2% (see quarterly trend in image below), a nice number but one that was materially lower than Home Depot's. Net earnings jumped 26% from the same period a year ago, while diluted earnings per share advanced 34.3%, to $0.47. The pace of net earnings expansion was also less than that of Home Depot during the period. The strong diluted earnings-per-share expansion was a result of an aggressive share buyback program, where Lowe's repurchased $761 million in stock during the period.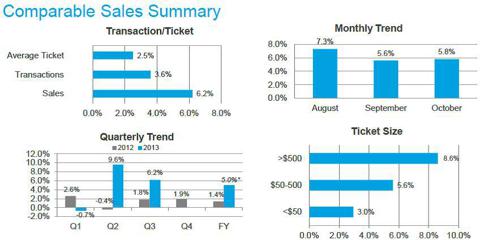 Image Source: Lowe's
Though Lowe's performance is running a bit behind Home Depot, the firm's outlook was still strong. For the fiscal year 2013, total sales are expected to increase approximately 6 percent and comparable sales are expected to increase approximately 5 percent. The company's operating margin is expected to advance 75 basis points, and diluted earnings per share of approximately $2.15 are expected (versus $2.10 previously). The bottom-line target was modestly lower than expectations, which we think is the primary reason shares have come under pressure.
Through the nine months ended November 1, net cash provided by operating activities came in at $3.86 billion and capital expenditures were $610 million, resulting in free cash flow of $3.25 billion, or 7.8% of sales. Lowe's doesn't quite convert revenue to free cash flow as good as Home Depot does, even after Lowe's cut capital spending by $337 million so far this fiscal year. Lowe's cash and investments stood at $1.66 billion versus $10.14 billion in current and long-term debt. The firm's lease-adjusted debt-to-EBITDAR was 2.17 times, indicating a slightly higher financial leverage than its larger peer Home Depot.
Valuentum's Take
The economic landscape is still very positive for the home improvement space. Lowe's indicated that, "despite the recent government shutdown and falloff in home affordability, the home improvement industry is poised for persisting growth in the fourth quarter and further acceleration in 2014." Strong job and income growth and the lagging benefit of the recovery in home buying will be key industry drivers. Home Depot's raised guidance and comments about housing being a bright spot in the economy were quite reassuring. We think the home improvement space is very healthy at present.
There is really no comparison between Home Depot and Lowe's. Home Depot put up stronger comparable store sales, stronger net earnings growth, has better revenue conversion to free cash flow, and holds a lower degree of lease-adjusted financial leverage than its smaller peer. Home Depot sports a dividend yield of 1.9% versus Lowe's 1.4%, and the firms' Valuentum Dividend Cushion scores are both near 2. Still, Home Depot's shares aren't cheap, so we remain spectators at this point.
Disclosure: I have no positions in any stocks mentioned, and no plans to initiate any positions within the next 72 hours. I wrote this article myself, and it expresses my own opinions. I am not receiving compensation for it (other than from Seeking Alpha). I have no business relationship with any company whose stock is mentioned in this article.