The Dividend Champions spreadsheet and PDF have been updated through 11/29/13 and are available here. Note that all references to Champions mean companies that have paid higher dividends for at least 25 straight years; Contenders have streaks of 10-24 years; Challengers have streaks of 5-9 years. "CCC" refers to the universe of Champions, Contenders, and Challengers.
All's Well That Ends
As we enter the last month of the year, only a handful of additions or deletions are expected in December, so the number of CCC companies is expected to finish 2013 at about 475, before a flood of new Challengers pushes the population to about 500 companies by the end of February and more than 550 by mid-2014. I'm already logging announcements of increases by "Near-Challengers" that will increase their dividends in January, so those are being added to the ranks of the Challengers. (When the Pay Date falls in 2014, I will include a Note to that effect in Green to indicate that 2014 will be the fifth year of increases, even though I am adding such companies as soon as the dividend increase is announced.) The question now becomes whether the CCC listing could expand to 600 companies by the end of 2014. With 151 companies currently listed as Near-Challengers (in Appendix B on the Notes tab) and 471 current CCC firms, it's within the realm of possibility, although 2014 deletions may delay that milestone until 2015.
November featured continued strength in the stock market, as can be seen in the table below. The average price of CCC stocks, which rose by over $2 in October, tacked on another $1.45, pushing the average yield down to 2.74%, from 2.75%. The average of the Most Recent Increases rose from 9.34% to 9.52%, with all three groupings showing continued improvement. I want to pass along my thanks to Seeking Alpha member Kiisu, who suggested modifications to the Dividend Growth Rate and A/D Ratio columns and helped with the formulas that now prevent error messages requiring me to manually input "n/a" in certain situations. The same applies to the P/E, EPS Payout ratio, and Premium/Discount to the Graham Number columns. As always, please use the CCC only as a starting point for more in-depth research. Feel free to leave any suggestions in the Comment area below.
Quick Summary
The Summary tab includes a table comparing the composite numbers from the latest update to those from the previous month and the end of the previous year. Below that is a summary of the latest month's activity, in terms of companies added, deleted, or promoted. That is reflected below:
Quick Summary:

11/29/13

Champions

Contenders

Challengers

Total

No. of Companies

105

211

155

471

Ave. No. of Years

39.7

14.4

7.2

17.7

Average Price

65.14

63.89

56.60

61.77

Average % Yield

2.50

2.61

3.07

2.74

Ave. MR % Increase

9.00

8.74

11.11

9.52

10/31/13

Champions

Contenders

Challengers

Total

No. of Companies

105

209

153

467

Ave. No. of Years

39.6

14.3

7.1

17.6

Average Price

64.09

62.34

54.96

60.32

Average % Yield

2.50

2.64

3.07

2.75

Ave. MR % Increase

8.91

8.61

10.78

9.34

12/31/12

Champions

Contenders

Challengers

Total

No. of Companies

105

183

170

458

Ave. No. of Years

39.0

14.3

7.2

17.3

Average Price

53.48

50.89

45.25

49.39

Average % Yield

2.93

3.02

3.62

3.22

Ave. MR % Increase

7.75

8.58

10.43

9.06

MR = Most Recent

Additions:

Cambridge Bancorp (OTCQB:CATC) to Contenders

Excel Trust Inc. (NYSE:EXL) to Challengers

Marketing Alliance Inc. (OTCPK:MAAL) to Challengers

Montpelier Re Holdings Ltd. (NYSE:MRH) to Challengers

Prudential Financial Inc. (NYSE:PRU) to Challengers

Ralph Lauren Corp. (NYSE:RL) to Challengers

Western Union Company (NYSE:WU) to Challengers

Deletions:

Cablevision Systems Corp. (NYSE:CVC) from Challengers

Molson Coors Brewing Co. B (NYSE:TAP) from Challengers

NTT DoCoMo Inc. (NYSE:DCM) from Contenders

Promotions:

American Equity Investment Life Holding Co. (NYSE:AEL) from Challenger to Contender

J&J Snack Foods Corp. (NASDAQ:JJSF) from Challenger to Contender
(Table from author; may include underlying data from FinViz.com)
Every Picture Tells a Story
As a bonus, I'm inserting one of Chuck Carnevale's F.A.S.T. Graphs below, highlighting one of the companies listed above. When the price line is in the green area, it suggests possible undervaluation.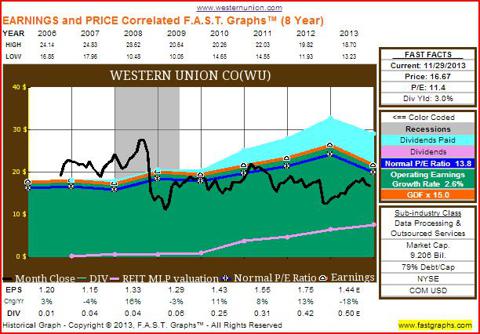 Disclosure: I am long WU. I wrote this article myself, and it expresses my own opinions. I am not receiving compensation for it (other than from Seeking Alpha). I have no business relationship with any company whose stock is mentioned in this article.