Gold prices continue to flip flop around, as analysts seem to be randomly upgrading and downgrading the commodity based on when they want to buy more. The end of an unceremonious year for precious metals is finally at hand. Gold investors will likely be happy to put 2013 behind them, but, conversely still probably recognize the long-term value behind their investment strategy in precious metals.
Gold ETF's like GLD have been clipped to the tune of over 25% since the beginning of 2013, but I'll argue what we're witnessing is simply a short-term pullback in the middle of an enormous long term rise in gold prices.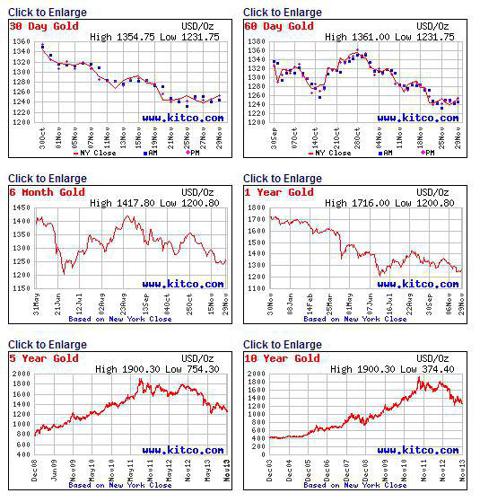 Click to enlarge
Additionally, gold is ending a tough year on one of its toughest months. Yesterday, Barron's reported:
Gold's price is close to its worst monthly loss since June - although on Friday, the last trading session of November, the most actively-traded futures contract is rising 1.1% to $1,250.90.

From investors' ETF outflows to a soaring stock market to traders' reassessment of the Federal Reserve, it's been a tough month and a tough year for investors in the metal.
Is this poor year going to be a sign of things to come in the long-term for gold? Likely not. Gold remains and will continue to be a safe long-term vehicle for investment due to the fact that its non-renewable, central banks continue to hold it in reserve, and it's likely to continue rising as central banks print more money.
There's a simple analysis to the gold situation - an analysis that just requires some long-term thinking, resolve, and willingness not to get caught up in the day-to-day headlines behind the precious metal. The important thing about gold is not to get scared out of the position by bad headlines and analyst downgrades. Regardless of the noise, you'd be hard pressed to find anyone with basic financial knowledge that would tell you they think gold is not a good bet for a long-term hold; 10 years plus.
Rather than sell off or doubt gold from the headlines, use it to your advantage to make a great contrarian buy at an attractive price.
Best of luck to all investors.
Disclosure: I am long GLD. I wrote this article myself, and it expresses my own opinions. I am not receiving compensation for it (other than from Seeking Alpha). I have no business relationship with any company whose stock is mentioned in this article.
Additional disclosure: I hold physical gold.