I wrote about VMware (NYSE:VMW) before the company reported third quarter earnings; the share price is pretty much flat relative to where it was the last time I published a report about the firm. But the share price did pop to the $90 per share level where it met stiff resistance. This suggests the market is not ready to accept valuations that high. I think the third quarter was solid.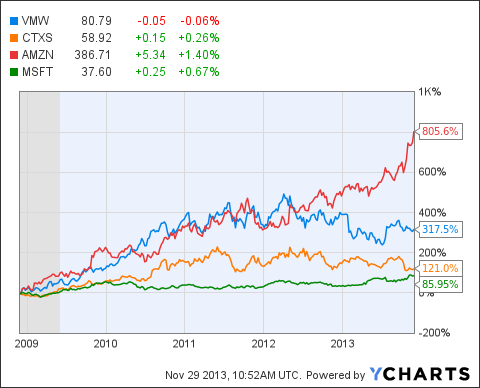 VMware reported double digit revenue growth with solid profitability and excellent usage of cash. Besides that, there are discussions about the firm's competitive environment. Some analysts are saying that offerings from Amazon (NASDAQ:AMZN) pose a threat to VMware longer term. I think those fears are overblown. I view VMware as having a solid competitive position in the medium term. My problem with the firm is valuations.
Simply said, I will not pay 40 times earnings and 7 times sales for shares of this company.
Fundamental Analysis
Amazon provides infrastructure as a service. Amazon's EC2 does provide an alternative to VMware's vCloud Suite, but the solutions provide answers to different questions at times. Specifically, VMware provides solutions for hybrid and private cloud while Amazon provides public-cloud solutions.
Amazon has also a cloud-based PC virtualization platform called WorkSpaces. To the best of my understanding, WorkSpaces poses the most risk to Citrix (NASDAQ:CTXS) and its desktop and application virtualization products revenues. I view VMware as primarily a server virtualization company. Consequently, I view WorkSpaces as having a limited long-term impact on VMware's results of operations.
I think the biggest challenger to VMware's core operations is Microsoft through its System Center, Hyper-V and Windows Server 2012 R2 offerings. Medium term, I think Microsoft (NASDAQ:MSFT) will have a limited impact on VMware. So, I think VMware should be able to maintain its profitability for the foreseeable future.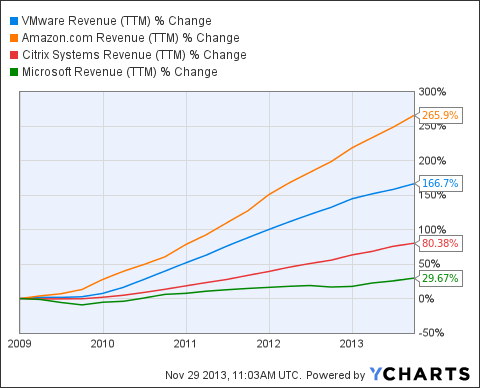 VMW Revenue (TTM) data by YCharts
In terms of the third quarter revenue growth rate, the rate is in line with the high end of my 2015 forecast. Management is not focused on improving operating profitability; they are focused on maintaining or improving VMware's competitive position. So, instead of seeing the operating margin expand into the 30 percent to 40 percent range, it seems as though management is guiding more towards maintaining the 20 percent operating margin.
Additionally, with about $6 billion of cash and limited debt, VMware remains in a solid competitive position.
Overall, the cash usage, financial position and performance are excellent. I think the fundamentals of the business are bullish for the valuations.
Valuations
VMware is engaging in share repurchases. As of September 30, 2013, the company had $775 million remaining for share repurchases. These repurchases will adversely impact the company's price/book value ratio and positively impact the price/earnings ratio. Consequently, the multiplier model valuations should account for this impact.
The investment in Pivotal could have a significant net positive impact on the valuations of VMware, should Pivotal generate the ROI.
Relative to its 5-year averages, VMware is undervalued. But I think the slowing growth rate and above average risk suggest the valuation should be lower. On the other hand, VMware's profitability suggests the valuation is justified. In conclusion, the multiplier models are inconclusive. I won't pay 7 times sales, 5.3 times book, and 40 times earnings for shares of VMware.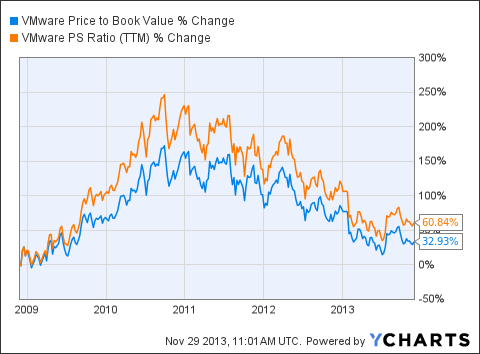 VMW Price to Book Value data by YCharts
Apply a free cash flow to equity model, I get an intrinsic value of $59B, which is 70% more than the current valuation.
Overall, the valuation models are inconclusive; I prefer to wait until a clearer investment picture presents itself.
Disclosure: I have no positions in any stocks mentioned, and no plans to initiate any positions within the next 72 hours. I wrote this article myself, and it expresses my own opinions. I am not receiving compensation for it (other than from Seeking Alpha). I have no business relationship with any company whose stock is mentioned in this article.