Investors seem to be answering this question with "Both" judging from the action in the stock charts of both equities leading into Black Friday (See Chart).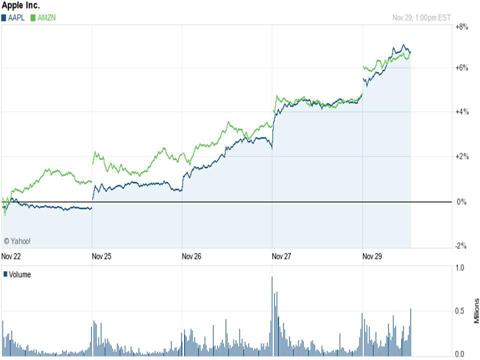 Click to enlarge
But which tech and retailing giant is likelier to better reward investors over the long term?
To answer this question one must look at the investment decision from a variety of angles.
Growth:
The clear winner based on revenue growth is Amazon (NASDAQ:AMZN). Its sales growth is tracking in the low 20s this fiscal year and analysts project a similar sales trajectory for FY2014. Apple by contrast should see sales increases of 6% to 8% for both FY2013 and FY2014.
Earnings are another matter. Amazon basically broke even in FY2012 and is tracking to less than a $1 a share in earnings this fiscal year. Analysts believe that figure will triple to just under $3 a share in FY2014. Apple (NASDAQ:AAPL) should post earnings gains of just over 10% for both FY2013 and FY2014. We will cover earnings a bit more in the "Valuation" section of this analysis. For right now, we will give an edge to Amazon based on revenue growth.
Advantage: Amazon
Market Share Permanency:
One of the reasons Amazon's earnings are so low is that it is spending billions of dollars a year to build distribution centers so that it can quicken delivery times and continue to grow market share. It easily has the best logistics within the retailer space. It is also spending billions to continue to build out its web services business.
Apple just launched new versions of its iPhone and iPad which is helping it maintain and grow its leading market share in the U.S. & Japan. However, it is still struggling in emerging markets because of its premium price points. A rumored distribution deal with China Mobile (NYSE:CHL) will boost sales in the Middle Kingdom but the developed world will continue to power Apple's earnings and revenues.
Apple's ecosystem is second to none and it should get some $5B in revenue just from its cut from the application sales from its "App Store" this year. Amazon sells millions of different products and has steadily and consistency increased its overall retail market share over the past decade. It is also the undisputed online retailing leader.
Given its huge presence in just about every retailing product line, its world class logistics as well as the willingness to sacrifice profits/cash flow to grow market share; it is hard to imagine Amazon not retaining its market share leadership.
Apple, on the other hand, is one misstep away from significantly losing its advantage in the smartphone space. The company has done a stellar job of avoiding the fate of Palm, Blackberry (NASDAQ:BBRY) and Nokia (NYSE:NOK) so far. However, the edge here has to go again to Amazon.
Advantage: Amazon
Valuation:
Apple is the easy winner here. AAPL sells for less than 12x forward earnings while Amazon fetches over 140x forward earnings. From an operating cash flow (OCF) perspective, Apple sells for less than 10x OCF and Amazon sells for over 35x OCF. In addition, Amazon businesses produce razor thin margins while Apple routinely keeps margins above 35%.
Advantage: Apple
Shareholder Value:
Amazon in general does not buy back stock and it does not pay a dividend either. Apple initiated a dividend in 2012 and provides a yield of 2.3% as well. It has already bought back more than $20B of its float on a $60B stock repurchase plan it authorized earlier this year under pressure brought by fund activists. With over $140B worth of cash and marketable securities on its books as well as continued pressure from the likes of Carl Icahn, I would look for Apple to continue to richly reward its shareholders in the future.
Advantage: Apple
Conclusion:
These world class companies appeal to different types of investors. Amazon attracts momentum investors that are willing to forgo profits for the moment in order to continue to take market share in retailing. Valuation is not an overriding concern as Amazon grows its retailing and web services empires.
Apple appeals to value investors who want growth at a very reasonable price. Taking out its massive cash hoard, AAPL goes for ~8x forward earnings. Its new product launches should accelerate revenue growth and earnings should grow at better than 10% annual clip over the next few years.
So which kind of investor are you? For the author, Apple has the better appeal at current prices.
Disclosure: I am long AAPL. I wrote this article myself, and it expresses my own opinions. I am not receiving compensation for it (other than from Seeking Alpha). I have no business relationship with any company whose stock is mentioned in this article.