Omega Healthcare Investors (NYSE:OHI) is a Real Estate Investment Trust that is active in the senior healthcare market and focuses on skilled nursing facilities in the United States. As of September 30, 2013 the company owned or had mortgages on 477 skilled nursing care facilities, assisted living facilities and specialty hospitals. The REIT currently licenses around 55,000 beds distributed over 33 states and facilities are operated by 48 third-party healthcare providers.
Omega Healthcare Investors is, like Realty Income (NYSE:O), a core holding of my income portfolio. I think Omega Healthcare Investors makes an outstanding addition to portfolios that accentuate both income and a long-term investment horizon:
Omega Healthcare Investors owns nursing care facilities for senior citizens. The senior healthcare market exhibits very attractive long-term supply and demand conditions. Higher living standards, less risky jobs and better healthcare have substantially increased live expectancy. The congressional budget office (CBO) issued a report in June 2013 titled 'Rising Demand for Long-Term Services and Supports for Elderly people' which substantiates the information provided in this article. Strong secular trends in the senior nursing care market (that is, longer average life expectancies and larger age cohorts in the 75+ year range) will drive demand for nursing care as well as nursing facilities in the future, particularly after 2030. The share of elderly adults as percent of the US population is expected to increase dramatically over the next decades as indicated by the graph below. Baby boomers are going to be a particular demographic driving nursing care demand going forward.
(Source: CBO report as mentioned above)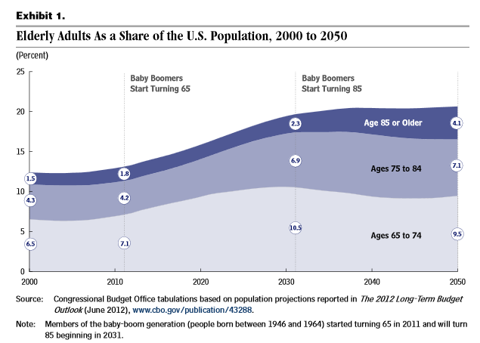 Click to enlarge
People in advanced age cohorts (85+) are also much more likely to be institutionalized. Institutionalized means living in a licensed facility providing nursing and personal care. The following graph (again from the CBO report) depicts institutionalization rates among elderly people. I expect that the trend of higher institutionalization rates will persist especially as the population of older people grows in future decades.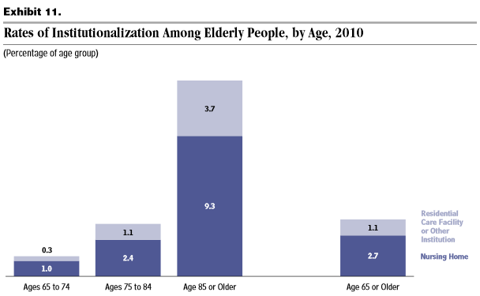 Click to enlarge
The CBO also summarized its findings on institutionalization as follows:
Institutionalization is much more common at older ages; in 2010, about one in eight people age 85 or older (13 percent) resided in institutions, compared with 1 percent of people ages 65 to 74. The share of elderly people living in institutional settings has fallen over the past 10 years; more opt to live either in private residences or in residential communities offering supportive services for people with functional limitations. Individuals at advanced ages (85 and older) are much more likely to be institutionalized than are younger elderly people (ages 65 to 84) because frailty is more common at advanced ages and also because they are more likely to be widowed and thus not have someone who can care for them if they live in the community.
Skilled nursing homes, of course, have a significant selling point in the care market: 24 hour access to nursing services for people with functional limitations and who need supervision of medication.
OHI is committed to invest in new properties in order to expand is nationwide footprint of senior care facilities. Since 2004 the company has invested more than $2.7 billion and actually has stepped up investments aggressively over the last couple of years (during the financial- and real estate crisis):

Click to enlarge
Omega Healthcare Investors also has a great cash flow and dividend record; especially since 2004. In Q1 2004 the company paid $0.17 per quarter in form of dividends. Since then the company has continuously increased its cash flow to shareholders and is now paying $0.48 per share. OHI has increased its quarterly dividend four times in 2013 alone (three times in 2012). OHI's annualized contribution now stands at $1.92 which equates to an outstanding dividend yield of 5.87%. In fact, I think Omega Healthcare Investors is just as an impressive REIT as Realty Income which I also recommended as a core long-term income holding. The initial yield of 5.87% is particularly great given the earnings- and distribution prospects coming from the long-term nursing care trends.
OHI faces strong buyer interest. Shares of the company are up 142% over the last five years. In addition, OHI's five-year High at $36.91 is in clear sight since shares are presently trading at $32.69 and a break of its five-year High could give shares further momentum. Despite its short-term appeal I would suggest investing in OHI for the long-term in order to be able to capitalize on the secular trends depicted above.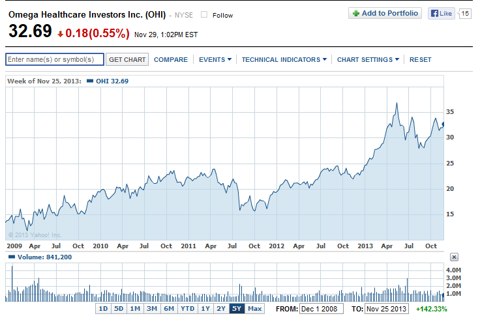 Click to enlarge
Conclusion
Omega Healthcare Investors operates in a very attractive segment of the healthcare market: nursing care facilities. The facts demonstrated above, supported by the CBO report, suggest that the elderly population is significantly increasing in the coming decades. The CBO report estimates that elderly adults will account for 20.7% of the US population in 2050 compared to 13.1% in 2010. The share of the population aged 85 or older will grow significantly after 2030. This age cohort is most likely to demand services of Omega Healthcare Investors and others.
Not only does Omega Healthcare Investors operate in an attractive market segment, but the company is committed to growing its portfolio aggressively with substantial investments in new projects. It is also committed to remunerate shareholders and increase distributions (OHI's distribution record can be found here). Investors who want to find Realty Income's match in the senior care market should take a look at Omega Healthcare Investors as well as the background information provided by the CBO report about the future senior care market. The current distribution yield of 5.87% is a great entry yield and is likely to increase in the future. Realty Income investors currently get a 5.73% yield to enjoy although the company pays its distributions monthly and the compounding effects are bigger. In any case, both companies are aggressively growing and investing, particularly during the real estate crisis, have outstanding credibility in remunerating shareholders with increasing dividends and very attractive entry yields approaching 6%. Strong Long-term Buy on Omega Healthcare Investors.
Disclosure: I am long OHI, O. I wrote this article myself, and it expresses my own opinions. I am not receiving compensation for it (other than from Seeking Alpha). I have no business relationship with any company whose stock is mentioned in this article.