Most institutional investors have recently filed their Form 13-F's with the SEC that lists their fund's holdings. In this article we will take a quick look at interesting additions, removals, new positions, and closed positions from Sun Valley Gold LLC.
Sun Valley Gold LLC is a privately owned hedge fund sponsor formed in Idaho in 1999 that focuses on metals and mining companies. The president of the fund is Peter Palmedo, a former principal at Morgan Stanley & Co. The firm has over $1 billion in declared assets over the most recent quarter and is heavily invested in many precious metals companies.
But before we discuss interesting changes in fund's holdings let us briefly introduce investors to what a Form 13-F is and its investment benefits.
Introduction to the Form-13F
Form 13F's are forms that are required by the US Securities and Exchange Commission for all institutional investment managers that exercise investment decisions over assets totaling more than $100 million dollars. These forms must be filed no later than 45 calendar days after the end of each quarter and require the listing of equities, certain equity options and warrants, closed-end investment companies, and some convertible debt securities. You can find more details at the SEC website.
These filings are useful for investors because they give insight into the actions of the large investment management funds that manage billions of dollars worth of assets - the true "whales" of the investment world. Since they are large management firms, they have the capital to employ research teams and do much more due diligence than most individual investors can do. So by following their holdings an investor can get some good ideas on what to buy or sell, after all it is not always necessary for investors to "reinvent the wheel." These forms are a wonderful way for them to piggy back on some of the research done by large firms - though due diligence still must be done because hedge funds do often make mistakes and investors should still understand why they own their investments.
Investors should also note that 13-F's are always a bit dated and are a "moment-in-time" report, which means these positions may be quite different today versus what they were at the end of the previous quarter. Additionally, for large positions, a fund may have already bought their desired shares and thus investors buying those same positions today may be buying a little late in the game.
After knowing the things to watch out for, Form 13-F's can still provide investors with some excellent information on positions to own and what they should consider selling.
Top Holdings, New Positions, and Closed Positions on 9/30/13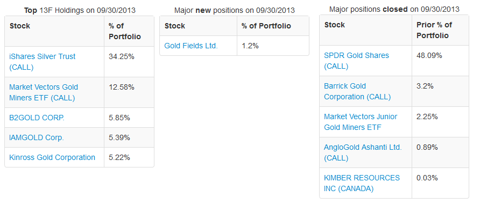 Click to enlarge
Source: Whale Wisdom
Four Interesting Positions in the Sun Valley Gold Portfolio
As investors can see, it seems that Sun Valley Gold has had a rough go over the last few quarters - which should be no surprise for any precious metals invested fund. Usually we like to take a look at new additions to the portfolio, but in this case since most positions were sold to some degree, it may be just as telling to see what positions were held without any sales.
Here are four interesting positions that we are noting from Sun Valley's filing.

Click to enlarge

Click to enlarge
B2Gold Corp. - B2Gold (NYSEMKT:BTG) is a gold miner with two operating mines in Nicaragua and one in the Philippines with growing gold production. Additionally, the managers at B2Gold are the same ones that founded Bema gold (sold to Kinross in 2007) and so there is plenty of experience in management. It's an interesting position because it makes up such a large percentage of Sun Valley's portfolio and Fidelity recently increased its stake in the company. This is interesting to note but we still have some concerns with BTG, including the fact that insiders have been selling shares as recently as October. But the fund's conviction is evident, and sometimes the negativity is already well built into the share price - a stock to watch but for us we'd need to see more before initiating a position.
IamGold - Iamgold (NYSE:IAG) is a mid-tier producer with six operating mines (including current joint ventures) in North America, South America, and Africa. Additionally, the company has one of the world's top three Niobium mines, and the company has a world market share of approximately 8% in ferro-niobium which contributes a little under 20% of the company's revenues.
What is interesting about this position is that it is one of the largest positions in Sun Valley Gold's portfolio, and even though shares were sold for the quarter, the size of the position actually increased to make it one of Sun Valley's top 5 holdings. We do note that all-in costs have been dropping for IAG and management tends to be a bit more on the creative side as they are recently starting and operating a solar power project in Suriname as part of their mining commitments.
Eldorado Gold - Eldorado Gold (NYSE:EGO) is a gold producer that owns operating mines in China, Turkey, and Greece. In addition, EGO owns two base metal mines located in Brazil (an iron-ore mine) and Greece (a base metal mine). EGO also owns a few development projects located in China, Greece, Turkey, and Romania.
For Sun Valley Gold this position stands out because it is one of the few that it added to in the quarter and it actually doubled the size of its EGO position in terms of its portfolio weight. We analyzed EGO's all-in costs recently and found that it ranked as one of the lowest cost gold producers out of all the companies we've profiled so far in Q3FY13. We wouldn't be surprised to see Sun Valley's position in EGO grow to a top 5 holding by year-end.
Gold Fields - Goldfields (NYSE:GFI) is a gold miner undergoing a lot of change as it recently unbundled its South African assets into Sibanye Gold (NYSE:SBGL) so it could focus on alternative operations. This position is the only position that Sun Valley Gold created by the 9/30/2013 filing date that wasn't present in the previous quarter - that by itself makes it very interesting for us.
The unbundling of the South African operations is a definite positive from our point of view since they were quite costly, and we believe that there is a lot of risk to the South African mining industry. The company did return to positive EPS during Q3FY13, but we would remain cautious with GFI because they have a fairly large debt load. But it does seem like Sun Valley Gold feels strong enough about the company to make this the only new position in their 13-F filing.
Disclosure: I have no positions in any stocks mentioned, and no plans to initiate any positions within the next 72 hours. I wrote this article myself, and it expresses my own opinions. I am not receiving compensation for it (other than from Seeking Alpha). I have no business relationship with any company whose stock is mentioned in this article.