As you know I'm always looking for holiday bargains, and sometimes if you spend enough time filtering out the noise you may find an occasional outlier. Oftentimes however, the best deals don't just jump out in front of you; instead you have to do some exploratory research to find the real gems.
Digging through the newspapers for coupons can be an erroneous task yet the hard works always pays off when you find the one seemingly bargain that delivers something special. This article serves as that coupon and I'm going to "throw you a bone" in hopes that you can bring some holiday cheer to your investment portfolio.
I have written almost 400 articles on Seeking Alpha and although I attempt to provide the most actionable advice for my valued newsletter subscribers, it's my hope to continue to provide some free "nuggets of wisdom" for my loyal web-based readers. The intent for my prolific writing is to educate investors and like the legendary investor, Ben Graham, I focus on extreme conservatism in all of my spending habits.
This weekend while researching content for my monthly newsletter (filtering out the peer group) I spotted a trend with 3 Health Care REITs. It seems that I had recently written articles on these companies; however, throughout the course of the last few weeks the prices for these REITs had fallen warranting further inspection.
3 Health Care REITs That Deserve a Hard Look Now
In the month of October the Health Care REITs returned 5.19% and 5.85% year-to-date. The average dividend yield for the sector is 4.87% (source: NAREIT).

However, 3 Health Care REITs appear to be ignoring Mr. Market as they are moving into a fair valuation range. I have been watching all of these REITs and like any value investor, I'm constantly looking for a "strong but not necessarily spectacular" company. I'm not arguing that these REITs are bargains; I'm simply delivering you purposeful research that demonstrates that you can proceed with a far degree of certainty that, regardless of day-to-day price fluctuations, your principal is likely to be secure.
Starting with one REIT I own (with "skin in the game") is Healthcare Trust of America (NYSE:HTA). I have written several articles on the Scottsdale-based REIT and you can read my most recent article HERE. HTA is trading at $10.15 a share with a market capitalization of $2.405 billion. The price has become "soundly" valued with a Price to Funds from Operations (or P/FFO) multiple of 15.8x. Since mid-May (2013) the shares of HTA have fallen by more than 30%.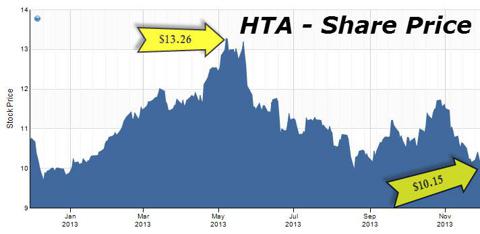 I have visited several HTA-owned properties, including one leased to Greenville Hospital System in my hometown of Greenville, SC. HTA has a portfolio comprised of approximately 13.6 million square feet of gross leasable area, or GLA, located in 27 states. Recently several insiders (including CEO, Scott Peters) have purchased additional shares and the fundamentals appear to be getting stronger (not weaker). Since HTA is less than 3 years-old (as a publicly-traded REIT), the FAST Graph below is not as meaningful;; however, the growth is clear indicative that HTA is trading at a fair value and I will continue to add shares at the current price.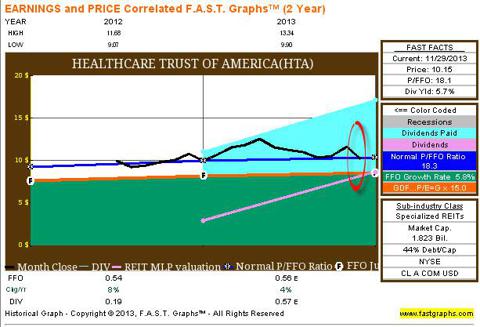 Another REIT that I wrote about recently is Health Care REIT (NYSE:HCN). In an article just around 30 days ago I wrote:
The close-up of FAST Graph illustrates that there is no "margin of safety" today with HCN. The company is trading at a relatively pricey level and given the alternatives today I believe that there will be a better entry price in the future. Ventas is no bargain but given the option, I would prefer to own VTR today vs. HCN or HCP. Although I admire the recent dividend performance of HCN, one must acknowledge that VTR has a superior dividend record of not only paying dividends but also for increasing them.
Back at the time of that article HCN was trading at $66.47 a share and over the last 4 weeks the shares have fallen by almost 19% (to $55.99). As the largest health care REIT with assets of $22.2 billion, HCN has a solid balance sheet and although I considered the share price rich then, I am warming up to the recent valuation. Here is a snapshot that illustrates HCN's decline from a high of $77.29 in mid-May to the more sobering level today.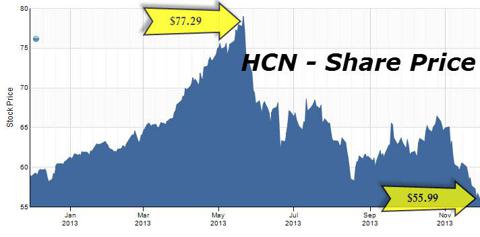 As evidenced by the FAST Graph below, HCN is moving into a more comfortable trading zone with a P/FFO multiple of 14.8x (as per SNL Financial). That also brings meaningful value to the attractive dividend yield of 5.68%.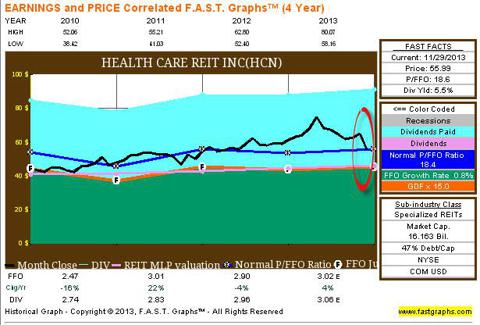 The final "sweet treat" is Universal Health Realty (NYSE:UHT). I have not written a focused article on the Pennsylvania-based REIT yet; however, I have included the stalwart dividend payer in many of my lists related to DRiP Resource Center's Dividend Champion list. With a track record of paying and increasing dividends for 27 years in a row, UHT is considered a prestigious dividend champion and the only two other REITs with a better track record for paying (and increasing) dividends are Federal Realty (NYSE:FRT) and HCP, Inc. (NYSE:HCP).
Universal Realty is considered a small-cap REIT with a market capitalization of around $538 million and a share price of $42.38. Since mid-May (2013) UHT's share price has fallen from $58.74 to a close price of $42.38.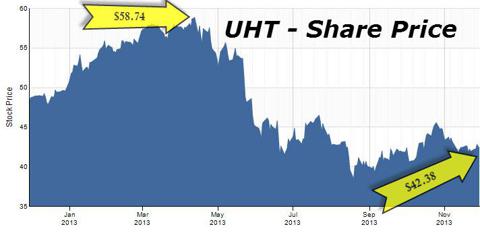 Having moved into "fair valuation" with a P/FFO of 15.0x, I consider the dividend yield of 5.90% to be attractive.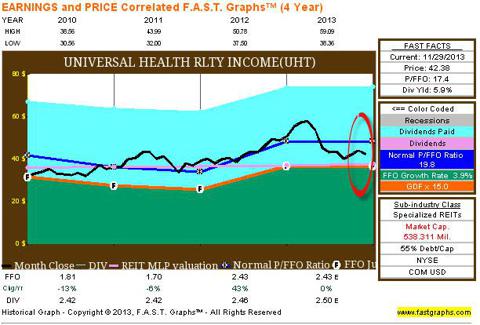 3 Health Care REITs To Buy When Others Are Despondently Selling
Over the last 30 days all 3 of these Health Care REITs have become attractively priced with dividends that exceed 5.6%.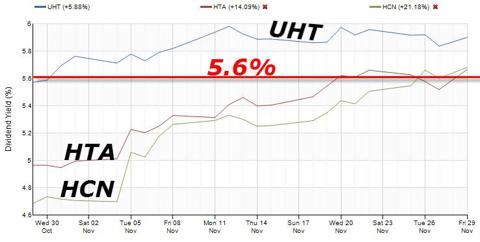 Also throughout the last 3 weeks all 3 of these Health Care REITs have moved into "sound value" range with P/FFO multiples of 17x or lower.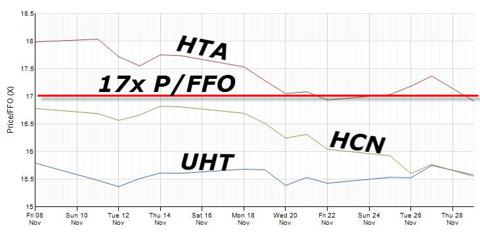 Given the movement in the price of these REIT shares, there is now a more desirable entry point that could produce more favorable results. Although I have no way to predict the movement of the shares of these securities, I believe there is tangible evidence that these REITs are less risky to buy today. As Ben Graham wrote in The Intelligent Investor, the value investor's purpose is to capitalize upon "a favorable difference between price on the one hand and indicated or appraised value on the other."
By surveying the list of filtered investment opportunities, the value investor considers which (if any) of the remaining companies are worthy of ownership. This involves some consideration of the company's industry, its current competitive position within that industry and the "economic moat" around the company; that is, a sustainable competitive advantage that helps preserve long-term pricing power and profitability.
As you know I often end my articles with a quote from Graham; however, there are other well-know value investors and I have opted to conclude this article with a thought from Sir John Templeton:
To buy when others are despondently selling and sell when others are greedily buying requires the greatest fortitude and pays the greatest ultimate rewards.

To learn more about these REITs (and much more) check out my monthly newsletter, iREIT Investor, HERE.
Source: SNL Financial, NAREIT, and FASTGraphs.
Disclaimer: This article is intended to provide information to interested parties. As I have no knowledge of individual investor circumstances, goals, and/or portfolio concentration or diversification, readers are expected to complete their own due diligence before purchasing any stocks mentioned or recommended.
Disclosure: I am long O, ARCP, CSG, HTA, GPT, VTR, ROIC, STAG, UMH, DLR, CBL. I wrote this article myself, and it expresses my own opinions. I am not receiving compensation for it (other than from Seeking Alpha). I have no business relationship with any company whose stock is mentioned in this article.