Since the mobile and consumer segment is one of the highest revenue contributing segments of Nuance (NUAN), any rise or fall in the revenue from this segment directly impacts the company's overall performance. In the fourth quarter of fiscal 2013, the revenue from this segment was down over 24% year over year. This had an impact to the bottom line, as the percentage of the segment's profit contributing to its revenue declined from 51% to 29% in the fourth quarter this fiscal, year-over-year.
Nuance-Varolii Acquisition
Nuance recently acquired the interactive notification specialist Varolii for an undisclosed value. This company is known for providing cloud-based outbound engagement solutions. Through this acquisition, Nuance aims to benefit from Varolii's outbound communication portfolio. Varolii was known for its personalization and analytics of its outbound services, while Nuance didn't have such technology earlier. Through this acquisition, Nuance will offer this portfolio along with its existing inbound virtual assistant solutions for mobile as well as web applications. Also, both companies overlap 45% of their respective customer bases, making it an attractive opportunity for Nuance; as it will market its complete product portfolio mix to its existing customers, as well as to Varolii's customers.
Based on SoundBite's (SDBT) acquisition by Genesys in May this year, which it acquired at twice the revenue of SoundBite; Varolii is also anticipated to be acquired for twice the revenue generation by Nuance. Since SoundBite and Varolii were market leaders in this segment, the Nuance-Varolii deal could be around the $90 million to $100 million level.
In the fourth quarter of this fiscal year, Nuance's enterprise segment generated about $86.4 million in revenue, which is over 17% of the total revenue of the company. Given that Varolii's industry is bound to grow from $324 million in annual revenue of 2011, to $500 million by 2014, I expect it to be one of the major contributors to Nuance's growth through its enterprise segment. Meanwhile, Samsung (OTC:SSNLF) and Apple (AAPL) are rumored to be forming their own voice assistance section. Even if these rumors are said to be true, I believe the enterprise segment will at-least support in maintaining the top-line of the company.
Consumer segment future prospects
Due to high margin issues, many customers delayed their contract renewals, leaving on-demand and professional services to generate the majority of the revenue. This led to a decline in this segment's revenue of approximately 16% in the quarter ending June year over year. This was one of the major reasons Nuance experienced a dip in profits, leading to a net loss of around $35 million in the same quarter. Given that this segment contributes about 25% to the company's total revenue, it came with an event to bolster this product line and aid this segment.
Nuance organized an event called Early Access Program, inviting all the app developers of Samsung products. This includes Samsung's Galaxy Android lineup and the Smart TV devices. Here, Nuance showcased its various speech models to developers, which they can use in their existing apps, or create new apps. They can use Nuance's voice technology for improved performance and quality voice experience. Nuance's portfolio included 40 different languages and 61 voices for text-to-speech. About 17,000 developers from around the globe attended this event.
Given that one out of three smartphones sold globally is a Samsung product, this provides a huge growth opportunity for Nuance. Based on this strategy, I expect growth in the product and license revenue of Nuance in the coming quarters, along with better revenue results in comparison to the 2012 fiscal year.
Smartphone War Continues
On the other hand, Nuance benefits from the sale of every smartphone or tablet of Samsung and Apple, as it generates revenue on a license per device basis. Apple and Samsung both have posted great results with their recently launched products. Apple recently launched fifth generation iPad Air, sales of this new iPad have exceeded expectations by 30% in its first weekend sales. The fourth generation iPad recorded sales of three million units in the first week of its launch. Though Apple has yet to disclose the weekend sales figures, based on upgraded features and the product's sales history, I expect it to surpass the older generation's record. Also, the iPhone 5s and iPhone 5c launched earlier last month posted sales of nine million units in the first three days of the launch, higher than the previous year's iPhone 5 launch sales figure of five million units in the same period.
Apple benefits on the margin side, as it sells its products on high margins compared to its costs. For example, the new iPhone 5c launched last month, having almost the same configuration as the old iPhone 5, costs $30 less than the iPhone 5 in terms of manufacturing cost. The cost of a new iPad Air ranges between $274 and $361, while Apple sells it in the range of $499 to $929. This lets Apple generate gross margin of approximately 45% for the $499 version, and 61% for the $929 version. In the past five years, the financial statements of Apple have been impressive and should reflect a similar performance in the coming future.
Its competitor Samsung isn't far behind when it comes to sales records. Samsung shipped over 81 million smartphones worldwide in the third quarter this year, while Apple managed to sell about 33.8 million smartphones in the same period. Its latest Galaxy Note flagship posted sales of five million units in the first month of its launch. Overall, Samsung expects to sell over 100 million products from its Galaxy lineup and Note series this year, which I feel is an achievable target based on its popularity around the globe.
Buy for long-term benefits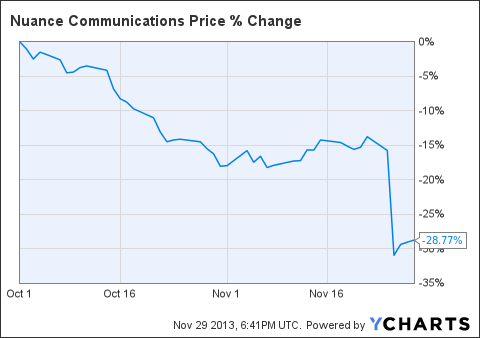 Things haven't been on Nuance's side in the past two months, considering its stock price performance. The share price of Nuance took a dip of over 29%. This was after the announcement of two board members from Mr. Icahn's side, signing a standstill agreement, whereby Mr. Icahn cannot exceed share ownership by 20% in Nuance before its 2014 annual meeting, and the management cutting the 2014 fiscal year's revenue guidance. This led to a fall in Nuance's share price.
Compared to the previous fiscal years' billion dollar investments, it seems Nuance is reducing its investments this fiscal year. This should bring down the transaction or acquisition related costs, indirectly aiding the bottom line. Overall, the fall in stock price just made the stock more attractive, if you are considering a long position in this company.
Disclosure: I have no positions in any stocks mentioned, and no plans to initiate any positions within the next 72 hours.
Business relationship disclosure: Fusion Research is a team of equity analysts. This article was written by Rohit Gupta, one of our research analysts. We did not receive compensation for this article (other than from Seeking Alpha), and we have no business relationship with any company whose stock is mentioned in this article.