After Qualcomm (NASDAQ:QCOM) reported its recent quarterly earnings, we updated the Trefis price estimate for the stock from $43.53 to $41.64 (vs. market of $38.27) in part to adjust for a slower decline in Qualcomm's market share of CDMA mobile phone chipsets sold.
Mobile Phone Chipset Business 43% of Qualcomm's Value
Qualcomm makes money primarily by selling CDMA chipsets to mobile phone manufacturers such as Apple (NASDAQ:AAPL), Nokia (NYSE:NOK), Samsung (OTC:SSNLF) and Motorola (MOT), and by charging a royalty to mobile manufacturers on every phone sold. We estimate that the company's mobile phone chipset business contributes about 43% of the stock's value.
Mobile Phone Chipset Market Share will Decline to Nearly 60%

Although Qualcomm's 2009 market share of about 68% in CDMA chipsets was higher than we expected, we remain skeptical about its market position in the longer term and expect market share to decline to nearly 60% by the end of the forecast period as a result of greater competition from chipset makers Infineon (OTCQX:IFNNY), Texas Instruments (NYSE:TXN) and Broadcom (BRCM).
The slight increase in 2009 market share over 2008 is attributable to greater demand for Qualcomm's Snapdragon chipset used in devices like Google's (NASDAQ:GOOG) Nexus One smartphone and Lenovo's (OTCPK:LNVGY) Skylight smart book device. Other companies that use Qualcomm's snapdragon chipset are Lenovo (IdeaPad U1 Hybrid), Sony (NYSE:SNE) Ericsson (Xperia X10), HTC (HD2) and LG (OTC:LGERF) (eXpo). (Click to enlarge)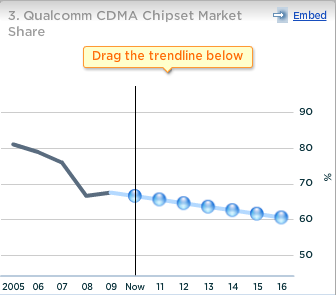 You can modify our forecast for CDMA Chipset Market Share to see how Qualcomm's stock is impacted in different scenarios.
Decline Attributable to Competition from Infineon, TI and Broadcom
While Qualcomm dominates CDMA mobile phone technology with 100% market share, it faces tough competition in WCDMA, a next-generation CDMA technology, from players like Infineon, Texas Instruments and Broadcom. For example, Infineon has gained momentum by becoming the supplier of chipsets for Apple's popular 3G iPhone.
Over-Dependence on Samsung, LG, Motorola
We believe that Qualcomm's market share is over-dependent on Samsung and LG and those companies are looking to diversify their chipset suppliers to reduce their dependence on Qualcomm. Motorola, another major customer, has seen a constant dip in its mobile phone market share, which is trickling down to impact Qualcomm's market share negatively.
Chipset Share Declines Mitigated by Royalties
Although Qualcomm's chipset business will be negatively impacted by declining share, Qualcomm's royalties on CDMA and WCDMA mobile phone technology may increase to offset some of the negative impact. Greater competition in the CDMA chipset business can drive chipset prices down and lead to lower mobile phone prices for consumers.
Lower mobile phone prices can help increase demand for mobile phones and increase the penetration of CDMA-based mobile phones. We discussed in a previous article how Qualcomm benefits from higher CDMA penetration rates and how higher rates can impact Qualcomm's stock.
Disclosure: No positions