Shares of Galena Biopharma (NASDAQ:GALE) have risen by 99% since I made my investment decision on the company a month ago with my article, "Will Lost Patents Force Roche Into Acquisition Mode?". This large move in GALE in such a short period of time makes a lot of sense, as investors seem to have finally found the potential for a buyout (something I mentioned previously). In today's article I want to go over the other products in GALE's pipeline to back up my case that the company is still undervalued even after this impressive advance in share price.
Galena's breast cancer therapy, NeuVax, is the main area of investor focus right now. Currently in Phase 3 trials for breast cancer, and in a Phase 2 combination trial with the leading breast cancer drug Herceptin, the outlook for this drug is tremendous and the potential revenue in the billions. There is more to GALE however, and that is what I will look at today. When I invest in biotech companies I like to see large pipelines of drugs. When a company has many irons in the fire, as they say, the risk to investor capital on potential setbacks is greatly reduced.
Below is a video detailing the GALE NeuVax Breast cancer trial that investors in GALE should watch.
The GALE's pipeline, shown below, is large: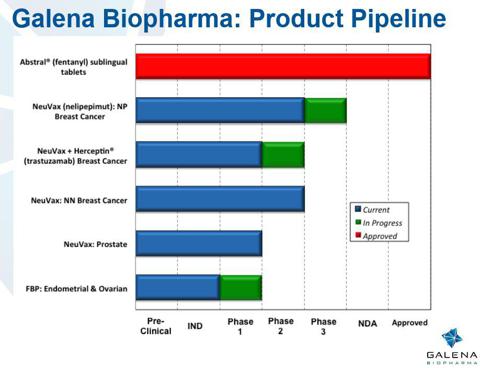 Click to enlarge
On November 11, GALE reported positive results from the Phase 1 portion of the trial for the Folate Binding Protein (FBP) vaccine. FBP is a folate receptor cancer immunotherapy administered to HLA A2 positive patients in combination with granulocyte macrophage-colony stimulating factor (GM-CSF) to prevent recurrences in high-risk, endometrial and ovarian cancer patients rendered disease-free after completing standard of care therapy. Phase 1 trials are essentially proof of concept trials. Companies test safety of a drug and ensure that it does indeed work. The Phase 1 trial is also used to determine the best dosing level for the drug. It is a very important trial as it is used to determine the metrics and goals for the Phase 2 and Phase 3 trials.
The importance of Phase 1 trials cannot be underestimated. The FBP Phase 1 trial determined that the optimal dosage was 500 mcg peptide combined with 250 mcg GM-CSF. FBP proved to be well tolerated. After a median follow-up of 6 months, there have been 2 recurrences (13.3%; n=15) in the vaccine group vs. 4 recurrences (25%, n=16) in the control group, although the trial was not powered for any efficacy measurements.
GALE plans on initiating a Phase 2 trial in December, giving the company four drugs in Phase 2 or higher trials. This is excellent news for investors in the company. The market potential for the indications targeted by FBP are very large. Ovarian cancer occurs in over 22,000 patients per year in the U.S. and is the most lethal gynecologic cancer. According to the National Cancer Institute, endometrial cancer is the most common gynecologic cancer and occurs in over 49,000 women, with over 8,000 deaths in the U.S. annually.
The other early stage cancer trial GALE has ongoing is a Phase 1 trial for prostate cancer. There are 239,000 new cases of prostate cancer a year with almost 30,000 deaths. It is the second leading cause of death in the U.S. This is a very large market in desperate need of new therapies. NeuVax is currently undergoing clinical testing for the after-surgery treatment of early-stage HER2/neu-expressing prostate cancer. It is a cancer peptide vaccine comprised of a human leukocyte antigen (HLA) A2/A3 restricted HER2/neu (ERBB2) peptide (amino acids 366 to 379) from the extracellular domain of the HER2 protein (E75 peptide) and combined with the immunoadjuvant granulocyte-macrophage colony-stimulating factor (GM-CSF), with potential immunomodulating and antineoplastic activity. Upon injection, the E75 peptide plus GM-CSF vaccine may induce a specific cytotoxic T-lymphocyte (CTL) response against HER2/neu-expressing tumor cell types. We are waiting for news on the Phase 1 trial. If positive news comes, such as that seen for the FBP trial, then GALE could see another large increase in investor interest and, in turn, price.
Since my last article, GALE has given us an update on its financials; as a long-term investor these reports are key for my investment decisions. Net revenue was $1.2 million, due to the initiation of sales of its Abstral(NYSE:R) (fentanyl) sublingual tablet sales. Cost of revenue and gross profit for the three months ended September 30, 2013 were $0.3 million and $0.9 million, respectively. Only in its initial stages, GALE's new revenue product is generating profit. As sales of Abstral increase, the added profit and cash flow will reduce the need for financing for the research side of GALE, where all the potential for investors exists. For now GALE has no need for additional funding with a cash balance of $55.8 million. With a current cash burn of approximately $7 million per quarter, GALE has adequate funding at this burn rate for 2 years. This kind of financial footing is always something I want to see in my higher risk biotechnology investments. These numbers also do not take into account any profit and cash flow benefits that will come from increased sales of Abstral in the coming quarters.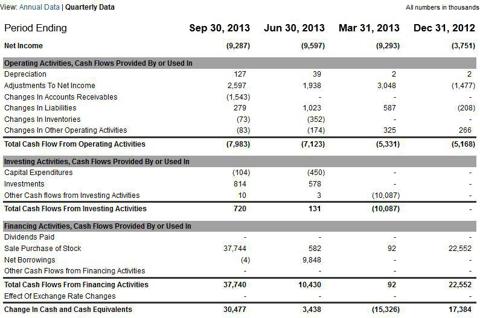 Click to enlarge
Abstral (fentanyl) Sublingual Tablets are a treatment option for breakthrough cancer pain, which impacts 40%-80% of cancer patients. It is an under the tongue tablet for the management of pain in cancer patients who are tolerant to other opioids. Abstral was approved in the U.S. in 2011 and is the first and only fentanyl sublingual tablet for the management of breakthrough cancer pain in opioid tolerant patients. Abstral is the market leader in Europe where it achieved sales of $54 million by ProStrakan/Kyowa Hakko Kirin in 2012. In 2012, the U.S. market for transmucosal immediate-release fentanyl (TIRFs) was $400 million. In March, GALE purchased the rights to Abstral from Orexo AB (ORX.ST) for the U.S. market. Under the terms of the agreement, Galena Biopharma will pay Orexo $10 million upfront and $5 million will be paid within the first 12 months of closing, plus low double-digit royalties and one-time milestone payments based on pre-specified net sales.
If Abstral were only able to gain 10% of the potential U.S. market for TIRFs it would bring in $40 million in revenue. With a 30% profit margin based on initial sales, this could bring upwards of $12 million per year in profits to GALE and reduce its need for additional financing.
Insys Therapeutics (NASDAQ:INSY) also has a drug in this market, a fentanyl spray. Revenues from Subsys® (fentanyl sublingual spray) were $28.4 million, up 1,002% over third quarter of 2012 levels and up 53% as compared with the second quarter of 2013.
This rapid increase in sales has driven shares of INSY to a market capitalization of $854 million, twice that of GALE. If GALE can see a similar rapid increase in this growing market, the potential increase in market cap could be very rewarding for investors.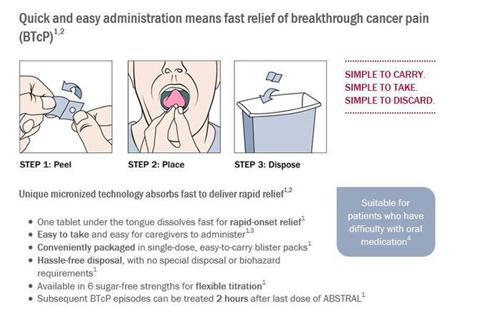 Click to enlarge
Galena is one of the most interesting biotechnology investments I have uncovered this year. The market potential for the numerous indications the company is focused on is huge. The launch of Abstral in the U.S. will help to fund the GALE pipeline and could have the potential to be a large revenue generator all by itself based on the gains seen in INSY over the last year. In my previous article I discussed why it made sense for Roche to make a play for GALE in order to protect its own breast cancer drug, Herceptin. Since that time I now find myself hoping that this scenario does not play out. GALE reminds me of another small cap stock that turned into a large cap-- BioMarin Pharmaceuticals, Inc (NASDAQ:BMRN). Eight years ago BMRN traded at a similar valuation as GALE. It is now a $10 billion company with $533 million in sales. Herceptin did $6 billion in revenues in 2012; Galena's cancer therapies have the potential for similar sales. Abstral could be a large winner for GALE as well. This is a stock investors should consider strongly.
Disclosure: I am long GALE. I wrote this article myself, and it expresses my own opinions. I am not receiving compensation for it (other than from Seeking Alpha). I have no business relationship with any company whose stock is mentioned in this article.