It is estimated that in 2013 there will be approximately 77,000 new cases of melanoma in the U.S. resulting in almost 10,000 deaths. In 2009 the University of California created a model comparing the estimated costs of melanoma at various clinical stages. The groundbreaking report is still a roadmap for the need for early detection and treatment of this growing health risk. The key takeaway from the study was that melanoma is one of the most expensive cancers to treat. When melanoma is diagnosed at an earlier stage, it is approximately 2200% less expensive to diagnose and treat. This dramatic number was based on pre-2009 health care costs… costs that have skyrocketed since. Melanoma incidence is increasing rapidly, with an annual percentage change (NYSE:APC) of 2.8 percent. It should be noted that melanoma is a disease that often goes undiagnosed for a long time, so the numbers may be much higher. 1 in 58 people are estimated to be at risk for melanoma.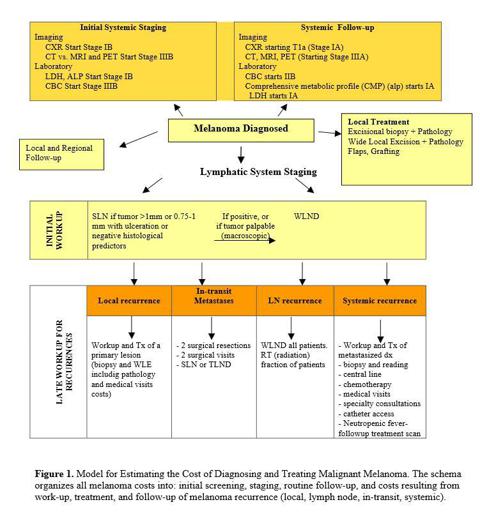 The need for earlier detection as well as treatments once melanoma is found is great. With more emphasis now on melanoma as seen by "Skin Cancer Awareness Month", there is an expectation of more cases of advanced melanoma being reported and treatment needed.
As an investor looking to invest in this sector, I have completed a lot of research and will present what I have found. With the number of cases rapidly growing, it has attracted the attention of many large biotech companies. The one that stands out to me as a strong investment candidate is Amgen, Inc (NASDAQ:AMGN).
On Monday, November 18, Amgen announced very positive results for its Phase 3 melanoma drug, T-VEC. The trial is evaluating T-VEC in patients with unresected Stage IIIB, IIIC or IV melanoma compared to granulocyte-macrophage colony-stimulating factor (GM-CSF). In the study patients treated with its experimental melanoma drug lived about 4 months longer than patients who were given an older treatment of GM-CSF.
T-VEC is a drug that is injected directly into tumor tissue, and it uses a virus as a Trojan horse to infiltrate and destroy tumors. The drug stimulates the immune system with a modified version of the herpes simplex virus (think cold sores). After it is injected, T-VEC divides into copies repeatedly until the membranes, or outer layers, of the cancer cells burst, destroying them. Meanwhile, the gene snippet in the drug makes a protein to stimulate the immune system to kill melanoma cells in the tumor and elsewhere in the body. It is a very interesting approach to killing cancer cells that could be adopted in other forms of cancer. AMGN is the first biotech to demonstrate that this virus approach to killing cancer can work.
This approach is somewhat similar to that being taken by a very small cancer biotech, OncoSec Medical, Inc (OTCQB:ONCS). The company uses its proprietary OncoSec Medical System (OMS) to deliver treatment to cancer areas using brief electrical pulses-- a process called electroporation. Instead of the virus used in T-VEC to explode cancer cells, a drug is utilized in conjunction with electrical pulses in ONCS's OMS system. The company uses electroporation to create temporary poration of cancer cell membranes, therefore allowing a drug or therapy to penetrate efficiently and then be trapped inside the tumorous tissue once the current is seized. The present thinking in cancer research is that treating cancers, especially melanoma, is best done from inside cancer cells-- and ONCS's approach falls in line with this ideal, just as AMGN's T-VEC therapy. ONCS' trial results to date have been superior to all other melanoma trials in both complete and distant response measures. This company may be one to keep an eye on if the company continues to deliver positive results. ONCS is a microcap stock so it does carry additional risk.
The T-VEC trial is rather substantial with 400 patients being treated. The most common side effects were fatigue, chills, and fever… typical for cancer trials. The most common serious side effect observed during the trial was progression of the disease, and this occurred in 26% of patients, leaving a 74% response rate. 16% of the T-VEC patients reported meaningful tumor shrinkage for at least 6 months, compared to 2% for patients treated with GM-CSF. The difference in durable tumor response was statistically significant in favor of T-VEC, achieving the primary endpoint of the study.
All the trial updates on T-VEC this year have been very positive, a very nice sign for investors in AMGN. This is a big advantage for AMGN over its peers in this cancer battle.
AMGN trades at a market cap of $86 billion. Revenue for the previous TTM was $18 billion giving a PE of 18. This is slightly above the norm, but in my opinion rather cheap for a pharmaceutical stock. Debt is large at $27 billion, but the company is sitting on $22 billion in cash and has $2 billion in free cash flow. Return on equity comes in at 24%, a very healthy number. When looking at large cap stocks for investment I like to see a return on equity of 20% or more. This high number shows that management is properly deploying investor assets for the best return. Another number that I like to focus on is profit-growth. Acceptable growth rates for large cap stocks that I am willing to accept fall within the 7-10% range. At 9.9% AMGN comes in at the higher end. The chart below compares AMGN to its direct peers. AMGN has a gross margin 10% above the industry average. Operating income is also 20-50% above that of its peers. AMGN's PE is also at a discount to its direct peers. As far as in investment based on fundamentals alone, AMGN is clearly a winner under my investment criteria.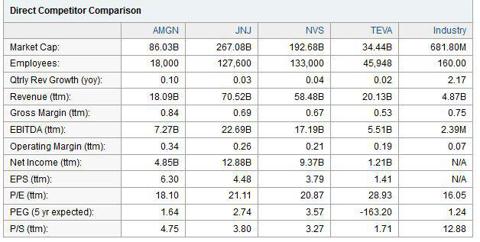 The current leader in the melanoma market is Bristol-Myers Squibb's (NYSE:BMY) Yervoy. Approved in 2011 the drug grew 33% year-over-year to $238 million as of the last report. The stock should reach blockbuster status of $1 billion in annual sales in the next quarter. With AMGN facing patent expiration on many of its drugs in the coming years, the need to replace them with new blockbusters is a must. For this investment thesis I have only focused on one segment of AMGN's business: melanoma. As more and more cases of melanoma are reported and treatment sought, the need for newer drugs will grow. With the Affordable Care Act giving many millions more people in the U.S. insurance coverage they have not previously had, the number of cancer cases is very likely to grow. With that growth the revenue potential for the few drugs that treat melanoma will increase. As an investment in this sector that pays a dividend and meets all my large cap investment criteria, I believe AMGN is an excellent candidate for investment.
Disclosure: I am long AMGN. I wrote this article myself, and it expresses my own opinions. I am not receiving compensation for it (other than from Seeking Alpha). I have no business relationship with any company whose stock is mentioned in this article.