We learn at a very early age that you should never get in the way of a train. When the gates go down, you stop and let the train pass. Lately, the Apple (NASDAQ:AAPL) bear crowd has ignored this very important lesson, and it has been a very costly one for them. Since hitting a 52-week low of $385.10 earlier this year, Apple is up nearly 45%, a great rally seen in the chart below.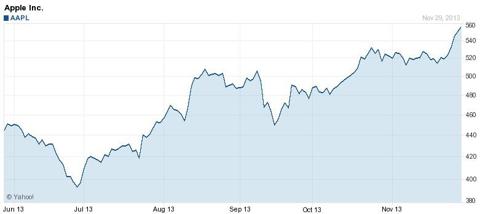 Click to enlarge
(Source: Yahoo! Finance)
However, the bear crowd continues to tell you things like Apple's holiday sales will be weak and that Apple's time is running out. Today, I'll explain why this is not the case, and while a short-term pullback may come, Apple bears need to give up for now.
More two-sided criticism:
One thing I can't stand is what I call two-sided criticism. This occurs when a person (or company in this case) is criticized for doing one thing, but when it does the other, it gets criticized for that as well. A good example is Netflix (NASDAQ:NFLX). The Netflix bears criticize the company for its lack of profitability when Netflix spends heavily to expand internationally, which lowers profits. But if Netflix were to focus on profitability and not expand internationally, the company would be criticized for not growing revenues and its subscriber base. You can't have it both ways.
In Apple's case, Apple gets criticized for almost everything it does. The company can't do anything right in the eyes of the Apple bears. This was especially true over the last few months in terms of the new line of iPhones. The bears were telling us for months that a cheap iPhone was bad because it would significantly lower Apple's margins. Then, when Apple launched the iPhone 5C, not a cheap iPhone, Apple was criticized for not launching a cheap phone. That seems ridiculous enough, and it is. But it gets worse. Then, when Apple reported its fiscal fourth quarter results, margin guidance wasn't good enough. So the bear crowd told us that a cheap iPhone was bad, then complained when it didn't come, and then complained about margins. What exactly was Apple supposed to do? Again, these bears are frustrated because Apple's share price continues to rocket higher.
Now we all know that iPhone 5C orders have been cut back, but does that mean Apple is in trouble? Well, if you want Apple to beat on the revenue side, probably not. Apple generates more revenues from the 5S, so this would seem to be a good thing for Apple. It's the opposite of last year, where concerns about the cheaper iPad mini stealing regular iPad sales fueled a bunch of negativity. In this case, the higher priced 5S may be stealing sales from the lower priced 5C. That's good for revenues. The bears will tell you it is negative because 5C sales are bad, but the bears are wrong again.
Another very important item is that this year's iPhone and iPad launches in China were much earlier. They were day one launches. In past launches for both products, the China launch date was several weeks or a few months after the initial launch. This should definitely push sales into fiscal Q1 (the current quarter), and is one reason why Apple guided to a new quarterly record for revenues. But let's ignore any records for now, they are not important (the bears would say).
The other item to consider is one that did depress Apple's results for a couple of quarters, and this isn't new. Apple did not update the iPad in March this year, something the company did do in 2012. While that caused iPad sales to fall off a bit (they still were pretty good considering no refresh), it did build anticipation for the new line. Early indications were very positive for the Air, and Thanksgiving sales appear to be tremendous. Apple may run into supply issues again, but it is better to have supply issues than demand issues.
The next blockbuster:
I mentioned in my latest Apple article that we could be getting close to an announcement that everyone has been waiting for, a deal with China Mobile (NYSE:CHL). China Mobile has a December 18th 4G launch event, and Apple bulls are hoping for an iPhone announcement either at that day or before. If an announcement is coming, expect more leaks and rumors before then. Perhaps a deal is in the works, as Foxconn's 5S production is at a record 500k units per day. If production is at that level and a deal isn't coming, then the iPhone 5S is selling extremely well, and bears really need to get out of the way.
The question in regards to a China Mobile deal is how much is priced into Apple's stock and estimates currently? While I can't give an exact percentage, I do think maybe a quarter of the deal's potential is priced in. Current analyst estimates have Apple increasing revenues by a little more than $13 billion this year. You might have some analysts who are modeling a China Mobile deal and factoring that into their estimates. With the current average estimate just above $184 billion, I wouldn't be surprised if some of the analysts at $190 billion, $195 billion, or more are factoring a deal in. Should a deal be announced, it is likely that estimates will head higher. How much? That's a guess I'm not willing to make right now, as it would depend on the specifics of the deal (pricing, timeline, etc.).
As for the stock, I do think part of the recent leg up was due to some rumors coming out about a potential China Mobile deal. The Thanksgiving iPad news really helped the stock on Friday as well. I've been saying that I thought a China Mobile deal was worth 10% to Apple shares, although that was when shares were a bit lower. I'm starting to think that some of the China Mobile news is being priced into this stock, and Apple is at a year to date high. Do I still think a China Mobile deal will be positive for Apple shares? Yes. But would I buy Apple right now only on that basis? No.
A good investment:
Bruce Springsteen once said that he wanted to go back to a time where he could get a cold beer at a reasonable price. Well, in the investment community, you want a good investment at a reasonable price. Apple does just that. Here's a table comparing Apple to some other top tier techs, including Google (NASDAQ:GOOG), Cisco Systems (NASDAQ:CSCO), Intel (NASDAQ:INTC), and Microsoft (NASDAQ:MSFT).

*EPS Growth and P/E are non-GAAP.
Just looking at the numbers, Apple is still a great investment, even after the latest rally. Sure, you could wait for a pullback to get a better entry price and deal, but let's compare some names. Google provides more growth potential, and that can't be argued. However, Google does not pay a dividend or have a tremendous buyback plan. Google shareholders are being diluted each quarter, and a chunk of Google's current growth is due to the Motorola acquisition. Additionally, when you convert Google's P/E to GAAP, Google trades at a valuation nearly twice that of Apple. Does that mean Google is overvalued or Apple is undervalued? Well, it could be both. If I was investing today, I personally would not pay that much for Google when Apple's complete package costs half the price.
So let's look at Microsoft next. Apple and Microsoft offer the same amount of revenue growth. Microsoft has a larger dividend, but Apple has a much more powerful buyback. Apple certainly has an edge in earnings per share growth. So when it comes down to valuation, Microsoft trades at a 12% premium to Apple. Is that justified? Well, Microsoft is going to be a very interesting name to watch in 2014. The company needs to decide on a new CEO, and that CEO may decide to sell off certain business units. Microsoft is in transition right now, and that uncertainty worries me a little, especially at current prices.
Finally, we have Intel and Cisco. Both tech giants are struggling mightily. Intel will most likely have its third straight disappointing year in 2014, one that is causing investors to bail and rethink their investment in the chip giant. Intel has traded at a premium to Apple until the past few days despite all of its troubles. Cisco, when its earnings are converted to GAAP, still trades at a discount to Apple. However, Cisco is in the midst of a terrible year, with revenues plunging in the current quarter and no rebound in sight. Intel and Cisco have the highest dividend yields, but that's a function of stock prices being low. Microsoft's and Apple's dividend yields have dropped recently, but that is thanks to stock prices rising.
Positive technicals:
I barely ever discuss technicals with Apple, but there was a significant event a few months ago that really helped this stock. Apple hit the golden cross, when its short-term (50-day) moving average crossed above its longer-term (200-day) moving average. This was a positive thing for the stock, as you can certainly see in the chart below.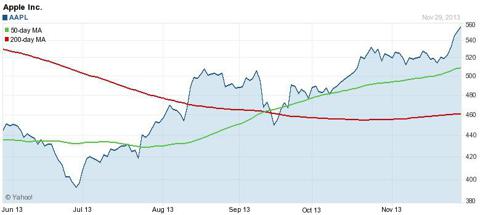 Click to enlarge
(Source: Yahoo! Finance)
The last major run in Apple started in mid-September, and that was when the golden cross was hit. Since longer term moving averages are generally considered the lines of support/resistance, the 200-day would provide support for Apple shares if they fell. However, I don't see Apple falling nearly $100 to the 200-day moving average right now. I do think a pullback in Apple is coming, and I would use the 50-day moving average as a buying point if Apple were to reach that level. That should be a decent level of support, unless we get some really bad news that causes Apple to crash.
Final thoughts:
This is the wrong time for Apple bears to be out in full force. The iPhone 5C may not be selling well, but that is because the higher priced 5S is. So how will Apple miss revenue numbers? The iPad is also selling extremely well, and with no refresh in March this year, Apple will sell as many units as it can produce. A potential China Mobile deal could also spur enthusiasm for Apple stock, which trades at a very reasonable valuation. Apple's technicals have also improved. I do think Apple may pull back a little here, but that's not terrible considering the recent rally. A pullback might be welcome for investors looking to get in. Apple bears need to give up right now, because you can't fight the Fed, and right now, you can't fight Apple either. This train is moving, and the bears need to get out of the way.
Disclosure: I have no positions in any stocks mentioned, and no plans to initiate any positions within the next 72 hours. I wrote this article myself, and it expresses my own opinions. I am not receiving compensation for it (other than from Seeking Alpha). I have no business relationship with any company whose stock is mentioned in this article.
Additional disclosure: Investors are always reminded that before making any investment, you should do your own proper due diligence on any name directly or indirectly mentioned in this article. Investors should also consider seeking advice from a broker or financial adviser before making any investment decisions. Any material in this article should be considered general information, and not relied on as a formal investment recommendation.