Intel (NASDAQ:INTC) is a stock which has received little love from investors and analysts alike as of late. The price currently rests at just under $24 per share, not too low considering some of the recent news. Priced cheaper than most of its competitors with a dividend close to 4%, the question remains, is Intel a good buy?
The first issue I have with currently investing in Intel has to do with management. Last Thursday, Intel warned investors that the outlook for next year was bleak. CFO Stacy Smith said revenue for the blue chip stock's revenue would be flat in 2014, which should be seen as anything but inspiring. 2013 has been a disappointing year for the company, marked by continual downgrades and a fall in revenue year-over-year. The chipmaker's sales fell 1% in 2012, and are expected to fall 1.4% for 2013 when reported. The fact of the matter is, after two disappointing years, I can't really justify investing when its CFO is telling us that 2014 will be "flat."
Falling Revenue
To get a better understanding of why Intel is having problems, take a look at how its current revenue is divided:
(Source: 2012 Intel Annual Report)
For 2011 and 2012, 81% of company revenue came from the combined efforts of the PC Client and Data Center Groups. Since mid 2012, PC shipments have been steadily declining, being replaced partially by tablets such as the iPad and smartphones like Samsung's (OTC:SSNLF) S4. This mobile market, in which Intel currently has a much lower competitive advantage and market share, is cutting into the company's profits.
The spur of mobile devices, such as tablets and smartphones, does have one advantage for the company: their users demand a high fraction of network services such as LTE and cloud computing. This has led to some gains in the Data Center Group, since more servers are required to handle the increased traffic, and Intel does dominate the server market. However, what these devices give back to company revenue through increased server orders seems to be (at best) equally balanced by the profit they take away from the company's desktop and notebook sales. It is this change in the balance of profits between the two groups that led CFO Stacy Smith to so eloquently warn investors that revenue in 2014 would be "flat." Current forecasts show that an estimated 9% rise in server chipset sales from the Data Center Group next year and 400% increase in SoC tablet sales will be offset by slumping PC sales.
The solution for this company returning to steady revenue growth is simple; Intel must increase its stake in the quickly expanding smartphone and tablet markets. Unlike the PC/notebook market, where Intel enjoys a hefty competitive advantage and large market share, companies like Qualcomm (NASDAQ:QCOM) and ARM Holdings (NASDAQ:ARMH) dominate the mobile/tablet market, while Apple's (NASDAQ:AAPL) current A6/A7 chips are designed in-house and manufactured by Samsung. Intel ended the first quarter with a 6% share in tablet and 1% share in smartphone processor markets.
Moving Into the Mobile Market
Intel's answer to improving these numbers is 64-bit support for its Bay Trail (tablet) and Merrifield (smartphone) processors. Launched earlier this year, Bay Trail was touted as being able to deliver 64-bit performance to tablets. However, issues with the drivers caused it to be shipped on 32-bit tablets, greatly limiting the processor's performance, thus giving it little to no gains over the competition. At its analyst day a week ago, Intel announced that the new 22nm Bay Trail chip would be shipping on a 64-bit tablet platform. The advantages over their current 32-bit Bay Trail chip can be seen in the chart below. Windows tablets will receive this new architecture first in 2014, followed by Android.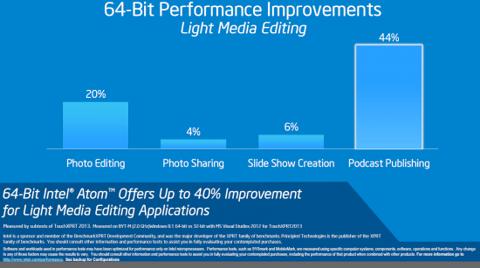 The company's move towards a 64-bit platform is an important one. Just recently introduced in a mobile device for the first time on the iPhone 5s with Apple's A7 processor two months ago, 64-bit support offers huge performance gains. Not only is the computing power increased and more efficient, but its ability to allocate more than 4gb of RAM at a time to the GPU allows for the ever-increasing visually intensive games and operating systems of today to be handled with ease. With Apple leading the way to the 64-bit future, trailed closely by Intel, companies like Qualcomm and ARM are sure to quickly follow suit. If Intel is able to deliver a powerful yet energy-efficient processor, it may find a golden opportunity to gain some of the mobile market share it so desperately needs.
Intel has (finally) proven that it can make a competitive SoC platform which actually may have a chance at cutting into the profits of its competitors. However, success in this market will require more than just a solid product, as OEMs must actually adopt the chip.
Tablets
I want to look at tablets first because I believe that Intel has shown more immediate interest in this market and will roll its products into it slightly ahead of cell phones.
Intel's Clover Field and previous-generation Bay Field chips were designed to integrate well with Windows tablets (which they did), making Intel's Atom processor the product of choice for this line. However, according to IDC, sales of Windows tablets are extremely lackluster, accounting for a mere 1% of global tablet shipments last year. Currently, this number is expected to increase to 7.4% by 2017. Personally, I think this forecast is quite conservative. The goal of Microsoft (NASDAQ:MSFT) tablets is to supplement desktops or laptops. Currently, Windows dominates the OS market, running on just under 91% of destktops worldwide. I find it hard to believe that, as the role of the tablet shifts more in line with that of (and even replaces) computers, the trends in operating system usage on them will be strikingly different. Intel's domination of the Windows powered tablet market can be seen as a positive move for tablet development, but by no means should it be confused for a shift towards increased company profitability for 2014. The chart below further evidences this assertion: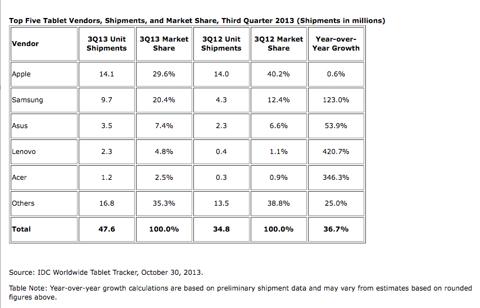 The biggest name on this list for Intel should be Apple. The average consumer believes that the current A7 chips seen in the iPhone and iPad are made by Apple. However, this is only a partial truth. Apple designed these chips, but they are actually manufactured by the company's archrival Samsung. Why would Apple choose to rely on its nemesis to manufacture the heart and soul of its mobile products? The answer is simple. There are not many companies with the ability to manufacture a chip as advanced as Apple's A7. In fact, there are only three, Samsung, Taiwan Semiconductor (NYSE:TSM) and…Intel.
Why did Apple not choose Intel originally? Simply put, it wasn't possible. Until very recently, Intel has refused to manufacture any chips that were not of its own design, which would have required that Apple use a chip engineered by Intel, something the company was not keen on doing. In a change of strategy, Intel will now make any competitor's chip for the right price; just don't count on it being Apple. Apple already has a 3-year contract with Taiwan Semiconductor to manufacture its A8 chip starting in 2014, and another contract with Samsung to help manufacture the A9 starting in 2015, leaving little room in the picture for Intel.
Asus and Samsung, both with a large share in the tablet market, have tablet products which use Intel processors. However, neither of the companies has given any indications that they intend to expand the amount of products using Intel's chips.
Intel forecasts it will sell ~40 million tablet units in 2014, a 400% increase over 2013. However, many of these sales will come on the back of large subsidies, requiring the company to forfeit a share of its potential profits. Through 2014, I do not see tablet sales doing much but making up for sliding revenue from PC sales (management seems to agree). Longer term, Intel's tablet success is difficult to predict. It has yet to ship its newest chip for any application other than Windows 8 tablets, and it is difficult to say how long it will take other companies to adopt their product. Even if it does outperform its ARM-based brethren by a notable amount, manufacturers aren't just going to revamp their entire product line to throw an Intel chip inside. We'll have to wait for scheduled hardware upgrades, by which point Qualcomm, Nvidia (NASDAQ:NVDA) and ARM will all most likely have rolled out their own 64-bit chips. It could be as long as 3Q 2014 until Intel actually gets a chance to go head to head with the competition. Until then, it will have to rely on sales from its comparatively less-expensive lower-end chips, which are currently being utilized to lower the price on "budget tablets," costing under $100.
Smartphones
A large majority of Intel's failures in the smartphone market have been due to the drawbacks associated with its x86 architecture. Until recently, Intel's x86 chips took longer to boot-up, used more battery life during intensive-usage and most importantly, drained too much energy during standby vs its ARM-based competition.
Intel's next-generation smartphone chip, nicknamed "Merrifield," will improve on every measurable category when compared with the previous-generation Clover Trail+ SoC. Based on the new, 22nm Silvermont architecture, Intel claims Merrifield will offer a performance increase of over 50% and increased battery life.
Success in the smartphone department requires more than just a competitive processor though. Cellular modems are both lucrative and exceedingly important in deciding a phone's (or tablet's) cellular capability. The modem connects the device to its cellular network, and has an array of technology which determines things like download speeds and whether or not a device has 3G or LTE connectivity. The graph below, provided by Ericsson, forecasts the growth of devices using cellular data connections and thus cellular modems.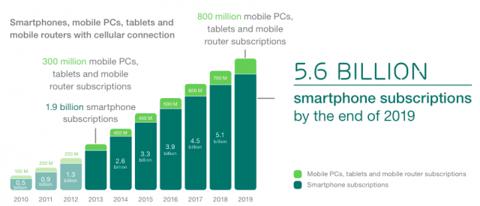 Intel's current modem offered is the XMM 7160 multimode LTE modem. This modem lacks some key features which make it difficult to adopt such as CDMA, LTE-Advanced and TD-SCDMA (a necessity for the Chinese market). Lack of CDMA support means that phones running on the Sprint and Verizon networks are unable to utilize this modem. Luckily, Intel's successor, the XMM 7260 (1H 2014 release), will address all of these problems except for CDMA support, making it a much more likely candidate for smartphone manufacturers than its predecessor. Qualcomm's current modem, featured on the Snapdragon 800 chip, already offers LTE-Advanced support. Its upcoming chip, the Snapdragon 805, is set to ship 1H 2014 and should be on par (speed-wise) with the 7260.
Qualcomm still has the advantage of offering a high-end connectivity combination chip, which simplifies things for smartphone manufacturers by integrating connections such as Bluetooth, cellular baseband and Wi-Fi. Add on the issue that moving to x86 from ARM requires changing more than just the processor, and it seems more likely that many smartphone companies will stick with the simpler solution by Qualcomm through 2014.
For the sake of its shareholders, Intel needs to make strides in the smartphone market. Unfortunately, based off of its current development schedule, this doesn't seem possible until 2Q 2014 at best. Even then, the best Intel can ask for is to be the #2 cellular modem manufacturer behind Qualcomm (until the company finally releases an integrated cellular baseband/apps processor solution). While this would be a big step forward for the company's mobile division, the profits from it will not be enough to impress shareholders.
Conclusions
People say Intel is not used to being #2 at what they do. I'll have to agree with that statement as I think it's been the company's main problem for a few years now. Intel still makes the best quality PC and server components, but falling computer sales means the tablet/smartphone markets, where it certainly is not #1, is the best hope at any sort of growth. Intel entered the mobile market and as of now, has pretty much nothing to show for it except record CapEx costs and falling revenue.
Intel certainly is acting like it's not used to being an underdog when it comes to these markets. The company seems to believe they have the same reputation they do in the PC and server markets, where a prolonged history of amicable deals with OEMs and a proven track record of success and innovation have allowed them to capture most of the market and maintain it with comparable ease. If anything, Intel's position in the mobile device markets is the complete opposite of what they're used to. Intel is trying to expand into a market dominated by Qualcomm and ARM architecture, not Intel and x86. If it is to have any hope of gaining a substantial share, the company will have to release something that truly bests the competition in every way in order to persuade OEMs to go through the effort to make the switch from ARM.
Intel can still increase revenue by manufacturing chips designed by its competitors (a first for the company) and by making some progress in the tablet and smartphone markets. Increasing profits from the Data Center Group have been consistent, but so has its ability to miss Intel's forecasted growth for the group each year. Given the bleak outlook for 2014 and the difficulty the company will have diversifying its income, I give Intel a hold rating with a price target of $21. If you already own the stock and can weather a disappointing 2014, chances are you will see better days down the line. If you want to invest in this tech giant, wait until around 3Q 2014 because until then, it's dead money.
Disclosure: I have no positions in any stocks mentioned, and no plans to initiate any positions within the next 72 hours. I wrote this article myself, and it expresses my own opinions. I am not receiving compensation for it (other than from Seeking Alpha). I have no business relationship with any company whose stock is mentioned in this article.