NQ Mobile Inc. (NYSE:NQ), a leading global provider of mobile internet services held its Second Annual Investor and Analyst Meeting in New York City on November 19, 2013. Attendance more than doubled this year as the company expands itself to a broader range of investors. A link of the company's presentation can be found here.
Last year, NQ Mobile unveiled its platform and strategy. This year's meeting was dedicated to showing the results of what the company has done over the last year as well as talking about the financial overview of the company, strategy, and ongoing business plans. So what were some of the big announcements?
1-2-5-10
During last year's conference, the company laid out a plan of becoming a platform business. Its plan was to drive annualized revenue from $100M, to $200M, to $500M. Looking over the results of the past year, we can see that the company is delivering on its promise as revenues continue to grow at a rapid pace.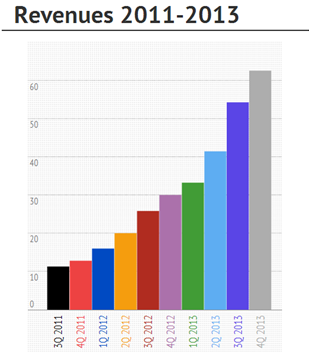 * 4Q 2013 estimates are between $62M - $63M
NQ Mobile has been one of Wall Street's hottest stocks this year, as shares were on track to gain close to 400% this year. However, On October 24, 2013, that would all change thanks in large part to allegations made by short selling firm Muddy Waters.
So what made the stock price go on such a run this year before the MW hit job? While there are a lot of factors, here are some of the key takeaways and results so far this year.
Consumer Security has grown 16% ($18.3M to $21.2M).
Operating Margins grew 19% (26.4% to 31.5%).
Average Monthly Active Users grew 80% (1.8M to 5.7M).
Gaming has grown 215% ($1.8M to $5.7M).
Advertising has grown 232% ($3.3M to $11M).
Enterprise Software & Services grew 268% ($1.2M to $4.3M).
Monthly Premium Accounts grew 31% (11.3M to 14.8M).
While the results have been impressive, the company is not content as it sets its sights on even bigger goals now. Instead of its $100M, $200M, $500M plan, the company is now looking at a revenue run-rate of over $1B by 2017. Quite impressive! Below is a table outlining the goals over the coming years.
| | | | | | | |
| --- | --- | --- | --- | --- | --- | --- |
| | 2012 | 2013 | 2014 | 2015 | 2016 | 2017 |
| Revenue | $100M | $192M | $310M | $500M | $750M* | $1B |
| Revenue Growth | 126% | 92% | 62% | 61% | 50% | 34% |
(Fox Business Video highlights: 1:10 - 4:10)
2014 Raised Guidance
One of the biggest highlights of the day came when the company announced that it expects revenues in 2014 to come in between $305M to $310M, representing over 60% year-over-year growth. Analysts were predicting revenues next year to come in around $280M - $285M. This increase signals that demand is out there and strong growth is ahead for the company.
Analysts seemed to be impressed as Topeka raised NQ Mobile's 2014 EPS estimate to $1.47 from $1.37, and raised its price target to $36.75 (1.47 [2014 EPS] x 25 [forward P/E] =$36.75) from $34.25. This represents over 160% upside from Friday's recent closing price of $13.06.
Partnerships
Last week NQ Mobile announced that it has partnered with PT Telekomunikasi Selular (Telkomsel). Telkomsel is Indonesia's leading provider of mobile telecommunications and digital data services. The company will make NQ products available to all of its 128 million subscribers. Telkomsel is also the sixth largest telecommunication operator in the world.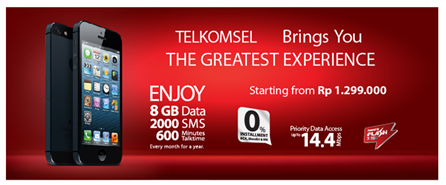 This is big news considering that the company has already partnered with America Movil (NYSE:AMX), Latin America's leading telecom group back in March. America Movil is the world's third largest mobile network with over 262 million subscribers located in Mexico and across Latin America.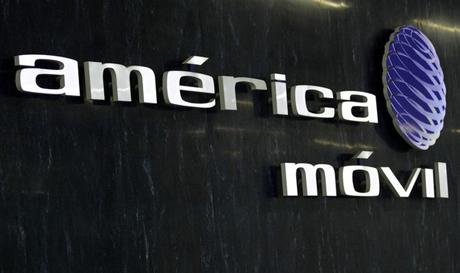 Not to be outdone, the company recently announced that it has partnered with China Mobile (NYSE:CHL), the world's largest mobile carrier with its NQ Family Guardian package.
As smartphone adoption soars among the younger population worldwide, we are proud to provide concerned parents who are part of the 755 million subscribers with China Mobile a solution that helps their children enjoy the benefits of smartphones while knowing those mobile experiences will be positive and safe.

- Gavin Kim, Chief Commercial Officer of NQ Mobile.
As we can see, NQ continues to partner with some of the biggest companies in the entire world. This is great news for investors who are seeking high growth out of the company. The fact that these companies are using NQ's products signals that the company is indeed legitimate and should help put those fraud allegations to rest now. Below is a small list of companies that have relationships with NQ Mobile.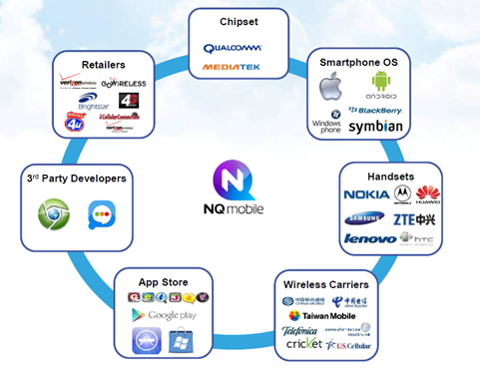 Funds Are Buying NQ Mobile
The holiday shopping season is in full swing now, but that didn't stop some funds from buying some early Christmas presents this holiday season. Over the last couple of weeks, funds have been busy buying big stakes in the company.
Toro Investment Partners, Oberweis Asset Management, ChinaRock along with Altimeter Capital recently disclosed their stakes. The combined companies now own close to 23% of the company.
| | | |
| --- | --- | --- |
| Name | Date | Shares |
| Toro Investment Partners | 11/12/13 | 7,591,695* |
| ChinaRock Capital Management | 11/18/13 | 8,360,010* |
| Oberweis Asset Management | 11/19/13 | 9,000,000* |
| Altimeter Capital Management | 11/15/13 | 9,497,535* |
| Total: | | 34,444,240 |
*Based on 151,833,654 shares of Class A Common Shares
151,833,654 (shares) / 34,444,240 (hedge funds) = 22.7%
If we convert these numbers into American Depositary Share's ("ADS") which represent five class A Common Shares, then these funds purchased 6.88M shares.
151,833,654M (shares) / 5 = 30.3M (float)
6.88M (NYSE:ADS) / 30.3M (float) = 22.7%
So why are funds buying into NQ Mobile?
"When you look at the business prospects, their position in the marketplace, their ability to start to monetize and most importantly, the valuation, ...the business begins to look pretty compelling," said Jim Oberweis, President of Oberweis Asset Management.
Oberweis even flew to Beijing to conduct more research after the Muddy Waters report was published. He certainly came away impressed as he doubled his stake in the company.
It's interesting to note that Oberweis's China Opportunities Fund has beaten all competitors in 2013 and over the past five years. The good news for shareholders is that NQ Mobile now represents the largest position in five of six Oberweis funds.
After beating competitors over the last five years, I wouldn't want to be betting against him. Oberweis continued by saying,
It says something that they released their earnings on time. I don't think Pricewaterhouse (NQ's auditor) would let them if they had significant concerns.
Conclusion
Seeing a big influx of institutions building positions in NQ Mobile should bring confidence to investors. Don't forget either that top executives are buying shares with their own personal funds as well. These events along with many others should propel the stock to big gains over the next little bit.
After everything that has gone on, NQ Mobile will be a stronger company from all of this. The attention surrounding this whole fiasco has caught the attention of many more investors. I'm a believer in bad publicity is still good publicity as NQ is now visible to an even broader range of investors. We are starting to see this as new institutions and investors are coming into the picture.
The bottom line is NQ Mobile is a fast growing company that continues to deliver results. If the company reaches its goal of revenue over $1B by 2017, that would represent growth of over 35% year-over-year. This is what makes NQ Mobile a very attractive investment. How many companies do you know that are on track to grow 35% year-over-year over the next four years? Hedge funds know this as you can see with all the buying activity as of late.
I've written several articles about NQ Mobile here, here and here explaining why I like the company going forward. Knowing who you can trust in the market is very important. That's why I'm providing you with my track record and other particular stocks that I like. The link provided will show you all of my picks, how they have fared, and where I think they will be going in the near future. I think you will find my track record to be very impressive and useful.
Disclaimer: Investors are always reminded that before making any investment, you should do your own proper diligence on any stock mentioned in this article. Have a great day and as always, I look forward to hearing your thoughts or questions that you might have.
Disclosure: I am long NQ. I wrote this article myself, and it expresses my own opinions. I am not receiving compensation for it (other than from Seeking Alpha). I have no business relationship with any company whose stock is mentioned in this article.