By Jeff Pietsch
A nervous market nevertheless finished nearly flat with the S&P 500 (NYSEARCA:SPY) lower for a fourth consecutive week by just -0.7% and the NASDAQ 100 (QQQQ) higher by +0.4%. However, at one point before Friday's last hour rebound, the VIX had run up +30% from earlier in the week and the S&P 500 had tagged its 200-day exponential moving average for a near "official" correction of -9.2% off its January highs. This action had the Market Rewind ETF rotation models seeking safety for the first time since the 2009 March lows.
(Click Image to Enlarge/ ETF Rewind Glossary)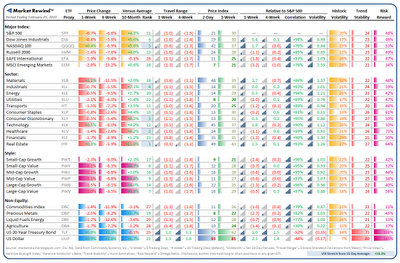 It would therefore seem that Monday's trade may rely especially heavily on news flow over the course of the weekend. Perhaps the G7 talk will help support a follow-through rebound. The Dollar's extended overbought status may also assist equities if it can remain contained, suggesting that either partially legging into the rotation model's U.S. Dollar (NYSEARCA:UUP) indication, or looking at cash while initially maintaining some equity exposure here may be the way to go until the next move better reveals itself.

Week Six of 2010 includes busy reporting calendars featuring retail sales and new rotation model selections, as follows:
Click to enlarge: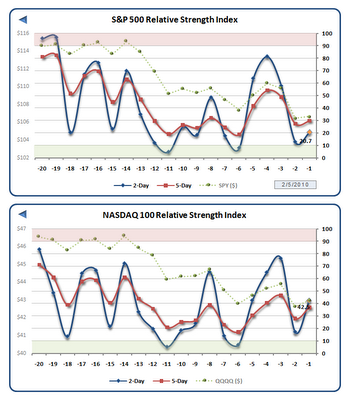 Have a terrific weekend!

Disclaimer: Never Investment Advice