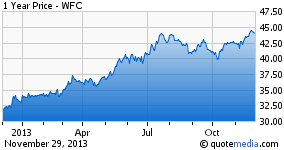 Last year, Wells Fargo (NYSE:WFC) took advantage of the low interest rate environment we find ourselves in and issued a preferred stock with a coupon of 5.2%. That issue is the Wells Fargo 5.2% Depositary Shares Non-Cumulative Class A Preferred Stock Series N, or WFCPRN, which could differ depending on your broker. This preferred is the subject of this article and a potential source of terrific income for investors seeking a strong yield from a stable financial company.
The Series N was issued in $25 increments last year and the annualized dividend of $1.30 per share means the N has a coupon rate of 5.2%. This rate is a decent source of income but in the past six months or so, as taper talk rained down from the Fed, prices on interest bearing securities have plummeted in many cases, including for the Series N. While the N was trading for more than $26 earlier this year, since the talk of tapering began from the Fed the price of these shares has cratered to under $21. This tremendous move in the price of the security has been hard for existing holders to stomach but also presents an opportunity for new investors. The current price of $20.71 means that the N's annual dividend of $1.30 is now good for a whopping 6.3% current yield.
The N has some risks as well, and are worth noting. First, this preferred is non-cumulative, meaning that if Wells misses dividend payments it is under no obligation to make them up. I consider the likelihood of this to be small at best as Wells is one of the most fundamentally sound banks in the world. In addition, since this preferred was just issued last year it seems unlikely Wells would miss dividend payments anytime soon. And given how well Wells came out of the financial crisis I can't imagine what it would take for a company this strong to actually make the choice to miss dividend payments on its preferreds. In doing so, Wells would hinder its ability to access capital markets in the future as well. In other words, I don't think it will happen.
Second, this preferred, like any other interest-bearing security, is subject to interest rate risk. This was very plainly seen over the past six months as taper talk has sent the price of the Series N and many other interest-bearing securities falling in response to perceived higher rates in the future. This is a risk of any preferred and the Series N is no exception; you could very well get long the N at $21 and see it in the mid-teens if interest rates spike. In order to mitigate this risk, perhaps adding to your position over time is the wiser choice rather than taking a full position all at once. The reverse could happen as well; we could see interest rates fall once more and the Series N could trade at a premium again.
This preferred is also callable by Wells starting in 2017 at the full $25 per share issue price. This means that if Wells decides it no longer wants to have this preferred outstanding in 4 years it can redeem it and holders will receive a $4+ capital gain from the current price. This ~21% capital gain is a huge potential boost to the already robust current income this security offers. Under a theoretical scenario where Wells calls this issue in 2017, holders who take positions now would receive not only the $4.29 in capital gains but also ~$5.20 in dividends between now and then on a $20.71 investment. That is a tremendous return for anything and particularly a preferred. While I can't say how likely it is for Wells to redeem this security in 2017, even if it doesn't, it still offers a great yield right now.
For those income investors who want some exposure to the financial sector and a stable payer, the Series N may be for you. In addition to a huge discount to par and a robust current yield, the Series N also offers investors access to the preferential dividend treatment that allows for the 15% tax rate on proceeds from the Series N. So while there are other preferreds out there that may have higher current yields, the combination of safety, yield and a lower tax rate on the Series N make it a very attractive offering at current prices.
Disclosure: I have no positions in any stocks mentioned, and no plans to initiate any positions within the next 72 hours. I wrote this article myself, and it expresses my own opinions. I am not receiving compensation for it (other than from Seeking Alpha). I have no business relationship with any company whose stock is mentioned in this article.