Capital Ladder Advisory Group is entering this shortened holiday shopping season with a cautious outlook as consumer sentiment continues to reflect the abnormal monetary policy and fickle Washington rhetoric surrounding "Obamacare" and its underwhelming roll-out to the public. The preliminary consumer confidence index fell in early November to 70.4 from 71.2 from in October, as Americans grew somewhat more worried about future employment and income prospects, the Conference Board said Tuesday. Economists polled by Reuters had expected the index to rise to 71.2. The future expectations index slipped to 69.3 from 72.2, while the present situation index dipped to 72.0 from 72.6. "When looking ahead six months, consumers expressed greater concern about future job and earning prospects, but remain neutral about economic conditions," said Lynn Franco, director of economic indicators at the Conference Board. "All in all, with such uncertainty prevailing, this could be a challenging holiday season for retailers." Fortunately, last Wednesday brought with it the final reading on November consumer sentiment. The final reading showed consumer sentiment rose to a final reading of 75.1 in November from 73.2 in October, according to Wednesday reports. Between the preliminary results and the final reading on consumer sentiment, somewhere lay the prevailing gauge on the consumer.
Capital Ladder Advisory Group participated in cross-country channel checks to better gauge consumer sentiment and foot traffic on Black Friday and through the weekend. The first thing we noticed was the definitive lack of crowds at stores as many shoppers took to the streets on Thanksgiving Day. Target Corp. (NYSE:TGT) and Wal-Mart (NYSE:WMT) are playing an interesting game of cat and mouse as one tries to outdo the other in a fight for every consumer dollar. Wal-Mart opened its Thanksgiving holiday sales event at 6:00 pm with Target forced to follow at 8:00 pm. With Wal-Mart moving its Thanksgiving sales event up 3 hours vs. the year ago period, Target has moved up its Thanksgiving sales event by 1 hour. Kmart (NASDAQ:SHLD) was open from 6:00am on Thanksgiving day and closed around 5:00pm before reopening for Black Friday. Now that we have a good idea of who was open and when during the Thanksgiving Day shopping day, let's talk about one consumer good company hoping to benefit from extended holiday shopping hours. Keep in mind that there are 6 fewer shopping days this holiday calendar year than last year, but we will discuss that further in this article.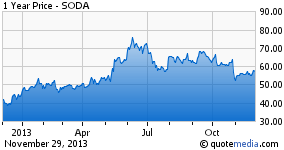 SodaStream International LTD. (NASDAQ:SODA) has quickly become one of the must-have holiday gifts in recent years as the company expands its global reach and highlights its products through thoughtful commercial advertising campaigns like the one it created for the Super Bowl earlier in 2013 and the latest one to hit airways here. As you can see from the commercial, SodaStream recently launched a line of cobranded syrups from Ocean Spray to be used with a soda maker.
SodaStream launched its co-branding partnership with Ocean Spray to include three flavor syrups including Cranberry, Cranberry Grape and Cranberry Raspberry. Since launching these flavors in the 4th quarter this year, the flavors have been quickly adopted by Bed Bath & Beyond (NASDAQ:BBBY), Best Buy (NYSE:BBY), Wegmans and a host of other retailers.
Capital Ladder Advisory Group had noted that Wal-Mart would be adding a great number of skus from SodaStream's product offering. In a previous article, Capital Ladder Advisory Group notated that Wal-Mart would be adding points of purchase for SodaStream products around the store. In a majority of Wal-Mart store locations we have come to find that Wal-Mart expanded its SodaStream shelf space from 4 linear feet to 12 linear feet at many locations.
I'm going to go out on a limb here and say that if 4 feet is good, then 12 feet of shelf space must be better. This holiday shopping season, SodaStream has offered consumers in North America the SodaStream Bonus Pack which can be bought at both Target and Wal-Mart this season. The offer includes the Jet soda maker, 60 liter CO2 canister, 2 ½ liter carbonating bottles, 1 liter carbonating bottle, 24 sample flavor packs and 3 flavor syrup bottles from popular partners such as Kraft Foods KRFT) and Ocean Spray. By purchasing this Bonus Pack from either Wal-Mart or Target, the retailers are also giving the consumer a free $25 gift card.
Carbonating water at home is very quickly becoming the fastest growing beverage appliance category. Among beverage appliances of all types, this growth rate was almost triple that of citrus juicers, the second ranking beverage category in terms of sales growth over the last 18 month time period. To give a sense of how popular home soda making has become, data from The NPD Group show that sales of home soda machines in the 12 months ending in March of this year ballooned by 147 percent over the same period in the previous 12 months. Vendors such as SodaStream, Cuisinart and iSi have already become established in the marketplace.
This year, they are joined by Mastrad, Hamilton Beach and KitchenAid. Mastrad previewed its new carbonation product, called PureFizz, at this year's International Home + Housewares Show in March. Hamilton Beach launched its own carbonation product, Fizzini, at Target and ecommerce sites such as walmart.com and bestbuy.com in the last couple of months. KitchenAid will enter the category with a soda maker that it will develop with SodaStream, as part of an agreement between the two companies.
PureFizz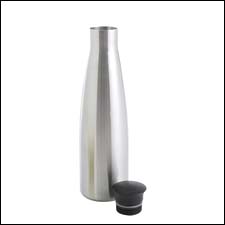 The Mastrad PureFizz, which carbonates all types of beverages, is slated to launch on the market later this year.
Let's retrace our steps for just a moment and get back to data supplied by The NPD Group. NPD Group supplies sell-out (also known as sell-through) data to a variety of hedge funds and institutional shareholders whom contract the firm for their respective data. As it relates to SodaStream, NPD Group has a large number of clients who seek out the data which is delivered every Monday for the prior week's sales. What many don't realize is that most of NPD's data supplied, and corresponding to SodaStream product sales, is almost entirely composed from Wal-Mart sales. Roughly 75% of NPD Group's sell-out data comes from Wal-Mart. Additionally, NPD Group does not acquire sell-out data from the likes of Bed Bath & Beyond or Costco (NASDAQ:COST). Without the full scope of retail sell-out data, it is quite difficult to put much worth in the NPD data that comes out weekly to clients. Another unfortunate problem with the NPD data that will come out this holiday season, and specifically with regards to the data due out Monday December 2nd, is that the shift in the calendar cycle doesn't give an "apples to apples" comparison year-over-year. Let me explain in detail as Yonah Lloyd has explained for investors and analysts alike over the last week with the following:
"Because of the extra week in the fiscal 2012 retail calendar weekly sell-through, results in 2013 as reported by NPD are not directly comparable to the same period a year ago. This will make the comparisons for the most recent week of November, scheduled to be published Monday, December 2, particularly difficult, as it is being compared to the Thanksgiving / Black Friday Holiday weekend of a year ago. This will of course make this year's Thanksgiving / Black Friday Holiday weekend comparison easier as it will be up against the first week of December 2012".
Data compiled from the NPD Group is always reported one week behind. It's not clear yet whether investors fully appreciate this anomaly in the reporting cycle from NPD, but come Monday it will be clearer as many investors become aware of the issue. Capital Ladder Advisory Group sell-through data will be released to institutional investors in the coming days.
As we move through the holiday shopping season, a sizeable event for SodaStream is set to take place this Tuesday on HSN network. The at-home shopping network is issuing a SodaStream bundled-package as a "Today's Special" on Tuesday December 3rd. Investors should recognize that SodaStream has never had a Today's Special promotional event on HSN during the month of December and the only comparable Today's Special promotional sale during the 4th quarter happened last year in the month of October for which SodaStream effectively sold roughly 35,000 bundled packages. Capital Ladder Advisory Group has compiled an initial estimate of expected bundle sales for this promotional event from a number of investors and supporting analysts. The average estimate is for an expected sell-through during the Today's Special of 43,000 units. If you'd like to weigh in with your own personal estimate, please note it in the comment section of this article.
Now let's take a look at some early ShopperTrak data from the Black Friday weekend. According to the retail tracking firm, U.S. retailers eked out a 2.3 percent sales gain on Thanksgiving and Black Friday, in line with a prediction for the weakest holiday results since 2009. Sales at brick-and-mortar stores on Thanksgiving and Black Friday rose to $12.3 billion, according to a report from ShopperTrak. The Chicago-based researcher reiterated its prediction that sales for the entire holiday season will gain 2.4 percent, the smallest increase since the last recession. About 97 million people planned to shop online or in stores on Friday, with about 140 million intending to do so Thanksgiving through Sunday, the National Retail Federation said. That's down from 147 million last year. With more stores opening on Thanksgiving, sales were pulled forward from Friday, Bill Martin, ShopperTrak's founder, said in a telephone interview. Sales on Friday fell 13.2 percent from last year, with foot traffic down 11.4 percent. Foot traffic for the combined Thanksgiving-Black Friday period rose 2.8 percent to more than 1.07 billion store visits, ShopperTrak said.
In conclusion, while the consumer is off to a strong start this holiday shopping season, it's important to see more data as the month of December rolls on. SodaStream is being highlighted by more and more retailers in North America than ever before and recently launched its product line at over 800 Kmart locations ahead of the holiday shopping season. Even MOMs is getting into the SodaStream distribution business as indicated in the photograph below. MOMs Organic Market is a small, organic grocery food chain with 7 locations in Virginia and Maryland. Yes, MOMs loves SodaStream!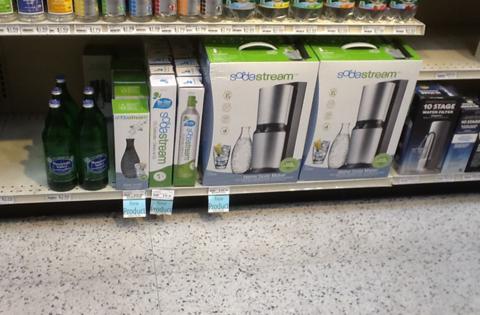 Click to enlarge
(Click to enlarge)
The fundamental consumer demand case supporting additional shelf space for SodaStream products is likely to add to the firm's bottom line in q4 of 2013. While sell-through data to be released on Monday will be marred by the shift in the calendar cycle, the following week's sell-through data will be quite strong as noted earlier.
Disclosure: I am long SODA. I wrote this article myself, and it expresses my own opinions. I am not receiving compensation for it (other than from Seeking Alpha). I have no business relationship with any company whose stock is mentioned in this article.