After more than 40 years in this business, I have never experienced a company with such an emotional following as Apple (NASDAQ:AAPL). In the course of my normal research, I came across some very divergent views regarding Apple's valuation. Since my entire career has been dedicated to understanding and corroborating what I now believe to be the undeniable relationship between earnings and the value of a business, out of curiosity, I ran Apple by the numbers.
True investing wisdom dictates that an investment derives its value from the amount of cash it generates for its stakeholders discounted to the present value. With public companies that measurement is typically conducted from the rate of change of earnings per share growth. On this basis, I conducted a quick study comparing Apple to Microsoft (NASDAQ:MSFT) over the past two decades.
The parallels to the classic tortoise and hare fairytale are fascinating. Everyone knows that Microsoft has dominated the PC business. Even today Apple still holds less than 5% of the global PC market. This is true even though Apple's most ardent admirers will strongly sing the praises of Mac over PC. There are some very clever Apple commercials running that play to this point.
Anyway, just for fun, as I previously stated, I compared Apple to Microsoft over the past two decades. To make the comparison interesting, I divided the decades in half. First I compared the companies for the 10-year period 1991-2000. I call this the First Decade. Then I compared the companies over the period 2001 to current. We'll call this the Last Decade. (Not Lost Decade.) What I compared, however, is what is most interesting.
Using our Fundamentals-at-a-Glance Research tool I correlated Apple's earnings to monthly closing stock prices in Figure 1 below. Note how price (black line) tracks earnings (green line with white triangles).
Figure 1. AAPL 10yr 1991-2000 EPS Growth correlated to Price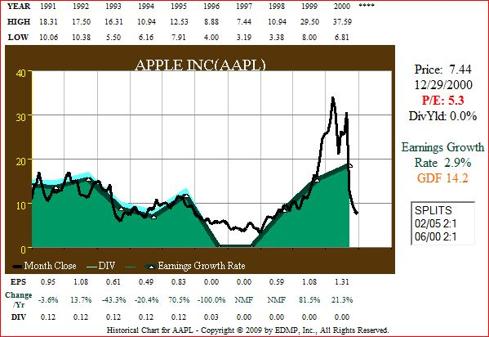 In Figure 2 we show Apple shareholder returns over this time frame. Very weak earnings growth of only 2.9% and an ending low valuation (P/E of 5.3 on 12/29/2000) generated a decade of loss.
Figure 2. AAPL 10yr 1991-2000 Dividend and Price Performance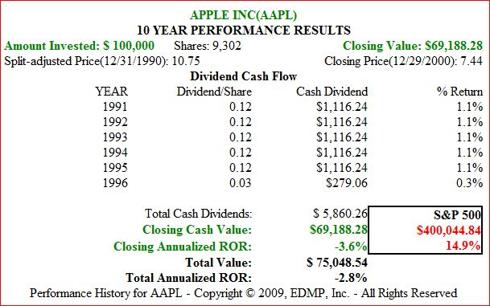 In Figure 3 we correlate Mr. Softy a/k/a Microsoft Corp.'s earnings and price over the same 10 years.
Figure 3. MSFT 10yr 1991-2000 EPS Growth correlated to Price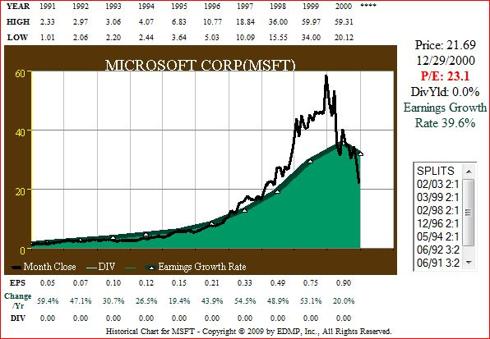 In Figure 4 we show Microsoft shareholder returns over this period. Note that shareholders' compounded rate of return of 35.4% was only slightly less than the 39.6% earnings growth (see Figure 3). This is explained by Microsoft's 2000 ending P/E ratio of 23, less than its 39.6% growth rate. However, the correlation between earnings and returns is undeniable.
Figure 4. MSFT 10yr 1991-2000 Price Performance


Now, here comes the fun and interesting part – at least I think so.
Over the last decade (actually nine plus years – 2001-2009 into 2010) look how the table (tablet?) has turned. In Figure 5 we correlate Microsoft's stock price to earnings. Note that the stock price (black line) started out above the earnings value line (green line with white triangles) and how the earnings growth rate slowed during this current decade to only 8.4%.
Figure 5. MSFT 10yr 2001-current EPS Growth correlated to Price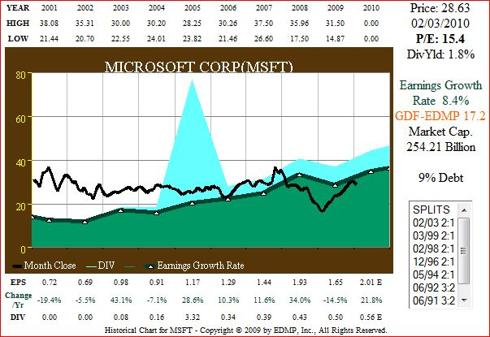 In figure 6, we calculate shareholder returns that correlate to figure 5. Overvaluation and sharply lower earnings growth translate to a lost decade of returns for Mr. Softy shareholders.
Figure 6. MSFT 10yr 2001-current Dividend and Price Performance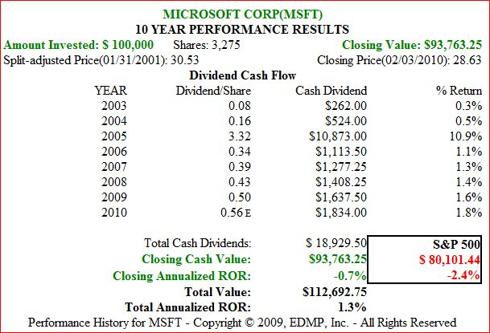 In figure 7, we show the new Apple of your i's since 2001. Note the graph includes Apple's restated numbers under the new accounting convention. The new and reborn i-Apple (i-pod, i-phone, i-tablet?) generated a much different earnings story. The new Apple compounded earnings at 24.5% since 2001 (see figure 7 below).
Figure 7. AAPL 10yr 2001-current EPS Growth correlated to Price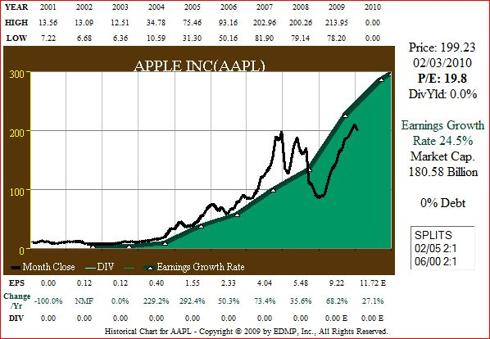 In figure 8, we see there was no lost decade for Apple shareholders since 2001. Once again, the relationships between compounded earnings growth, valuation and shareholder returns is undeniable. Thanks to the i-story, Apple has been the dominant investment over the second decade.
Figure 8. AAPL 10yr 2001-current Price Performance


How is Apple valued today?
Finally, in figure 9, we present our forecasting calculator based on the consensus earnings estimates for Apple. The graph at 19% forecast growth represents 42 analysts reporting to FirstCall. A check at Zacks shows 18.8%, basically the same number. Value Line Investment Survey January 8, 2010 edition says 25.5%. Therefore, it may be that the forecasts from FirstCall and Zacks are understated.
Figure 9. AAPL 5yr EPS Growth Forecast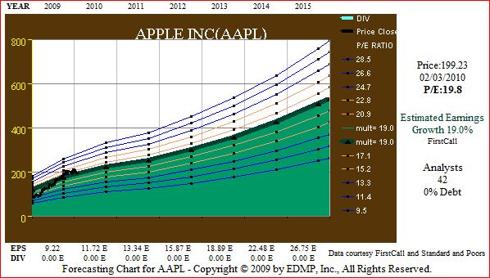 So there you have it, Apple fans; your stock looks fairly priced. No debt on the balance and strong cash flows look good as well. By the numbers, Apple looks attractive as a growth story. Recent weakness may be enhancing the opportunity. Based on the thesis that earnings determine market price, Apple is currently trading at a PEG ratio of approximately one based on future earnings expectations.

Disclosure: No positions at the time of writing.